Growing up, it seemed like every kid wanted to be a firefighter, a paramedic or a teacher. Makes sense, right? Those are admirable jobs!
But unfortunately, even though these roles are crucial to society . . . they don't pay very much. So, the Public Service Loan Forgiveness (PSLF) program was created to encourage people to work in these service careers.
Basically, people in these jobs could have their federal student loans forgiven in exchange for about 10 years of public service. Sounds great, right? Well, there's a lot more to PSLF than it seems. And I'll cover all of that—including the latest news, what it takes to qualify, and if it's worth applying for.
What Is Public Service Loan Forgiveness?
The Public Service Loan Forgiveness (PSLF) program began in 2007. It offers to forgive the remaining qualifying federal student loan debt of any person who's worked full time for a qualifying employer, made 120 qualifying payments, and is on a qualifying repayment plan.
Did you catch the word qualifying? It's kind of a make-or-break term in PSLF, since the rules are pretty strict (not to mention poorly communicated).
Public Service Loan Forgiveness News
The very first group of borrowers applied for PSLF in September of 2017 (10 years after it was first created)—and there was trouble right off the bat. Over 1 million people requested to certify their employment for PSLF. Seven months later, 19,321 student loan borrowers applied and only 55 were forgiven.1 Ouch.
It was a massive disappointment—especially since many borrowers were told they were on track to qualify for forgiveness.2 So, where did things go wrong?
Well, it's important to know the federal government hires outside companies to manage student loan accounts. One of the largest and most well-known is Navient. When the U.S. Department of Education (DOE) was asked why so many borrowers were rejected for PSLF, they pointed at Navient. In response, Navient pointed right back at the government, saying the repayment program needed to be simpler. And of course, the DOE simply turned around and blamed Congress. Annoyed yet? Yeah, me too. If these three were in kindergarten, they'd all be in time out. So much for helping the student loan crisis, huh?
In 2018, the Trump administration tried to fix the problem by creating the Temporary Expanded PSLF (TEPSLF) program. It's a second-chance program for people who applied for PSLF but were denied. Under TEPSLF, they can reapply for another shot at forgiveness.
For a while, the program seemed like another fail. In an investigation by the U.S. Government Accountability Office, they found the TEPSLF's approval rate wasn't much higher than PSLF. And 71% of people were denied simply because they made an error on their paperwork.3 The government's recommendation? Simplify the freaking program! They made some changes, but it's still not much better.
Student loan borrowers did get some relief starting March 13, 2020, though. When the COVID-19 pandemic hit, the U.S. Department of Education passed the Coronavirus Aid, Relief, and Economic Security (CARES) Act—which paused everyone's federal student loan payments and set interest rates to 0%. Since then, the government has extended this kindness (also called an administrative forbearance) by continuing to push the repayment date back—again and again.
The CARES Act also covered people pursuing PSLF. If someone didn't make payments on their federal student loans, it wouldn't count against their PSLF eligibility as long as they continued working for a qualified employer.
And as of October 6, 2021, the Department of Education decided to give people pursuing PSLF a little break through something called a limited PSLF waiver.4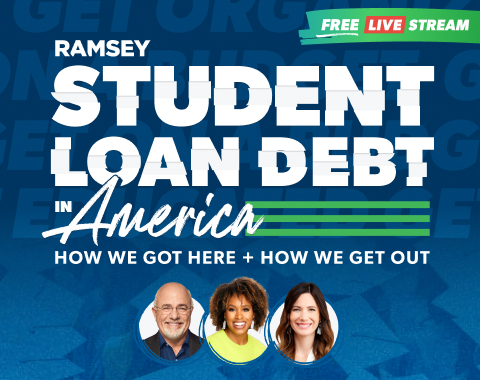 Student loan payments restart this fall!
Get a plan to ditch your loans for good. Watch our student loan livestream replay.
Watch Now
What's a Limited PSLF Waiver?
A PSLF waiver is a temporary expansion of the program that allows more student loan borrowers to qualify for forgiveness. You still have to qualify for a waiver, but they've "looked the other way" on a few of the original requirements. For instance, under the normal PSLF requirements, only Direct Loans receive credit. But under the limited waiver, you can receive credit for Direct, Perkins or Federal Family Education Loans (FFEL).

Ready to get rid of your student loans once and for all? Get our guide.
So, for a period of time, you can earn credit toward PSLF and TEPSLF on those paused student loan payments. If you've still been making your regular payments during the payment pause, you could get a refund . . . but only through October 31, 2022.5 (At the time this article was published, student loan payments are set to kick back on January 1, 2023.6)
To see if you qualify for this kind of student loan help (and what the new requirements are), check out studentaid.gov.
What About Parent PLUS Loans?
Good question. And unfortunately, I have bad news: Under this limited PSLF waiver, Parent PLUS Loans don't qualify. The only way to get Parent PLUS Loan forgiveness is if you consolidate your loans in a federal Direct Consolidation Loan. If you've already consolidated or don't have other direct loans to consolidate, the temporary waiver may be out of reach in your situation.
Do You Qualify for Public Service Loan Forgiveness?
One of the greatest criticisms of PSLF is how strict and poorly communicated its requirements are. After jumping through all the hoops, applicants seem more qualified to work for Cirque du Soleil than to get student loan forgiveness. Isn't that sad? Especially since we're talking about people who have spent their careers serving the public!
Remember when I mentioned qualifying is the key word in PSLF? Yeah, let's jump in and take a look at all those qualifications you need.
Public Service Loan Forgiveness Requirements
First, you must work full time for a qualifying employer in one of these fields:
A federal, state, local or tribal government organization
A 501(c)(3) nonprofit
A not-for-profit that's not 501(c)(3)-designated but meets other requirements related to public service
AmeriCorps (in a full-time capacity) or the Peace Corps
But watch out: Even if you work in one of these fields, you still have to make sure your employer is qualified. At least once a year, you've got to confirm your employment using the PSLF employment certification form.
Next, you also have to make 120 qualifying payments before you apply, which equals about 10 years of payments. And they only count if they meet these requirements:
The payment was made after October 1, 2007.
The payment was for the full amount due as shown on your bill.
The payment was made no later than 15 days after your due date.
The payment was made while you were employed full time by a qualifying employer.
The payments were made while you were on a qualifying repayment plan.
That last one is crucial. The most common type of repayment plan is an income-driven repayment (IDR) plan. Ninety-six percent of loans forgiven are on an IDR plan.7
Why IDR plans? Well, these types of repayment plans usually extend the life of the loan while lowering the monthly payment. This means you're more likely to still owe money after making 120 payments, so there's something to forgive if you qualify for PSLF or TEPSLF.
But get this: If you paid the standard amount on your loans (without being on a repayment plan), after 120 payments or 10 years they'd probably be paid in full. It's a safer to just get rid of those student loans instead of hoping to successfully jump through the frustrating hoops of PSLF or TEPSLF.
And if making the standard payment isn't an option for you right now, there are other types of student loan help out there.
What Are the Requirements for Temporary Expanded Public Service Loan Forgiveness?
TEPSLF offers people who were denied PSLF a second shot at forgiveness. The qualifications are very similar to PSLF with a few expansions and new rules.
To qualify for forgiveness under TEPSLF, you have to meet these requirements:
You were denied for PSLF because some or all of your payments weren't made under a qualifying repayment plan.
You've worked full time for a qualifying employer for 10 years.
You met the TEPSLF requirements 12 months before applying.
The last payment you made before applying for TEPSLF was at least as much as your payment under your income-driven repayment plan.
You've made 120 qualifying payments.
They also expanded the qualifying repayment plan list to include the following:
Graduated Repayment Plan
Extended Repayment Plan
Consolidation Standard Repayment Plan
Consolidation Graduated Repayment Plan
If you think you qualify, use the new PSLF and TEPSLF form to apply. If you're approved, any extra payments you made during your 12-month waiting period will be refunded to you.
Which Student Loans Are Eligible for PSLF?
Only federal Direct Loans qualify for PSLF or TEPSLF. This includes:
Subsidized Federal Direct Loans or Stafford Loans
Unsubsidized Federal Direct Loans or Stafford Loans
Federal Direct PLUS Loans
Federal Direct Consolidation Loans
Perkins Loans, Federal Family Education Loans and all other private loans don't qualify for PSLF or TEPSLF. But you can consolidate your other federal loans into a Direct Loan to meet the requirement.
A word of warning: Before you consolidate, you should know that consolidating your federal loans resets the time clock on PSLF. None of your qualifying payments will matter anymore, and you'll have to start all over again. Ouch.
What's the Success Rate of Public Service Loan Forgiveness?
The success rates of the PSLF and TEPSLF are embarrassing.
In June 2018, after years of working and waiting, less than 1% of applicants were approved for PSLF.8 You read that right . . . less than 1%. Fast-forward to June of this year. The numbers weren't any better—even with the looser eligibility requirements. A total of 1,684,233 combined PSLF forms were submitted, and only 12,523 were approved—that's 0.74%.9 Yikes!
But what about the TEPSLF program? It's intended to give people another shot at forgiveness. Surely, applicants are having more success with it, right? Not really.
As of June, almost 3.6% of TEPSLF applications met requirements.10 True, it's a little better than PSLF—but at this rate, anything is! And keep in mind that since the extension is only temporary, it may not be around too long.
Don't Qualify for PSLF? Here Are Your Other Options
If you don't qualify for PSLF, don't sweat it. Why? Because it's a super complicated process that keeps you in debt and trapped in a job you may not even like. And guess what? You don't have to rely on the government to do something you can do yourself.
Learn how to pay your loans off quicker than 10 years in my course, The Ultimate Guide to Getting Rid of Student Loan Debt. Don't worry, these lessons are quick and full of helpful tools and info you need to break up with your loan servicer once and for all.
And if you need help with your private student loan payment, consider refinancing your student loans. Refinancing usually offers a lower interest rate and a lower monthly payment, so you can make your payments easier and get rid of your loans even faster—no red tape required. Just be sure you're not signing up for a longer repayment term. And don't let refinancing keep you from attacking your student loans with all you've got!
Bottom line? Don't let PSLF or TEPSLF be your main strategy for getting rid of your student loans. It may seem intimidating, but paying off your student loans yourself is totally possible.
And if you want to take control of your money in general (not just your student loans), check out Financial Peace University. With these nine lessons, nearly 10 million people have learned how to kick debt to the curb—once and for all. Start FPU today and send Sallie Mae packing for good.
Did you find this article helpful? Share it!