Ready for a shocking work fact? Only 14% of workers strongly agree that their performance reviews inspire them to improve—and only 26% believe their reviews are even accurate.1 Yikes.
For most team members, reviews and feedback tools represent extra work with no real benefit, anxious attempts to show why they deserve a raise, or dreaded accountability sessions. In fact, about a third of the time, performance reviews are so bad they make performance worse.2
But why don't those reviews work? Well, let's be real: You can't effectively measure a team member's performance, develop their leadership skills, and reward or discipline their actions with a catchall process you use once a year. You also can't get the full picture of what a team member brings to your organization based on one supervisor's perspective.
Performance reviews done right on the other hand? Now that's an amazing gift!
So, instead of trying to lump some form of required annual communication under the performance review label and calling it done (yawn), what if you gave feedback in a way that's actually helpful? What if you used a process called 360-degree feedback?
360-degree feedback is one of the best ways to talk through how team members are growing personally and adding value to your company. This process also increases your team members' self-awareness, shows that you value open communication, and improves accountability and unity with your team.
Related article: What Is Work Ethic (and How to Build a Strong One in Your Team)?
What Is 360-Degree Feedback?
The term 360-degree feedback sounds a little complicated, but it doesn't have to be. It's a straightforward review system (sometimes called a 360 employee review) that asks for honest feedback about a team member from their leader, no more than 10 peers, and whoever else the leader wants to include. The team member receiving the feedback also weighs in on their responsibilities, wins and challenges.
So basically, it's called 360 degrees because the feedback comes from multiple angles—not just the team member's leader.
Using 360-degree feedback helps team members and their leaders understand the team members' strengths and areas they need to improve in. You can also use it for yourself by asking your peers and leaders to evaluate your work.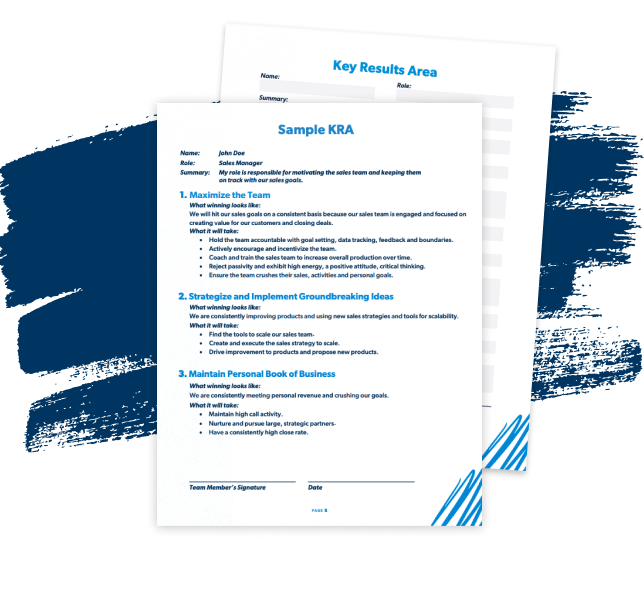 Free KRA Template
A KRA (Key Results Area) document will help you create clear role expectations for your team. Grab our free template, plus get a couple examples of completed KRAs for reference!
Get the Free Template
Keep in mind: It can be hard to be on the receiving end of 360-degree feedback—especially for people with big egos. So make sure you explain the value and give the feedback in a respectful way. Once your team members see how much your honest input helps them win in their role, they'll start coming back for more. You'll also set up your team members for gains like these:
They'll feel ownership of their career development and hope for the future as they get specific insights on how to improve and grow.
They'll be more motivated to succeed as they hear open and honest feedback from all different levels of your company.
Your whole team will know their opinions matter, and accountability and teamwork will improve as a result.
Important Communication Reminders
If you're leading a team or organization, hopefully you're already practicing effective communication including having regular one-on-one meetings. Because both positive and negative feedback are most effective in the moment, make sure to use your one-on-ones to share feedback with your team members all year long. Don't save it for an annual conversation.

Every business goes through five distinct stages. Find out which stage your business is in with our free assessment.
The same goes for sharing ideas and tackling problems. If there's a problem, your team members shouldn't hear about it for the first time in their annual check-ins.
When you address issues early, you keep them from growing into big, blown-up dramas. And that allows you to use annual check-ins to review team members' pay, talk about their 360-degree feedback, and give them a focused opportunity to share their goals for the coming year. This time becomes an actual conversation instead of a requirement everyone dreads.
Related article: How to Communicate Effectively
The 360-Degree Feedback Process
So, now that you know what 360-degree feedback is, let's take a look at how you go about actually giving it.
This is your chance to build on the constructive criticism and coaching you've been giving your team members all year long. It's also a time to praise their strength while motivating them to grow with a clear direction on how to grow.
The easiest way to collect 360-degree feedback is through an email survey. Just send the survey to your team member's leaders, peers and anyone else you decide is necessary. The questionnaire usually covers several subjects like:
Rapport: Are they empathetic, compassionate, relational, and collaborative? Do they deal with conflict in a positive way?
Credibility: Are they loyal, competent, trustworthy, transparent, dependable and consistent?
Trust: Are they humble, kind, authentic and even-keel? Do they have integrity?
Influence: Are they grateful, generous, knowledgeable, and passionate? Do they provide value to the team?
Skill: Are they fulfilling their job responsibilities with excellence and continuing to grow in their craft?
As you create the survey, walk through the steps below so the comments you get back are useful for you and your team members:
Set goals for the feedback. What are you trying to accomplish?
Ask yourself what strengths and weaknesses you want to focus on. The answers will determine the questions you ask on the survey.
Once you create the survey, take it yourself to see how long it is. Short and sweet fill-in-the-blanks are better than a super long questionnaire.
Get input on the final version from one of your top leaders.
Pro tip: A new performance-feedback system can make your team members a bit nervous at first. So don't forget to explain to them what 360-degree feedback is and why you're using it.
Feedback is usually anonymous to the team member so reviewers can give honest, constructive feedback without worrying about making things awkward around the office. Once everyone finishes the team member's survey, you or another leader should review the comments and walk through the results with the team member. Then you'll go over the team member's accomplishments in the last year and talk through any areas where they can grow.
What Is an Example of 360-Degree Feedback?
Let's say you've asked for feedback for a team member in the five areas we mentioned above: rapport, credibility, trust, influence and skill. If you ask people to rate the team member on a scale of 1 to 5, would that give you enough information to give a helpful review? Probably not. So you'd want to ask a follow-up question so people can explain their answers.
The answers you get will be as different as the people responding. For example, a director who's super detailed may give a careful breakdown of how the team member's doing with their Key Results Area, how they achieved goals, and how they handled curveballs. A peer may focus on how the team member interacted with others and brought steadiness to the team. They may even share a personal story about the team member's strengths. And a hard-charging member of another team might shoot back quick, concise bullet points on how the team member worked quickly to help them get stuff done on work they completed together.
Related article: What are the Four DISC Personality Profiles?
How Does 360-Degree Feedback Help Organizations?
If you still have any doubts about how useful 360-degree feedback is in the real world, check this out: 90% of Fortune 1000 companies use multi-source feedback like the 360 employee review as an important part of leadership development.3 Why? Because when you develop great leaders through valuable feedback, you empower them to help you make your business great too.
Related articles:
What Is Leadership?
What Are the Negatives of the 360-Degree System of Feedback?
Yes, every rose has its thorns, including 360-degree feedback. Although the benefits are many, here are some of the not-so-great things to keep in mind as you start to use this process:
If someone has an axe to grind, whether justified or not, they may see the survey as the perfect place to stick it to the person being reviewed. On the flip side, a peer may not want to be honest and hurt their friend. Keep all this in mind as you review peer feedback.
Although the survey may include excellent reviews, it's human nature to focus on the negative. Make sure you address both the good and the bad with the team member.
Part of the feedback will come from inexperienced reviewers.
You need significant team member participation, or the feedback won't be helpful.
What's Next: Equip, Inspire and Grow
At the end of the day, you owe it to yourself and your business to take a hard look at the numbers—and the payoff to your team. It costs your organization a lot of money in working hours—from thousands to millions depending on the size of your business—to give annual feedback. When you look at your review system under a microscope, the last thing you want to see is an expensive process that everyone dreads.
Check out The EntreLeadership Podcast for more nuggets of wisdom from top business owners that will help you help your team to grow.
Did you find this article helpful? Share it!