Make an Investing Plan With a SmartVestor Pro
SmartVestor shows you up to five investing professionals in your area for free. No commitments, no hidden fees.
Make an Investing Plan With a SmartVestor Pro
SmartVestor shows you up to five investing professionals in your area for free. No commitments, no hidden fees.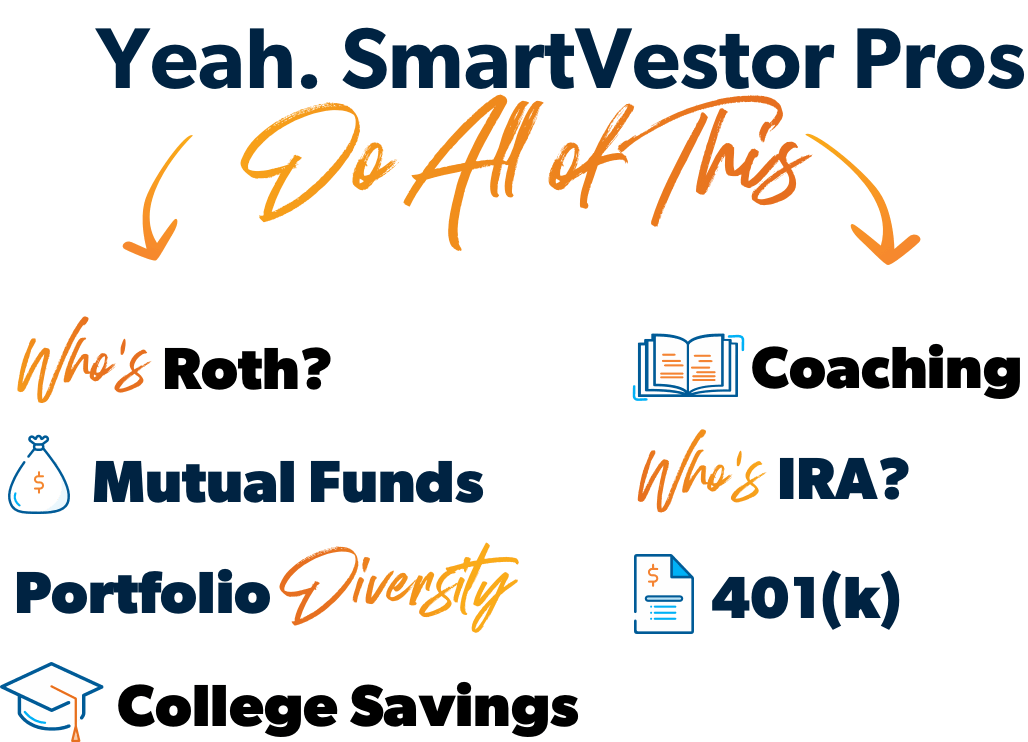 But These Money Pros Are Different
These aren't just suits with a few letters after their names.
These are Ramsey-style pros.
You'll understand your money plan.
You'll know your investment is getting attention.
You won't have to explain the Baby Steps.
It's Free to Find SmartVestor Pros Who Serve Your Area
Our SmartVestor Pros
Pass through multi-layered vetting with flying colors
Have at least two years of experience and a rock-star track record
Agree to our Code of Conduct
And we don't just stamp "approved" and cut 'em loose. We coach our SmartVestor Pros regularly so they're able to serve you well. ALWAYS.
You Get a Whole Team With SmartVestor
The Pro You Choose
So you can find the right fit, we'll put you in touch with up to five pros.
The Ramsey Customer Success Team
So you can get support from real, live people.
SmartVestor Coaches
So we know you're getting the service you expect from your Pro.

Find Your SmartVestor Pros
Instantly see up to five Pros.
It's fast, easy and free.
It's free.
Cue the praise music and hallelujah hands. You'll pay nothing to connect with an investing professional.
Our investing professionals have been carefully vetted.
Not just anyone can be a SmartVestor Pro. To join, our Pros must pass a vetting process and follow our code of conduct.
SmartVestor Pros have a client-first mentality.
They treat you like a teammate, not a transaction. When you're ready, SmartVestor Pros will commit to educating and empowering you.
Contact Us
Have a question or feedback about your SmartVestor experience? We'd love to hear it!
Become a SmartVestor Pro
Are you a registered investing professional interested in joining our SmartVestor program?
FAQ
What is SmartVestor?

SmartVestor is a free service that connects you with investing professionals in your area.

How much does SmartVestor cost?

Nothing, zilch, nada. SmartVestor connects you for free.

What should I expect after I fill out the form?

Our SmartVestor Pros will contact you within 24 hours to introduce themselves and help set up an appointment for you to interview them. Then, you can simply select the Pro you want to work with.

How do I choose my SmartVestor Pro?

To make it easy, we'll send you a list of questions you can ask during your first interview. In general, you'll ask them about their investing philosophy, how they get paid, and how often they communicate with their clients. Above all, if something doesn't feel right, keep looking.

What can a SmartVestor Pro help me with?

A SmartVestor Pro will show you how to make the most of your investments and help you create a plan to reach your retirement goals. And when the going gets rough—think stock market swings—they'll be the voice of reason that calms your nerves.

Should I start investing?

We recommend you start investing after you're out of debt and after you've saved 3–6 months of expenses in an emergency fund.

Are SmartVestor Pros financial advisors?

All of our Pros are investing professionals, but not all are financial advisors (many are). The difference? An investing professional focuses solely on helping you invest, whereas a financial advisor helps you with all types of financial planning, not just investing.
RamseyTrusted is our seal of approval in the marketplace—a symbol fans can look for to find service providers our team endorses. And sure, our providers are sharp folks, but industry know-how isn't what gets them the RamseyTrusted shield. They have to earn our trust by meeting Ramsey's high standards of excellent customer service before we ever allow them to work with our fans. And speaking of trust – you should understand that we get paid to promote the services of our providers and refer clients to them. Click here for more information about our compensation and conflicts of interest.