"Nothing can be said to be certain, except death and taxes."
The great Benjamin Franklin wrote those words back in 1789, and they still ring true. And while some people may try to cheat their way out of paying Uncle Sam, there's no cheating your way out of death.
Still, the fact that we'll all die someday doesn't make it any easier to talk about. But you also don't want to leave your loved ones with the burden of your funeral arrangements—and costs—while they're grieving.
The national median cost of a funeral hovers between $5,150–9,135 depending on type of burial.1 But the price could be much higher depending on where you live and what you know about the funeral industry. The cost is one of the main driving forces for people to prepay for their funerals, figuring it's the best way to relieve their loved ones of picking up the bill.
But is it the best way? Let's talk more about what prepaid funerals are. Then, when we have all the facts, we'll weigh the pros and cons.
What's Included in a Prepaid Funeral Plan?
The process of prepaying for your funeral usually starts with you sitting down with a funeral provider of your choice to make a detailed plan. That plan should include costs, available locations for services and any other details you want to address to meet your end-of-life wishes. A standard package will include:
Burial or cremation
Casket or urn
Burial plot or niche
Headstone/grave marker
There are also usually items you can choose to add on:
Funeral service and/or graveside service
Visitation/viewing service
Funeral service transportation for the family
Custom DVD or slideshow
Obituary
Even with a prepaid service, these add-on items may be subject to the so-called cash advance clause because they require vendor services that may increase at the time of your passing. For instance, the funeral home may have a contract with Bob's Videos to make custom DVDs for the service. Let's say you prepay $100 for a custom DVD, but Bob's rates increase to $150 by the time of your funeral. Your family would likely be responsible for paying the $50 difference.
You may also want to consider items that fall outside of these add-on items, including flowers, catering, speakers and pallbearers.
Bottom line, if you're going to prepay for your funeral, make sure you write down all of your wishes and ask the funeral director what will (and won't) be 100% covered.
Types of Prepaid Funeral Plans
You've outlined everything that you want covered—now how are you going to cover it? There are two main options to consider when prepaying (not preplanning) for a funeral:
Trusts
Trusts can be used in most states to prefund funerals, but state laws vary for how these can be used. Some states even require that the funeral home director be declared the beneficiary, so make sure you discuss your state's trust funding laws with the funeral director.2 There are typically two different types of trusts to choose from:
Revocable trust: You'll often sign a contract to pay for the funeral in installments, deposited into an account that gains interest. At the time of your passing, the funeral director (or someone you choose, if state laws apply) and the trustee will use the funds to pay for your arrangements.
Irrevocable trust: This also allows you to prepay for your funeral in installments, but unlike a revocable trust, this trust is a permanent trust that can't be changed by anyone except the trustee.
Pre-Need Insurance
Pre-need insurance is a type of whole life insurance that can be used to prefund funerals in most states. It's a specialized insurance policy that typically can be paid through installments or a one-time cash premium. Policy growth and the payout amount are not taxable to the purchaser.3

Market chaos, inflation, your future—work with a pro to navigate this stuff.
Now, there are several other ways you can earmark money for your funeral, but that's different from prepaying (and we'll get to that later). Let's look at the pros and cons of the prepaid funeral option:
Pros of a Prepaid Funeral Plan
No second guessing. This is probably the biggest selling point funeral homes make for the prepaid funeral. When you leave this earth, your family will not have to think about (or fight over) what kind of service you would have wanted and how they're going to pay for it.
The price is locked in. Funeral costs are on the rise. The median cost of a funeral has increased 6.4% since 2014, and the median cost of a funeral with cremation has increased 7.3%.4 If you prepay for your services, you're locking in today's price for tomorrow's rates. However, some funeral homes don't factor inflation, so before you sign anything, make sure to ask if the payment you're making is for a fixed price. Otherwise, your family may be hit with unexpected charges after you pass.
Your resting place is reserved. If you wish to be buried at a certain cemetery or placed in a mausoleum, prepaying is a way to reserve your spot. However, a prepaid funeral is not the only way to do this. You can purchase a burial spot separately.
Cons of a Prepaid Funeral
Those funds are tied up. While it's nice to know that your after-death wishes will be met, what about your wishes (and needs) while you're still alive? We're not just talking about lavish vacations and luxury items (although those are nice too). Out-of-pocket medical expenses in the last year of life hovers around $9,500.5 Of patients who die in a hospital bed, the average cost for their last month of life is $32,379.6 Once you prepay for a funeral, there's no getting that money back. That means your family couldn't use any of it to pay your medical bills if they needed to.
The funeral home could go out of business. In fact, the number of funeral homes in the U.S. has been steadily declining for the past decade.7 Just because funeral homes are a necessary business doesn't mean they're immune to hardships. If you prepay and your funeral home closes, the process of getting a refund can be a real nightmare.
You can't change your mind. If you prepay for a funeral with a provider in Florida, your arrangements are only covered at that provider in Florida—even if you and the family end up moving across the country later in life.
Alternatives to a Prepaid Funeral Plan
The best way to relieve your family of a financial burden and make sure your wishes are honored is to prepare, not prepay.
Here's the deal. If you have enough money to prepay your funeral expenses, put that money into an investment account and watch it grow. If you put that $8,000 into a good investment account at 40 years old, by the time you're 70, you would probably have enough money to bury King Tut.
With an investment account, all of the pressure is taken off of your family to cover your funeral and any other unexpected end-of-life expenses you may accrue before you die. If something comes up before then, that money isn't locked away. And if there's anything left after you pass, it will be a blessing to your family.
Death is never an easy thing to plan for, and you should never have to do it alone and confused. Our free SmartVestor program will connect you with financial and wealth advisors who we trust to take care of you and your investments. It's fast, easy and free to get started.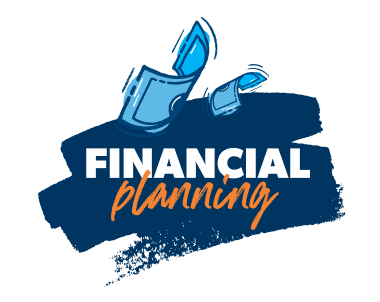 Make an Investment Plan With a Pro
SmartVestor shows you up to five investing professionals in your area for free. No commitments, no hidden fees.
Find Your Pros
This article provides general guidelines about investing topics. Your situation may be unique. If you have questions, connect with a SmartVestor Pro. Ramsey Solutions is a paid, non-client promoter of participating Pros.
Did you find this article helpful? Share it!