15 Unique Ways to Keep Your Kids Busy Over the Holiday Break
4 Min Read | Sep 27, 2021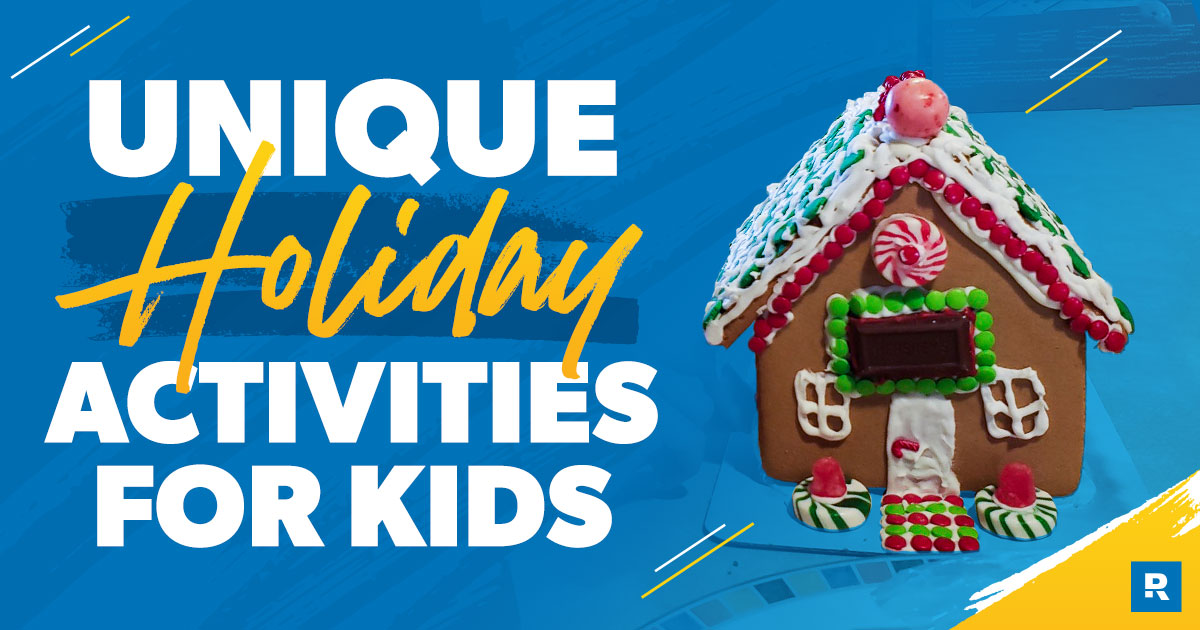 There are two things that will ruin the happy holidays you're hoping for this year.
The first destroyer-of-holiday-happiness is triggered when your kids utter the seemingly innocent phrase "I'm bored."
This harbinger of doom is usually followed by, "Can I watch TV/play on the iPad/use the Xbox"or some other blinking screen.
There's nothing wrong with some occasional tech-time. The problem is that too much of that option will transform those sighs to whines—whines you will have at least 14 days to enjoy listening to. [shudder]
It's time to be proactive. You know it's coming, so why not have a few holiday boredom busters on hand for when the whining begins? Here are 15 fun ideas to tuck in your Santa hat:
Bedroom Makeover: Let the kids decorate their own rooms for Christmas. They can make paper snowflakes, string lights, and even create ornaments for a small Christmas tree. (This is the perfect solution for those "ideas" you don't want in the living room.)

Slime and Goop: Sneak in some science with Grinch Goop or Snowflake Slime. (Smaller kids may need supervision.

Check On the Reindeer: Did you know Santa has a live feed? (To make sure Blitzen doesn't overdo the oats.)

A REAL Home Movie: Create a movie using Lego figures, dolls or themselves as the main characters. Don't forget the commercials!

Snow Painting: Water + Food Coloring + Plastic Squeeze Bottles = Snow Paint. The world is your child's canvas. (And by "world," I mean anything that is white and melts.

A Puppet Show: Have your children color these free Nativity characters, tape them on Popsicle sticks, and put on a nativity puppet show for Mom and Dad after supper.

Feed the Birds: Make a few holiday birdfeeders and hang them near a window. (Younger children may need some assistance.)

Christmas Camping: Set up a tent inside the house, and let the kids use it as a special holiday fort for games, reading and other quiet activities.

Holiday Memory Game: Put matching Christmas stickers on the bottom of Hershey's Kisses. (You get to eat the pair you match!)

Gingerbread Houses: Use graham crackers, frosting and candy to build an edible candy cottage. (Just try not to eat all your supplies before construction is complete.)

Christmas Light Scavenger Lists: Let the kids write a list of items you could see around the neighborhood, then do an after-dark pajama drive. Things on your list might include giant snowmen, Santa in his sleigh, a nativity set, blue lights, an inflatable Mickey Mouse, a train, moving lights, and so on.

Volunteer: Encourage the kids to serve someone in the neighborhood, like shoveling snow for the widow next door. (See more tips like this.)

Homemade Ornaments: Make a different handmade Christmas ornament every year. Might I suggest this handprint version?

Family Secret Santa (or Wonderful Wiseman): Draw names and let each family member try to create little surprises and other sneaky ways to serve and bless each other over the holiday season. Then do a big reveal on Christmas Eve.

Hot Chocolate Read-Alouds: Create a nightly reading ritual of sipping hot chocolate and listening to a book read out loud. The Best Christmas Pageant Ever is absolutely hilarious, relatively short and carries a surprisingly meaningful message.
If you remember, at the beginning of this article, I said that there were TWO Destroyers of Holiday Happiness. Ready for the second?
Stress.
The two biggest monsters trying to devour your peaceful holidays are Complaining Kids and Super Stress.
Don't walk into that arena unprepared! Take some time to arm up with effective distractors and stress-relievers.

Hear real-life parenting advice on The Dr. John Delony Show. Listen now.
By the time the holiday break is over and it's back to normal life, you won't look back and think, Thank God that's over.
Instead, you'll look back and think . . .
Best. Christmas Break. Ever.
Heather Taylor is the self-proclaimed Captain Quirk of the Baby Universe. As the chief encouragement officer at Incredible Infant, she feels she has a solemn duty to bring smiles and a solid thumbs-up to new parents "winging it" everywhere. She covers all the baby bases in her own unique style!
Did you find this article helpful? Share it!