If you think it's tough to catch a glimpse of Santa at Christmas, try finding contentment.
Your kids want to add "just one more thing" to their wish lists. Nonstop commercials (already!) are trying to sell you more stuff. Your neighbors are beginning their full-on Christmas lights competition. It's merry madness!
We all want to focus more on gratitude and contentment during the holidays, but it's hard putting that into practice. As a parent, it's your job to set that tone for your kids. Begin by setting some realistic expectations for Christmas, and then teach them what contentment looks like. Yes, that's easier said than done. But let's look at some practical ways to make it happen.
Set Expectations
Giving is a huge part of December. As parents, we love to see the joy on our kids' faces as they tear open their gifts. However, you have to consider where you are in your Baby Steps before you begin buying. If you are super-focused on out of debt, you may choose to scale back this year.
As tough as that decision might be for you, talk about it openly with your spouse and kids. Start by sitting down with your spouse, setting a budget, and agreeing to stick to it. Once you have your budget set, call a family meeting with your kids and begin setting the expectations for Christmas. There's no need to tell your kids how much you plan to spend. Just let them know that things may look a little different this year while you are working toward your goals.
Here are some other ways to guide your kids to more realistic expectations:
1. Put it on paper. Have your kids create their wish lists. They can simply write their list on a sheet of paper or they could make a collage using pictures from toy catalogues, paper and glue.
2. Tell them what is doable. Look over the lists with your spouse. If there is something on the list that is too expensive, let your child know that it isn't in the budget this year. The longer they anticipate a PlayStation or playground set, the more disappointed they'll be if they don't get it.
3. Make the big choice. If that big item is in your budget this year, explain to your child that choosing something more pricey may mean fewer presents under the tree. This is a good opportunity for them to consider their choices. If they'd rather have more presents under the tree, they might revise their list.
Teach Contentment
If you are scaling back this year on Christmas spending, then you have a great chance to teach your kids about contentment. "Stuff" is fun, but it won't make you happy. When a child learns to give to others and not be attached to their stuff, they are filled with a spirit of gratitude. And gratitude leads to contentment. So how do you get there? Here are some ways to teach this to your child:
4. Volunteer. Spend a day with your kids at a homeless shelter, soup kitchen or other type of charity. Your kids will see the faces of people who have little. And hopefully they'll be less likely to complain about the gifts that don't show up under the tree on Christmas morning.
5. Pass it down. This works best with younger children. Odds are that clothes get passed down. So why not do that with toys? Have the older sibling select a couple of their old toys that they know the younger one likes, wrap them up, and place them under the tree. The younger child will love the presents. Even better, the older child will get to see their little brother or sister's reaction. This will help them understand the power of giving.
6. Get one. Give one. Encourage contentment while reducing clutter. Tell your child that for every toy they receive, they'll give one away. They'll learn to not hold onto their stuff too tightly. But, more importantly, they'll learn to share.
The most important key to setting expectations and teaching contentment is communication.
The most important key to setting expectations and teaching contentment is communication. Talk to your spouse and kids often throughout the holiday season. You might even choose to tell the grandparents, extended family and friends what Christmas is going to look like for your family this year. When everyone knows what to expect, you'll all have a merrier holiday season.

Use the best tools to teach your kids about money.
The Financial Peace Junior doesn't just give you the tools to teach your kids to win with money—it shows you how. This kit is packed with tools, resources and step-by-step instructions for parents to make learning about money throughout a child's life fun! Learn more about Financial Peace Junior and other featured kids' products.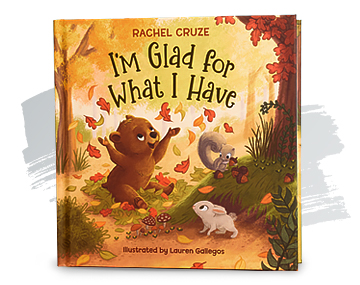 Want to Teach Your Kids About Contentment?
Rachel Cruze's new book—complete with rhyming words and adorable animals—is a great reminder that more "stuff" won't bring lasting joy.
Get the Book
Did you find this article helpful? Share it!