As the baby boom generation faces the challenges of retiring and caring for their aging parents, a new real estate buzzword has emerged: multi-generational living. Technically, any home with parents and kids under one roof is a multi-generational home. But in this case, we're talking about parents who move in with their adult children.
On paper, multi-generational homes provide solutions to several problems. Parents no longer have to maintain a large home or live on their own if their spouse has passed away. They can save money by avoiding a nursing home or assisted living facility, and their children have peace of mind knowing their parents have the best caregivers—themselves.
In reality, however, two generations in one home can feel cramped, and the loss of privacy can wear on the best of relationships. An in-law suite addition can remedy both issues, but homeowners need to understand how this addition will affect the value of their homes.
New Space Means Big Expense
An in-law suite addition is a major investment in your home. According to Remodeling magazine's Cost Value Report for 2013, a master suite addition averages nearly $102,000. That's a basic, 384 square-foot addition that includes a bedroom, bathroom and walk-in closet.
The estimate for a larger, 640 square-foot addition with upscale finishes and a "hospitality center" that includes an under-counter refrigerator and microwave will cost more than $220,000. Neither option includes a kitchenette.
It's also important to make the new space suitable for older residents. For example, the entrance, interior doorways and bathroom need to be wheelchair accessible.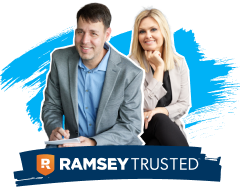 With the right agent, taking on the housing market can be easy.
Buy or sell your home with an agent the Ramsey team trusts.
Connect for Free
Selling Feature or Flop?
An in-law suite addition will add value to your home, but probably not enough to cover its full cost. Remodeling magazine estimates homeowners could recoup up to 63% of the cost of their master suite addition when they sell their home.
As with any remodeling project, you must be careful about over-improving your home compared to other homes in your neighborhood. An in-law suite addition can easily cause your home to be the most expensive on the block—and that could make it more difficult to sell.
On the other hand, buyers who are looking for extra space don't have many homes to choose from, so the right buyer could be willing to pay more for a ready-made in-law suite.
In the end, adding a space for your parents to live comfortably with you isn't just a dollars-and-cents decision. It may be the right thing to do regardless of how it will affect the value of your home—but that's a decision only your family can make.
Consult an Agent for Advice You Can Trust
Remember, every real estate market is different. Talk to an agent with experience in your local market to find out what buyers in your area think about in-law suites. That way you won't be surprised when it's time to sell your home.
Your agent can also help you when you're ready to sell your parent's home—taking care of the hassle while making sure it sells for a great price. One of Dave's real estate Endorsed Local Providers (ELPs) has the experience you need to make this transition as smooth as possible. Find your ELP today!
Did you find this article helpful? Share it!