If you're over the age of 3, we know you've been there. It's one of those lazy, hot summer days when you long for the cool, crystal-clear waters of your very own swimming pool just outside your back door. No need to pack up towels, sunscreen, floats and swim goggles so you can load up in a sweltering car and drive to the community pool. You just open the door and paradise awaits.
Of course if you're a homeowner, that vision of paradise tarnishes a bit when you think about how much it will cost you to install and maintain a pool. And what about resale value? Will adding a pool increase the value of your home when you decide to sell it?
That's a great question, and the best answer is maybe—if you're lucky.
That's probably not the answer you were hoping for on this sizzling summer day. But there are plenty of reasons to be cautious about adding a swimming pool.
Add Up the Costs
Let's start with the obvious—how much will it cost to install a swimming pool in your yard? According to Houselogic.com, the National Association of Realtors' online magazine for homeowners, the average cost to install, equip, and fill a 600-square-foot concrete pool starts at $30,000.
You'll also need to enclose your pool with a fence—a requirement in most states. And don't forget lighting and landscaping. How many family vacations could you pay for with that kind of cha-ching?
Then there are the ongoing costs:
—The pump and heater, if you have one, could drive up your utility costs by $100 a month or so.
—Houselogic suggests you hire a professional to open and close your pool for the season. That'll cost $500 per visit.
—You'll spend about $600 during the swimming season on chemicals if you maintain your pool yourself. If you live in a climate where you'll use the pool year-round, budget $15–25 a week for DIY maintenance.
Your homeowner's insurance probably already includes coverage for a swimming pool, but it's worth checking first. Consider increasing your liability coverage as well just to be safe. It'll cost you less than a couple of bucks a month to bump your coverage from $100,000 to $500,000.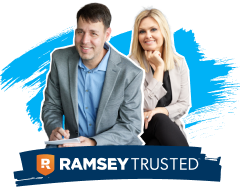 With the right agent, taking on the housing market can be easy.
Buy or sell your home with an agent the Ramsey team trusts.
Connect for Free
A Home-Selling Obstacle or Feature?
Add all that up and you've got a large price tag to try to recoup when you're ready to sell your home. It won't be easy since a swimming pool can actually make your home harder to sell. Many buyers consider it a liability rather than a luxury.
Under the right circumstances, however, a pool could boost your home's value by as much as 7%, Houselogic estimates. Here are the conditions:
1. You live in a higher-end neighborhood where most of your neighbors have pools.
2. You live in a warmer climate like Florida, Arizona or Hawaii where you can enjoy a pool year-round.
3. The pool doesn't take up your entire yard—there's still room for a swing set and a garden.
4. The style of the pool fits with your home and neighborhood, and it's well maintained.
5. You can attract a buyer who wants a pool in their new home.

Find expert agents to help you sell your home.
In the end, if your heart is set on adding a pool, don't look at it as an investment in your home, but in your lifestyle. A pool can add to your family's enjoyment of your home, and you can't put a price on that. Just be prepared for the ongoing costs and responsibility to maintain it as well as the obstacles that might crop up once you put your home on the market.
Find the Right Buyer With Advice From a Professional
Got a home with a pool you're ready to sell now? Work with an experienced real estate agent who will help you make the most of this expensive feature and attract buyers who, just like you, want to live out that daydream of cooling off in their own beautiful backyard swimming pool on a sunny summer afternoon. We can put you in touch with an agent Dave recommends in your area today.
Did you find this article helpful? Share it!