Pay Off Your Home Faster With The Right Mortgage Loan
Your house may be the biggest purchase you'll ever make. The right lender could save you thousands!
Common Mortgage Loan Questions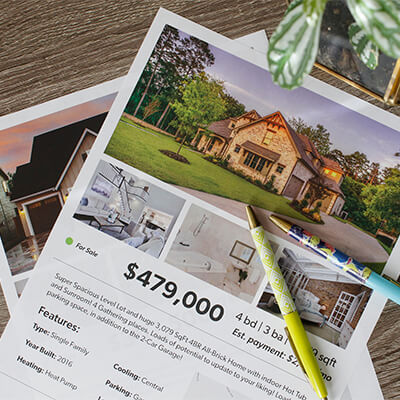 Am I ready to buy a house?
How much house can I afford?
What type of mortgage loan should I get?
Why Churchill Mortgage?
Proven Track Record
Churchill Mortgage has helped thousands of Ramsey listeners achieve homeownership.
Heart of a Teacher
Churchill's Loan Specialists show you the true cost—and savings—of each loan option. They coach you to make the best decision based on your budget and goals.
Office Locations Nationwide
Churchill Mortgage has a large network of experts with offices nationwide, including San Diego, Phoenix, Dallas, and Washington D.C.
Connect With a Mortgage Expert
By submitting your contact information you agree to our Terms of Use and our Security and Privacy Policy. You also expressly consent to having Churchill Mortgage and any of our mortgage partners contact you about your inquiry via text message or phone. This includes but isn't limited to an automatic phone dialing system or an artificial and/or pre-recorded voice by ways of the residential and/or cellular phone number you provided (even if that specific phone number is on a corporate, state, or national Do Not Call Registry). You do not have to agree to receive such calls or text messages as a condition of receiving services from Churchill Mortgage. In addition, by communicating with us via phone, you consent to calls being recorded and monitored. If you'd like to receive daily texts, you agree to receive 25 messages per month. For weekly text alerts, you will receive 10 messages per month. Mobile terms: Email and Mobile Policy. Text message and data may apply. Reply HELP for help. Reply STOP to cancel.
This is an advertisement for Churchill Mortgage. Advertising fees paid by Churchill Mortgage are in no way dependent upon any referral of settlement service business or a particular consumer transaction with Churchill Mortgage. Ramsey Solutions and its affiliates do not warrant the services or products of Churchill Mortgage, nor does Ramsey Solutions make any promise or guarantee related to any services rendered by Churchill Mortgage. Transacting business or communicating with Churchill Mortgage is at your sole discretion. Any services rendered by Churchill Mortgage are solely that of Churchill Mortgage. By submitting your information, you are consenting to being redirected to a third party site, www.churchillmortgage.com. Ramsey Solutions does not warrant third party sites, and it is not responsible for the information contained in such sites.
Churchill Mortgage Corporation, NMLS #1591 (www.nmlsconsumeraccess.org) is an Equal Housing Lender. For more information, go to www.churchillmortgage.com/support/licensing.
Mortgage Loans Frequently Asked Questions
Do I need good credit to get a mortgage?

Debt-free with a credit score of zero? Congratulations! Churchill Mortgage offers zero-credit-score loans. So they can still provide a home loan to you. Even better? They can guide you through how to pay off your home as soon as possible.

What is a prequalification?

It's a quick-and-dirty calculation that lets you know roughly how much mortgage you'd be approved for. Here's what it's not: It's not a step toward getting approved for a mortgage. Why not? Because all you need to do to be prequalified is share some financial numbers (real or fake) with a lender who can let you know if you're pre-qualified. So while it's an essential first step, don't let your prequalification mislead you into months of research and high hopes, only to have those dreams dashed against the reality of the hard numbers.

What is a preapproval?

A standard preapproval is a step beyond prequalification. Submitting your financial documents for your lender to review means this step takes a little more time. But doing the math is worth it because you'll be able to see what you can truly afford before you start looking for a house. Notice that pre in front of approval? It's there to remind you that even if you get it, a mortgage underwriter hasn't reviewed your file yet. To reach the best long-run outcomes for your money, there are two guidelines to keep in mind as you head into the mortgage process: Put at least 10% down (20% is even better because it lets you avoid Private Mortgage Insurance), and make sure your monthly payments are 25% or less of your take-home pay. Have those amounts worked out before house hunting, so you don't get lured into a house outside your comfort zone. Just because you're approved for a big loan doesn't mean you can afford it.

What does it mean to lock or cap your interest rate? When is the best time to do this?

Thinking about buying a home in the next three months? Capping your interest rate means you're guaranteed today's mortgage interest rate for up to 90 days through the Churchill Rate Secured program. That's a great move, because it protects you from fluctuating interest rates as you shop. But what if you don't find a home in that initial 90-day period? No sweat. You can reset your rate for another three months.

What is an escrow account?

Many mortgage lenders hold money that you've paid in an escrow account to cover three things: Your property taxes, homeowners insurance, and in some instances even your homeowners association (HOA) fees. We compare an escrow to a referee in a football game—the neutral third party who takes no sides and makes sure everyone is following the rules until the game is over. The goal of an escrow account is to make your life as a homeowner as easy as possible. So how does it work? Your lender will first calculate how much your property taxes and homeowners insurance premiums are for the entire year. Next, they'll divide the total by 12 to show how much escrow payment you'll owe per month. Then each month you'll pay that amount along with your standard mortgage payment. Your lender will manage the escrow account and submit payments for your property taxes and homeowners insurance when they are due. It's a great way to allow you to make one mortgage payment a month while saving you the hassle of remembering to make ongoing annual payments for your insurance and property taxes. Be aware that in some states, such as Hawaii and California, escrow is referred to as impounds.