You're thinking about getting a roommate, huh? Maybe it was time to part ways with your mom and dad, or maybe you're trying to cut some expenses by splitting rent and bills. Either way, if you're looking for someone safe and responsible to split rent and chores with, you're in the right place. With vetted online roommate forums and word of mouth, finding a roommate in a new city (or even for a new apartment) is a lot easier than the days of placing an ad in the newspaper.
So, how do you find a housemate—or two or three? We'll look at the best websites to use and questions to ask so you can learn how to find a good roommate who hopefully won't leave their dishes piled up in the sink—or worse, eat your pint of ice cream. That's just unforgivable.
Figure Out What Qualities You Want in a Roommate
What's really important to you in your living space? Getting a roommate who likes to play drums into the early morning hours might not be a good fit if your beauty sleep starts at 8:30 p.m. (Mine does, which is why I'm grateful my roommate—I mean, my wife—also goes to bed early.) If you're wondering how to find a roommate in a new city, here are some qualities and values you should think about:
What's your communication style?
What level of cleanliness do you prefer?
Do you enjoy having plants or pets?
How much time do you spend in the kitchen?
What's your preferred noise levels in common areas?
Are you social or private?
What's your daily schedule look like?
Do you need someone who shares your values around faith, politics or social causes?
You've got to know what's important to you in a roommate before you start making online profiles or posting ads online. That way, when it's time to rent your spare bedroom, you'll have a solid picture of who will be a good match based on your values and preferences. For example, if you never lived in a frat house and prefer a quiet living space, it's probably a good idea to say "no thanks" to Chad, who invites his keg-chugging friends over every Friday night, and find someone a little lower key instead.
Where to Find a Roommate
There are plenty of websites that can help you connect with safe, verified renters. But if you go that route, it's up to you to find out if the person you're connecting with is a good fit. Ready to jump in? Here are a few places where you can find a roommate:
Try an online roommate finder or housing forum.
Get instant access to potential roommate profiles when you use online sources like Roommates.com, Roomiematch.com and Padmapper. These sites and apps are designed to match you up with qualified roommates in your area. Just look out for membership fees or messaging limits if you get some good leads for potential tenants.
You can also use Craigslist, but here's the deal: You better be careful when you start meeting and interviewing roommates from these public forums. Screen them with phone calls, get references, and interview them (in a public space, away from home) with someone you trust. I don't want to scare you, but you need to be extra careful when meeting a stranger from the internet.
Tap into your social network.
There's nothing wrong with making a social media post asking if anyone you know (or anyone they know) is looking for a room. In fact, this is a great way to connect with people who come with personal recommendations. You can either post on social media or create a listing on Facebook Marketplace with details about the room and what you're looking for in a roommate. (Dogs or cats? Vegan or carnivore? Early birds or night owls? You get the idea.) There are also tons of Facebook groups dedicated to connecting people to roommates. Try searching "Find roommates [your city]," "Rentals in [your city]," or "Real estate rentals [your city]."
Try word of mouth.
Spread the word at church, work or school that you're looking for a roommate. Don't be afraid to ask around or even put up a flyer in the breakroom or on a community bulletin board. This could help you connect with mutual friends or trusted acquaintances who are also looking for a roommate. Personally, I recommend rooming with someone you know through a mutual connection. Chances are, there's someone in your circle who either needs a room or has a friend who does.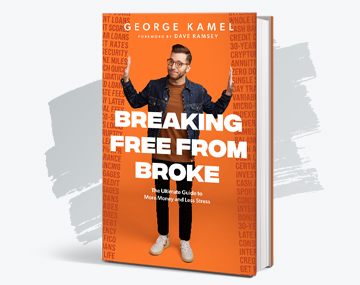 More Money. Less Stress. Yes, Please.
In his new book, George Kamel does the research for you and exposes all the worst money traps out there so you can build real wealth!
Start Reading for Free
Questions to Ask Potential Roommates
When you're getting to know people who are interested in rooming with you, you'll want to ask them a few questions to better understand their lifestyle and financial health. (After all, one of the benefits of getting a roommate is to save money . . . and you don't want to sign a lease with someone who won't consistently pay their rent or who leaves the place looking like a tornado rolled through.) Here are a few questions to get started:
What are you looking for in a roommate?
Are you looking for a month-to-month lease or something long term, like a year?
What's your work schedule like?
Do you have pets?
What time do you like to wake up and go to sleep?
What do you do for fun in your free time?
How often do you have visitors over? Who are they?
Do you smoke or drink alcohol?
Do you have any major food or animal allergies?
Will you be bringing any furniture with you?
Do you need a garage?
How often do you like to clean?
How to find a roommate safely
Is it likely that a hardened criminal is going to rent your spare bedroom? Probably not. But I want you to be smart and learn how to find a roommate safely with these tips.
Watch out for scams.
If you get some interest from a Facebook or Craigslist post, always verify you're talking to a real person. If their name is spelled wrong or their profile doesn't have any legit photos, those are red flags! Block them, report them, and move on.
Don't share financial information or sign a lease with someone you've never met.
If you haven't taken the time to interview someone and learn whether they're reliable and trustworthy, do not—I repeat, do not—share your bank account information, wire money, accept a money transfer, or sign a lease. You don't want to put yourself at risk for identity theft.
Get references or do a background check.
If you do end up meeting someone who could make a good roomie, get a few references from their previous landlord or employer. You can also run a background check (for a fee) through sites like First Advantage or E-Renter.
Know your boundaries.
If you're allergic to dogs, then don't sign on a roommate who's bringing their Great Dane named Marmaduke into your apartment. If you agree to share chores and someone doesn't hold up their end of the bargain, you've got to be ready to have a tough conversation. What I'm trying to say here is, you need to create boundaries from the start and stick to them. No roommate is perfect, of course, but knowing your deal breakers and preferences ahead of time is wise.
Decide financial responsibilities ahead of time.
Who's the main resident on the lease or renters insurance? How long are you both agreeing to rent? How will you split bills? Whose name is on the utility accounts? Will you split the cost of a housekeeper or tackle the deep cleaning yourselves? Figure out these details early on so there are no surprises when you're under the same roof and locked into a contract. (You can even write these into a separate roommate agreement so everyone is on the same page.)
Save Money By Having a Roommate
Listen, I know it's not always glamorous to share a sink full of dishes with someone you meet off Craigslist. But having a roommate comes with perks—like lower rent, someone to trade off vacuuming duties every other week, and maybe a pet you can enjoy without the responsibilities of ownership. And if you're a homeowner and want to pay off your mortgage early, a couple of roommates can help knock down that debt.

Find expert agents to help you buy your home.
If you're serious about making the most of the money you're saving by getting a roommate, try the free Everydollar app. It'll help you plan where every dollar you earn goes so you don't have to wonder where it went. Happy roommate hunting!
Did you find this article helpful? Share it!