Did you ever see the '80s classic The Money Pit? If so, you probably still have nightmares about the pitfalls of home ownership.
And who can blame you? You spent years getting out of debt and finally have enough cash to cover emergencies and a down payment. You don't want to see all that hard work crumble to ruins because of one (really big) bad investment.
But you didn't jump all those hoops for nothing.
A home can be a great investment. You just need to know what to look for. We asked Larry Aridas, one of Dave's real estate Endorsed Local Providers (ELPs) based in Orlando, Florida, how to spot a home that goes up in value. Here are six factors to consider.
1. Location
If you want your home to appreciate in value, think long and hard about the neighborhood you choose. You can change many things about a home. But the piece of land it sits on—and the schools it's zoned for—isn't one of them.
Beware of neighborhoods with For Sale signs dotting the street. If half the neighbors are getting the heck out of Dodge, take that as a clear sign to plant your roots elsewhere.
2. Size
The whole "bigger is better" mentality drives many buying decisions these days. A quick look at the numbers proves homes are no different: The average new family home has grown from less than 1,000 square feet in 1950 to more than 2,700 square feet today.
But don't be afraid to go against the norm. "It's always better to be the smallest home on the biggest block," Larry says. Why? Because you have more room to build equity. Leave margin for growth by buying at the bottom of the price range in the best neighborhood you can afford.
For instance, let's say the home you're eyeing is the only one on the block without wood floors and granite countertops, and you have the cash to make those upgrades. Boom! You've got a chance to add instant value to your home.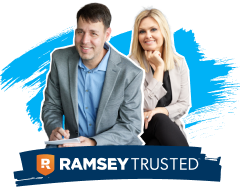 With the right agent, taking on the housing market can be easy.
Buy or sell your home with an agent the Ramsey team trusts.
Connect for Free
3. Exterior
Most folks know the importance of curb appeal when it comes to selling a home. But what about buying? If a seller didn't get the first-impression memo, should you overlook a home's not-so-great outdoors?
"Curb appeal is the one thing that 90–95% of the time can be changed," Larry says. If you're willing to do the work yourself, you may find a great deal hiding behind those overgrown hedges.
Just make sure the neglect doesn't creep inward. If the interior looks more shabby than chic, it could be a sign the homeowners didn't keep up with regular maintenance.
4. Interior
Imagine walking into a home that makes Elvis' Jungle Room look tame. What do you do? Your first instinct is probably to make like a cheetah and run. But wait! Before you hightail it out of there, take time to determine what kind of ugly you're dealing with.
You can fix gaudy décor. You can't fix how the home functions—and that's what really counts. Look at it this way: Do you want to spend the next 10 years refereeing fights between four kids who share the only upstairs bathroom? Neither does the next buyer.
5. Condition
Want to know the best Murphy detector money can buy? A home inspection! Always hire a certified home inspector to assess a home's condition before you sign on the dotted line. It's a great way to avoid a mess with zeroes at the end.

See how much house you can afford with our free mortgage calculator!
So how do you know when to walk away? Here are a few red flags Larry says should make you think twice about your purchase:
Foundation failures or noticeable structural problems
Prior sinkholes
Water damage
Termite or pest damage
Polybutylene piping
Of course, repair cost plays a big role in your decision. But it's also important to determine whether you can make the problem go away for good. A leaky roof, while expensive, is quite doable compared to a sinkhole. A good real estate agent can help you make sense of the home inspection findings so you can make the right decision for you and your budget.
6. Price
Nothing turns your dream home into a nightmare faster than being house poor. That's why Dave recommends keeping your mortgage to no more than a quarter of your monthly take-home pay and putting at least 10–20% down on your new home.
It's also wise to partner with an experienced real estate agent who can help ensure you don't pay too much for your dream home. Look for an expert negotiator who brings your best interests to the table and takes time to explain all the factors that go into a smart home purchase. With the right pro by your side, you can feel confident that the home you buy will bless your family for many years to come.
Did you find this article helpful? Share it!