For those of you planning to join the ranks of American homebuyers for the first time this year, you'd probably like to know what makes an ideal starter home.
That's a great question! Unfortunately, the answer can be vastly different depending on who you ask. Many young couples jump straight to the four-bedroom, 3,000-plus-square-foot home with hardwood floors and a gourmet kitchen. They skip what we normally think of as a starter home—an older, slightly outdated ranch or bungalow with "lots of potential."
But for bank-qualified first-time buyers, the lure of the instant dream home is often too strong to resist. Josh and Katie Bates have battled that temptation in the quest for their own starter home. They'd been renting a condo about a half-hour outside Houston, TX, since they married five years ago. While they are still in the early stages of their careers, Josh, age 30, and Katie, age 28, feel secure enough with their incomes as a commercial photographer and an event planner to get their foot in the door of their real estate market.
All they know right now is that they want a good value on as much home as they can afford. To figure out exactly what that means, Josh and Katie did some research before they contacted a real estate agent.
Twist Number One: Over-Qualification
To find their price range, Josh and Katie visited their bank to get pre-approved for a mortgage. Even though they have zero debt and a good-sized down payment, they were shocked when their bank approved them for almost $400,000 with no down payment!

Over the last five years, Josh and Katie have lived on a tight budget to pay off their remaining student loan debt and save up their down payment. That made the prospect of owning a show-stopper home exciting—at first. Josh and Katie have several friends who've bought brand-new homes with huge master suites, bonus rooms and plenty of space for their growing families. A home like that would be a reward for Josh and Katie's hard work and sacrifice over the last several years.
Reality Returns
But it didn't take long for Josh and Katie to come back to reality. With an annual income just shy of $70,000, the principal and interest payment on a $400,000 mortgage would eat up a third of their monthly income. Taxes and insurance could push their payment to higher than 40%!
Josh and Katie know they don't want to take on that much debt. They have other goals to save for, like retirement and college funds for their future kids. They don't want to tie up their income on a huge mortgage payment for the next 30 years. If you're in that boat, Churchill Mortgage aligns with Dave's teaching and will help you get a 15-year fixed rate mortgage.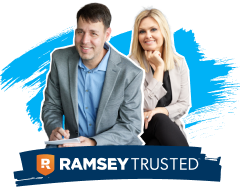 With the right agent, taking on the housing market can be easy.
Buy or sell your home with an agent the Ramsey team trusts.
Connect for Free
Twist Number Two: New Construction Is Within Reach
Josh and Katie went back to the drawing board and based their price range on a house payment that would fit into their budget—about $1,050. They considered 30- and 15-year mortgages just to see what the difference in purchasing power would be.


Find expert agents to help you buy your home.
At the high end of their price range, between $200,000 and $230,000, Josh and Katie discovered that they could choose from several new construction options located in a great school district. They really liked the open-concept designs and outdoor entertaining areas as well as the opportunity to choose their home's colors and finishes as it's built.
The Price Is Not Right
The problem, however, is how much a home like this will end up costing them. They'd pay nearly $160,000 in interest by financing the new construction option over 30 years.
It was tough, but they kept reminding each other that they didn't set out to find their forever home with their first purchase. So once again, they scaled back and focused on finding a good value without signing up for a mortgage that would last into their late 50s.
This Is What We're Looking For!
When Josh and Katie explored the options on the low end of their price range, they found exactly what they'd been looking for—true starter homes. These homes are older, but well cared for. They're not large, but 1,600–1,800 square feet is plenty of room for a first home. The school districts are okay, but since Josh and Katie don't have kids yet, that's not a big concern.
While there were several options, they didn't set their hearts on any one home until they contacted their real estate agent and gave her their description of the kind of homes they wanted to look at:
Josh and Katie's Starter Home Must-Haves
Three bedrooms, two baths, and at least 1,500 square feet with a nice-sized yard.


A quiet, established neighborhood where home values are on the rise.


They prefer a move-in ready home with good bones. The roof and heating and air system don't have to be brand-new, but they don't want them to be on their last legs either.


They actually prefer a slightly outdated home with low-end finishes like carpet and laminate countertops. They can make some easy upgrades that will add value when they're ready to sell a few years down the road.
When Josh and Katie are ready to sell their home in five years, they'll have nearly $60,000 in equity based on the price range they're considering. That, combined with the upward trend in home values plus the upgrades they plan to make, will put them in great financial shape to purchase their next home—the one they plan to start their family in.
How to Arrive at the Destination You Set Out For
Your search for a starter home could take a different direction from Josh and Katie's. Competition among first-time buyers for the few real starter homes available can often push the price of the home you want out of range. Or maybe you're just not sure where to find a good starter home in your area.
A real estate agent who knows your local market and understands the kind of home you're looking for can help you tackle those challenges and get your journey to homeownership off on the right foot.
Looking for a real estate agent you can trust? We can connect you with an agent Dave recommends in your area today!
Did you find this article helpful? Share it!