Parent. The official definition should be: "Caretaker of child. Synonyms: nanny, tutor, launderer, chauffeur, coach, nurse, therapist, chef, hand-holder, tear-wiper, picker-upper, fight-breaker-upper, bottom-pamperer . . ."
It's a rich and rewarding role, but the parenting duties never seem to stop!
This definition especially applies to a stay-at-home parent (SAHP). While SAHPs may not pull down a six-figure income from a corner office, they do provide a lot of valuable services for the family.
Let's talk about why stay-at-home parents need life insurance, how big that policy needs to be, and what families should do with the life insurance payout if the unimaginable happens.
Understanding the Value of a Stay-at-Home Parent
The whole point of life insurance is to replace your income so your family can function if something happens to you—so getting life insurance for parents who bring in an income is obvious.
But what about coverage for stay-at-home parents? Why do SAHPs even need term life insurance if they don't technically make an income? (That's rhetorical.) It's because of the high-dollar services they provide!
Here are some of the jobs a stay-at-home parent covers:
Teacher
Childcare provider
Chef
Chauffeur
Housekeeper
Laundry worker
Tutor
Coach
Project manager
Running a household is a lot like trying to herd a litter of kittens—without a SAHP, it might all get ugly in a hurry. If something horrible were to happen to the parent at home, who would take care of these needs? The surviving spouse can't quit work—they still need to bring home an income. That's where term life insurance comes in.
Do Stay-at-Home Parents Need Life Insurance?
A life insurance policy for a stay-at-home parent doesn't replace their income—it provides the money necessary to cover all the jobs the SAHP did before they passed away.
Obviously, it's impossible to replace a parent. Nothing will ever fill that hole in the family. But with the money from a life insurance payout, the surviving spouse can hire someone to cover many of the responsibilities the SAHP used to handle.
It's a matter of keeping your family going in the worst of situations. Life will never go back to normal, but by hiring people to help fill in the gaps (at least temporarily), you can make sure nobody's needs fall through the cracks. And that's what matters, right?
When Should You Get Life Insurance as a Stay-at-Home Parent?
If you're fresh out of college and don't have debt, you don't need life insurance quite yet. But if you're married and kids are on the horizon, it's good to go ahead and buy life insurance now.
By getting life insurance right away, you'll be covered no matter how long it takes for that little one to come along. After all, they tend to arrive on their own schedule—and often earlier than you'd planned!
How Much Life Insurance Do Stay-at-Home Parents Need?
Here's the big question is: how much term life insurance should you purchase for the stay-at-home parent? There's no one-size-fits-all answer to this because every family is different, but a general rule is to get a 15- to 20-year policy of at least $250,000–400,000.
When you're young, getting more life insurance isn't that expensive, so it's okay to get more than you think you need. After those 15 or 20 years, the kids should all be grown and out of the house, so there's no need for coverage. To get an idea of how much coverage you need, check out our term life calculator.
Coverage Considerations for Stay-at-Home Parents
As you're deciding how much coverage to buy, you need to think through five major areas: family size, career plans, childcare, education and household duties. Each of those details has an impact on how much life insurance you'll need for your family.
How many children do you have?
Bigger families have bigger financial needs—from the cost of childcare and groceries to paying for vacations and all of those extracurricular activities. So more kids means you'll need a larger life insurance policy for the SAHP.
Will the stay-at-home parent be going back to work?
We've already touched on the high-dollar value of the work a SAHP does (and we'll do the math in the next few sections). But beyond what they contribute at home, there's also the possibility they'll return to work.

Compare Term Life Insurance Quotes
If that's part of your SAHP plan, it's all the more reason to get them life insurance. Sooner rather than later, you'll want to buy a policy that's 10–12 times their expected income. Then they'll be covered either way—whether they're doing the SAHP thing or going back to work. Since the cost of life insurance increases as you get older, don't wait until the SAHP returns to work to get their policy. Lock in a nice low rate right now.
How much will childcare cost?
If something happens to the SAHP, how much money would you need to cover childcare expenses? According to Care.com, childcare for an infant costs about $225 a week for a day care center and $700 a week for a nanny.1
So, 52 weeks of care (because—gross as it is—you have to pay for day care even on days your kid isn't there) could run between $11,700 and $36,400. And that's just for one child. Of course, those costs differ depending on where you live, but you get the idea.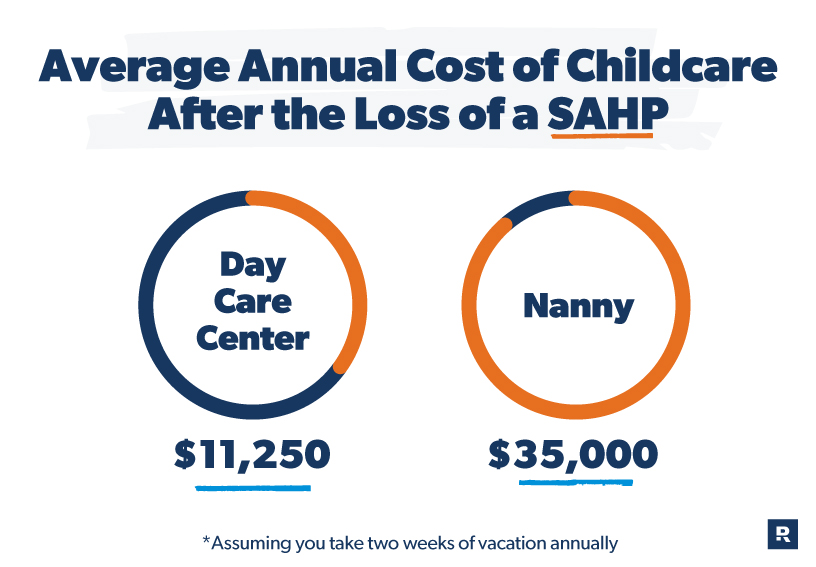 How much will education cost?
A lot of families choose to homeschool their children. If that's the case in your family, you and your spouse need to decide where the kids will go to school if something happens to the SAHP.
If you want to go the private school route, you'll need to factor in those costs. The national average for private school tuition is about $12,167 a year.2 Again, that's just for one child. And that doesn't include all the extra costs—like supplies, fees and extracurriculars.
Who will take on household duties?
Who'll be responsible for cleaning the house if something happens to the stay-at-home parent? If you just paid someone for basic housekeeping, it'd cost you about $14 an hour.3 (Of course, there's a lot more to running a household than basic cleaning—any other chores you need done will only drive the bill higher and higher.) And that's an average, so if you live in California or New York, you may have to offer up the occasional arm or leg to pay for these costs.
Remember, how much life insurance you get for the SAHP will depend on your family's needs.
As you can see, the practical cost of what a SAHP gives their family is huge! And life insurance coverage can give SAHP families some real peace of mind that those duties will be well covered no matter what.
We've heard from plenty of satisfied customers in our Ramsey Baby Steps Community Facebook group who bought life insurance for a SAHP. Take it from stay-at-home mom Vanessa D.: "We homeschool our four kids. If I was to die, I would want my husband to be able to continue that. This is why we have $750,000 on me. It would cover the cost of the house and enough for college too. Hubby has a pension and VA disability and could live off of that." Great thinking, Vanessa!
And check out Micaylee N.'s testimony. She knows the value of her husband's SAHP contribution: "My husband is a stay-at-home dad, and we have a $700,000 policy on him." Good for you guys, Micaylee!
Both families value their stay-at-home parent enough to know that if the worst were to happen, it would cost a whole lot to pay for the many jobs they do on a weekly basis. So they've bought policies worth 10 times the amount they'd pay to cover the work the SAHP does in a year.
Now Vanessa's and Micaylee's families have the peace of mind knowing that if anything happened to their SAHPs, the surviving parent could work with a financial advisor to put the life insurance payout in a good mutual fund. (And just so you know, a life insurance benefit is almost never taxable.)
Each year, they could use the growth from that mutual fund (which could be around 10% a year) to pay for the costs of childcare, meal prep, house cleaning and the other jobs their SAHP used to handle.
Your own life insurance needs will depend a lot on the factors we outlined above, but let's look at Vanessa's situation as an example. Her policy is $750,000—so that would give her family a payout of $75,000 a year (that 10% of annual growth we mentioned earlier) to get everything covered.
And how's this for a life insurance endorsement from Melissa B.? "Start with Zander. We did and it was very affordable." We couldn't agree more, Melissa!
Get the Right Life Insurance in Place Today
Stay-at-home parents often minimize the financial role they play in their family. Don't make that mistake, especially when it comes to life insurance! Nobody could ever take the place of your family's stay-at-home nurse-chauffeur-coach-therapist-hugger—but it is important for your family to have the money they'll need to take care of your most basic duties.
We recommend working with our RamseyTrusted partner Zander Insurance. They'll shop the top insurers on the market and help you get the best coverage for your family. Make sure your needs are met by getting the right life insurance coverage for both parents.
Interested in learning more about life insurance?
Sign up to receive helpful guidance and tools.
Did you find this article helpful? Share it!