How to Help Your Students Decide What Type of College Is Right for Them
8 Min Read | Sep 28, 2021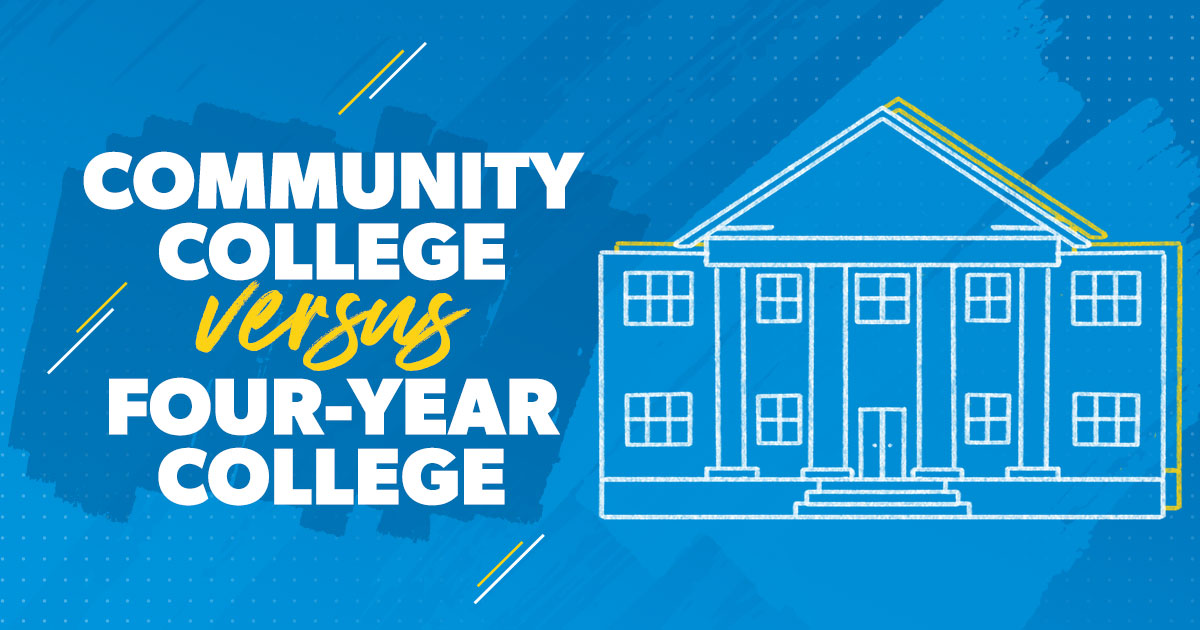 If you teach high schoolers, you already know that college decisions are on the horizon for them.
This is a crazy season of life for a lot of teens, and figuring out where to go to college (and how to pay for it!) just adds to the stress. There are so many different paths to take, and the weight of those life-changing decisions is enough to make even the most level-headed teen freak out a little. But with your guidance, they'll be making wise and informed decisions in no time.
Your students should start by thinking about their career goals and asking themselves, Is college really worth it? If they've decided that they definitely want to pursue a college degree, then they need to ask the follow-up question: Which college is right for me?

Are you a teacher? Help your students win with money today!
But even more importantly, they need to figure out which type of college is right for them. Community college? Public, in-state school? Private college? Does it make a difference in the long run? That's where we come in. We're going to break down each one so you can tell your students exactly what they're getting into—and what they can afford without the "help" of those pesky student loans!
Community College and Four-Year College Defined
First of all, your students should know that community college is usually a two-year program, and the average tuition is a fraction of the standard state or private school tuition. State or private schools are usually at least four-year programs (unless students can manage to squeeze all their credit hours into a shorter time period).
Your students might also be wondering if there are any differences between colleges and universities. The difference between a college and a university is simply that a college typically offers only undergraduate degrees, while a university typically offers undergrad and graduate degrees—but one type of school isn't necessarily more expensive than the other.
We'll call the four-year schools institutions since the research we're using here comes from both colleges and universities. Now let's start comparing some costs!
Community College vs. Four-Year College: What's the Price Tag?
A college degree isn't exactly cheap, no matter where it's from. And since it's such a huge investment, your students need to be able to compare the numbers.
Tuition
This is the category where you'll see the biggest price differences. Just to put it in perspective, the yearly cost of a private school is more than nine times the cost of a year at a community college! On average, tuition numbers look something like this:
Community college—$3,770 per year
Public institution (in state)—$10,560 per year
Public institution (out of state)—$27,020 per year
Private institution—$37,650 per year1
So, why the huge price difference? A lot of it has to do with each school's acceptance rate and criteria, student activities, campus features, and sometimes even the professors' level of education. But that doesn't necessarily mean students wouldn't learn just as much at a community college or state school as they would at a private one.
Books and Supplies
This category is a lot more even across the board. It's only slightly higher at community colleges than at four-year schools, and the average cost of books is the same for all of the four-year schools:
Community college—$1,460 per year
Public institution (in state)—$1,240 per year
Public institution (out of state)—$1,240 per year
Private institution—$1,240 per year2
But keep in mind, these costs can always vary depending on the students' major and where the books are purchased. Remind your students that their books will be way cheaper if they buy them used or from websites like Amazon!
Housing
The costs in this category are also pretty similar when it comes to four-year schools, but community college comes in a few thousand dollars cheaper:
Community college—$9,080 per year
Public institution (in state)—$11,620 per year
Public institution (out of state)—$11,620 per year
Private institution—$13,120 per year3
For community college, this data is based on off-campus housing—but believe it or not, there are quite a few community colleges that do offer on-campus housing. Your students should also keep in mind that living at home or sharing an apartment with roommates is usually a much more affordable option than living on campus.
Food
Most community colleges don't have a dining hall that offers meal plans, but at a four-year institution, meal plans tend to be pricey. It's more budget-friendly—and a lot healthier—for students to buy their own groceries and cook for themselves. They may even choose to live at home and contribute to the family's monthly grocery fund (mom's food is way better than college food anyway, right?).
Some four-year schools do require students to have a meal plan for at least freshman year if they're living on campus, though, so that's an expense your students need to keep in mind. If they have to have a meal plan, they should choose the one that makes the most sense for their lifestyle and then make sure they actually use it––or else that's money down the drain!
How Is Life Different at a Community College vs. a Four-Year School?
During their college search, many students look for the "full college experience" (sometimes even more than they look for academics or affordability). We get it. They've probably heard people say that the college years are the best years of your life—so they want to make sure they have as much fun as possible. And usually that means living on campus and being completely involved in campus life—but they need to know that kind of lifestyle comes at a higher price.
Sure, going to a four-year school will provide way more social opportunities than a community college—and who can resist the thrill of an '80s-themed dance party? But community colleges have their fair share of clubs and honor societies (like Phi Theta Kappa), so students can still sport their Greek letters and make those fun hand symbols.
It's tempting to make the "college experience" the deciding factor here, but to pay for college debt-free, students will have to think about affordability first. Your students might need a gentle reminder that at the end of the day, college is about the degree, not the social calendar.
Your students should also know that they have the option of starting at a community college to get their general education requirements out of the way at a lower cost. Then, they can transfer to a four-year school later on (if they can afford it).
How Will the Choice Between Community College vs. Four-Year College Affect Students' Futures?
Your students probably want to know whether the decision between a two-year or four-year college will affect the job opportunities they're able to get after graduation. The answer? It depends.
Some people say a bachelor's degree makes you more marketable in the hiring process, and for certain companies, that may be true. But it's also true that good old-fashioned hard work plays a huge role in whether or not students succeed after college—no matter what kind of degree they have. Plenty of wildly successful people (Bill Gates, for example) never got a degree at all!
Ultimately, the choice between a two-year and four-year education comes down to the student's desired field. Some careers may require the extra training that a four-year college would provide. But for some students, a two-year associate degree may allow them to enter the workforce sooner (and get ahead financially as a result). Remind your students to research the average salaries and education expectations of the career they want to pursue to make sure it's a practical option for them.
No Matter the Degree, Do It Debt-Free
Above all else, your students should choose the college option that they can pay for without loans—whether that's through scholarships and grants, working a steady job, having a side hustle or two, getting help from their parents, or some combination of those things.
And don't forget—there are other options like trade schools or directional schools that might not be as glamorous but will still provide a great education and can help save thousands on tuition. Because at the end of the day, nothing puts a damper on your students' bright, promising futures like graduating with a huge pile of debt.
When you encourage your students that they can go to college debt-free and you equip them with the knowledge they need to choose an affordable education, you'll make an impact not only on their college years, but on the rest of their lives!
Want to find more teaching material on saving money and going to school without loans? Check out Ramsey Education to learn about our industry-leading Foundations in Personal Finance curriculum.