Do you remember what it felt like when you first realized you were actually winning with money—and you finally felt overwhelming peace instead of overwhelming anxiety? Or how it felt when you pressed "pay now" on your very last debt payment? What about the moment you realized you were in the driver's seat of your own future?
Financial peace is a game changer. And it's contagious. When you experience financial peace for yourself, all you want to do is help others experience it too. But how? By becoming a Ramsey-certified financial coach! As a financial coach, you can help people in your community leave debt behind and change their future—starting with their finances.
What Is a Ramsey Solutions Master Financial Coach?
A Ramsey Solutions Master Financial Coach is someone who helps others with their finances. As a financial coach, you'll help people from all walks of life with a wide range of money issues—from crisis situations (like joblessness) and budgeting breakdowns, all the way to building wealth through saving and investing.
A Ramsey Solutions Master Financial Coach uses Dave Ramsey's coaching principles to meet people right where they are and show them how to get to where they want to be (winning with money!). Many coaches choose to help people as a ministry and service, while others choose to help others as a business.
Who Can Become a Financial Coach?
Anyone can be a financial coach—including you! You don't have to be a finance major, an accountant, or even have an MBA. All you need is a heart for helping others and the time to put in the work!
We've seen all kinds of people walk through our program: a professional football player, a police officer and stay-at-home moms too! And get this: You don't even have to be debt-free—all you need is a desire to help people with their money.
Financial coaches are sometimes Financial Peace University (FPU) coordinators who want to take their church or stewardship ministry to the next level. Other times, they're FPU members who've experienced the joy of taking control of their own finances—and want others to experience that amazing feeling too. Often, people use their coaching side business to supplement their income while they're still working full time or to bring in a little extra money during retirement.
Does this sound like you? If so, it's time to take the next step.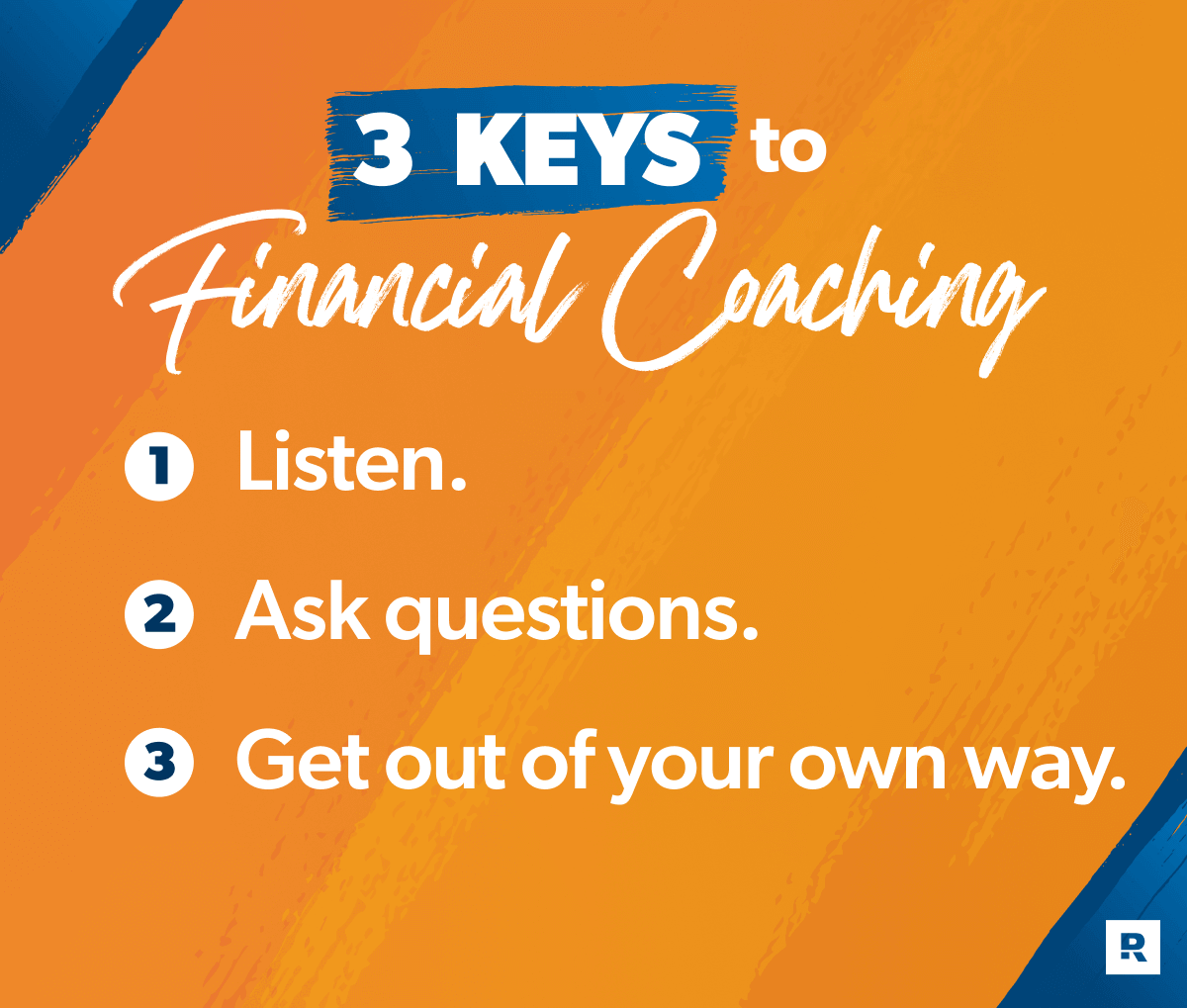 Why Become a Financial Coach?
Financial coaching has the power to transform lives. Through financial coaching, you can:
Help people who want ongoing support after FPU
Grow an income-earning side business
Inspire other people with your story
Build relationships with other local experts
By offering one-on-one, knee-to-knee coaching, you'll be able to support people in your area who might not have anywhere else to turn. That's a huge deal. You'll give people the hope and relief they need when they most need it.
It'll also give you a platform to inspire others with your own story. If your heart is to serve others, that should fill you with joy!
Financial coaching often includes another bonus for clients: a great network of other local experts. Most financial coaches aren't experts in everything, but they know where to turn. When they don't have an answer, they refer their clients to trusted local experts in specific fields like real estate, tax law or investing. The more you do this, the more you build relationships with other professionals—which adds to the resources available to you, your clients and your ministry.

Lead others to financial peace! We will show you how. Click here.
As a financial coach, you're a valued asset to your community. For that reason, many coaches choose to earn an income through their business. And that's okay! There's nothing wrong with earning money while you help people transform their lives from the ground up. Remember: The marketplace is driven by service, and when you serve well, you're rewarded.
Whether your plan is to make financial coaching your ministry or your business, we can teach you how. You'll get our forms, our processes and our playbook backed by more than 20 years of experience coaching tens of thousands of people.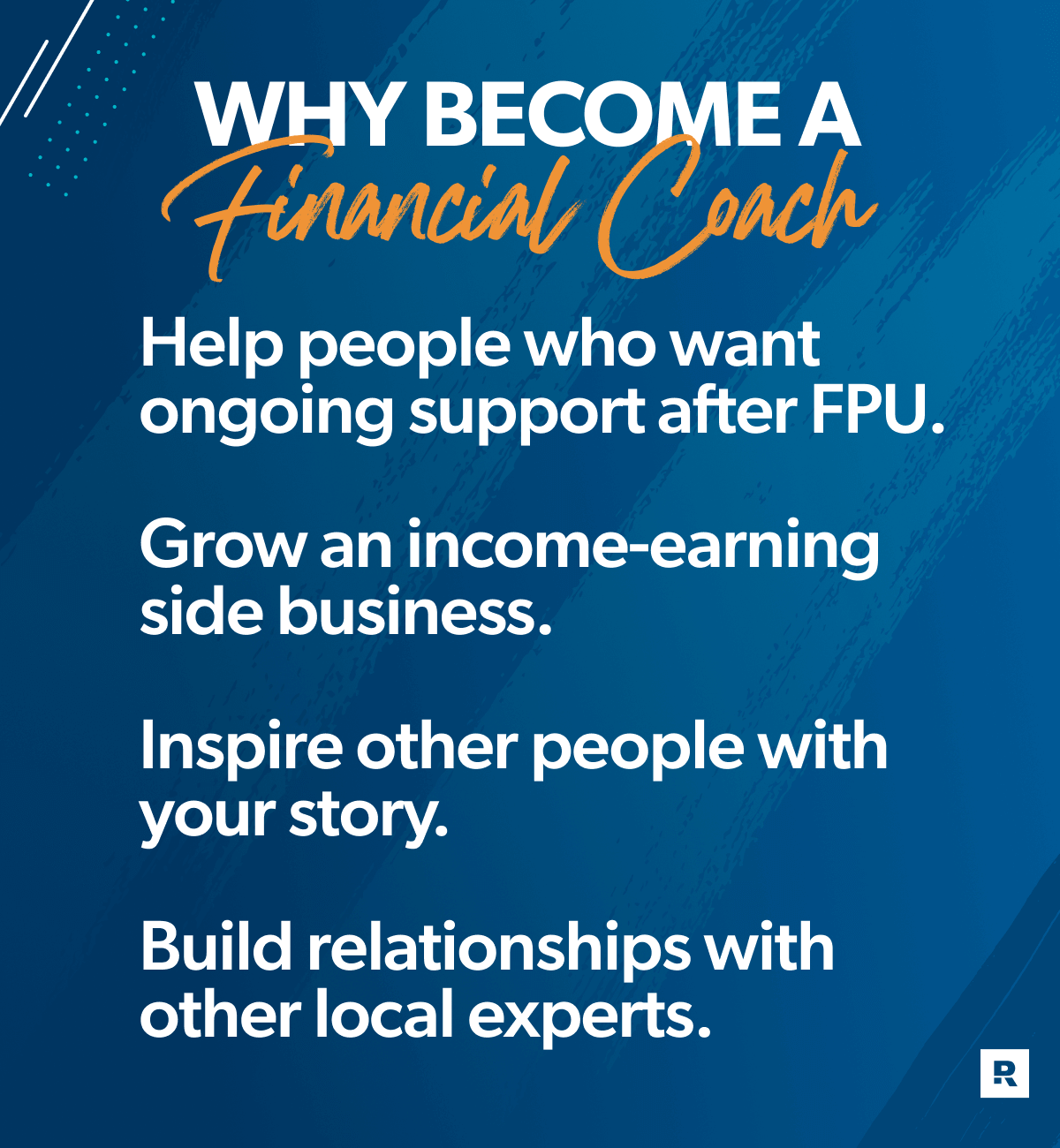 Proven Financial Coach Training
Financial Coach Master Training (FCMT) is the most comprehensive coach training on personal finance out there, and it's taught by Dave Ramsey's qualified team of coaches who've successfully run their own coaching businesses.
Even better, FCMT is completely online, combining digital, video and live coaching sessions with our in-house Ramsey Solutions coaches. It's guided and interactive, so we'll walk you step by step through the process of becoming a financial coach.
Once you go through FCMT, you'll become a designated Ramsey Solutions Master Financial Coach. But we don't leave you to figure out your coaching business on your own. That's where the next phase of training begins. Our team will walk you through the ins and outs of starting your own coaching business, giving you the support you need as you begin coaching in your community.
Want to learn more about what it looks like to become a financial coach? Sign up for this free webinar that will tell you everything you need to know about Financial Coach Master Training. Register today!
Did you find this article helpful? Share it!