Today, Etsy expert Melissa Kaiserman, who's been a speaker at one of our Business Boutique Conferences, offers up some very practical advice on how to write successful Etsy product descriptions. I know there are so many of you who can benefit from these tips! Enjoy her guest post below.
***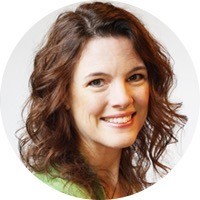 Writing product descriptions is one of my least favorite parts of listing items in my Etsy shop. I know it's tedious. But it's a great opportunity to communicate with the buyer and draw them in! So here are 5 steps to help you write awesome Etsy product descriptions and have a little fun in the process.
1. Develop your own voice.
Don't just copy parts and pieces from other sellers' listings. Your listings should sound like you. Using your own words and infusing your personality will come across as genuine and unique.
2. Write for the buyers who take the time to read everything.
Personally, I am a product description reader. So if you want to sell something to me, I want you to give me all the details you can because I will analyze all of them before I make a decision! Yes, there are plenty of shoppers who won't read the details, but there are also plenty who will—so write your description with them in mind, so they can get what they need out of it. This will also help your SEO.
3. Remember that customers aren't able to touch or try your product.
Play 20 questions with yourself. If you were purchasing this product, what would you want to know about it? Try to paint such a clear picture with your words that if there were no photos to go along with your listing, someone would still be able to understand the product. If you include those details, not only will your buyer be able to make an informed decision, but it will save you a lot of time answering individual questions in Etsy conversations!
4. Use short paragraphs, succinct sentences, and lists.
Even though I want you to be descriptive in your product listings, I don't want them to be tedious for the shopper to read. So keep your thoughts succinct. Using lists in your description will make the details easier on the eyes.
5. Always proofread!
If spelling and grammar are not your strong suits, enlist the help of someone who rocks at grammar, punctuation, and mechanics. You want to come across as a professional. I am a natural speller, and I have caught my own errors in a product listing after I hit "publish." It happens to everyone, but if you proofread or enlist some help from someone else to proofread, you won't run the risk of turning someone off with a poorly worded sentence or misspelling.
For the complete plan on how to start or grow a business and make money doing what you love, pick up a copy of Business Boutique.
Did you find this article helpful? Share it!