The word budget was the last thing on Julian's mind until this year.
"We lived with my mother," he explained. "I have a job here in New York, but it's very expensive to live in this area." And it's especially challenging when you have three growing boys! The decision to share housing expenses with his mother allowed Julian's wife, Nicole, to stay home with their sons.
But everything changed at the beginning of the year.
"Something unexpected happened," Julian said. "We lost my mother to a tragic accident. It was horrible for all of us. It was such a big hit."
The loss took an emotional toll on the whole family. It also set into motion the decision to take a good, hard look at their finances. "After my mom passed away, we had to take on more expenses," Julian said. "I knew I needed to start taking our family finances seriously."
How EveryDollar Changed the Game for This Family
Julian had heard of a budgeting tool called EveryDollar but didn't know much about it. "I remember thinking I needed to download it when it first came out," he said. "But I didn't take action. I was just using my own spreadsheets."

Budget every dollar, every month. Get started with EveryDollar!
But now that they had more money going out than before, Julian decided it was time to ditch the spreadsheets. "I downloaded EveryDollar—and what a difference it's made in our lives," he said. "It's only been two months, but it's already helped us look at our money from a broader perspective."
One of the areas they struggled with the most was the grocery budget. They were all too familiar with how it felt to eat lobster on payday—and cereal at the end of the month. "Before we were on a budget, we would go out to eat when I got paid," Julian said. "But when the next week came, we would have no money in the bank."
Now that they've created a budget, things have changed. "We have a plan now," he said. They know exactly how much they're bringing in each month, how much they need to cover the necessities, and how much they have left to spend on things like takeout and date nights out on the town. "The budget gives you a peace of mind," Julian explained. "Now when the second paycheck comes, we aren't completely broke. We have a safety net."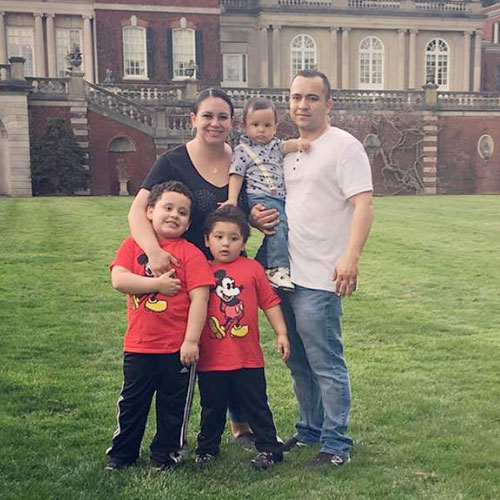 The first big money goal Julian and his wife have is to pay off all their debt. "Our student loans are around $4,000 and the credit cards are another $3,000," he said. "And we bought a minivan when our family grew unexpectedly. Right now, we have about $20,000 left to pay on that." They've just gotten started, but they're excited about the future and eager to watch the numbers drop—and the payments disappear.
"We're really concentrated on bringing more money in, whether it means getting a part-time job or selling some of our things. We just had a yard sale and made about $180 selling things the kids weren't using anymore," Julian said. "We never would've done that in the past. But we did it because we know we need the money to pay off our debt. It's going to take a while, but I know it's possible."
A budget isn't just for people trying to get out of debt. "Everyone, no matter what stage of life, needs a budget and needs to be disciplined with their money," Julian said. "Even if you aren't in a bad spot financially."
"Budgeting has helped us relieve financial stress," Julian said. "A lot of husbands and wives experience financial trouble, stress and arguments. And it's just horrible for a relationship," he said. "But when you know you're on a budget and being disciplined with your money, your relationship improves. It's such a good tool for married couples. EveryDollar changed our lives."
Start your budgeting journey with EveryDollar. It's free to use and takes less than 10 minutes to set up!
Did you find this article helpful? Share it!