For those of you trying to decide which funds to invest in for retirement, we hear you.
One of the funds that you've probably heard a lot about is the S&P 500 Index Fund. It's a bit of an investing buzzword. But what is the S&P 500 Index Fund and is it a good place to invest your money?
Let's break it all down.
What Is the S&P 500 Index Fund?
But before we move on, let's make sure we're on the same page about these definitions. An "index" is simply a measuring stick, or a way to track the progress of the stock market. With me? Okay. The S&P is an index that mirrors how the 500 largest publicly traded companies are performing. Got it? Good.

We filter out sleazy advisors. See up to five investing pros we trust.
Now, because the S&P 500 index accounts for 80% of the market value, it's widely looked to as the best single gauge of the market. 1 That means this index fund's performance is no worse, but also no better, than this section of the market. That's an important detail to remember. Index funds are a "passive" form of investing. They're a type of mutual fund not actively managed by someone looking to beat the market but instead designed to mirror the performance of the index—like the S&P 500 index.
How Does the S&P 500 Index Fund Work?
It's pretty simple: If you invest in the S&P 500 Index Fund, you'll own shares of all 500 stocks that make up the index. Those companies can—and do—change if the S&P 500 adds or drops some companies for others in the actual index.
It's also worth noting that the S&P 500 Index Fund is fairly diversified. It has its investments spread out among 11 major industries with no sector having more than 30% of the money invested. Here's a look at the different business sectors that make up the index.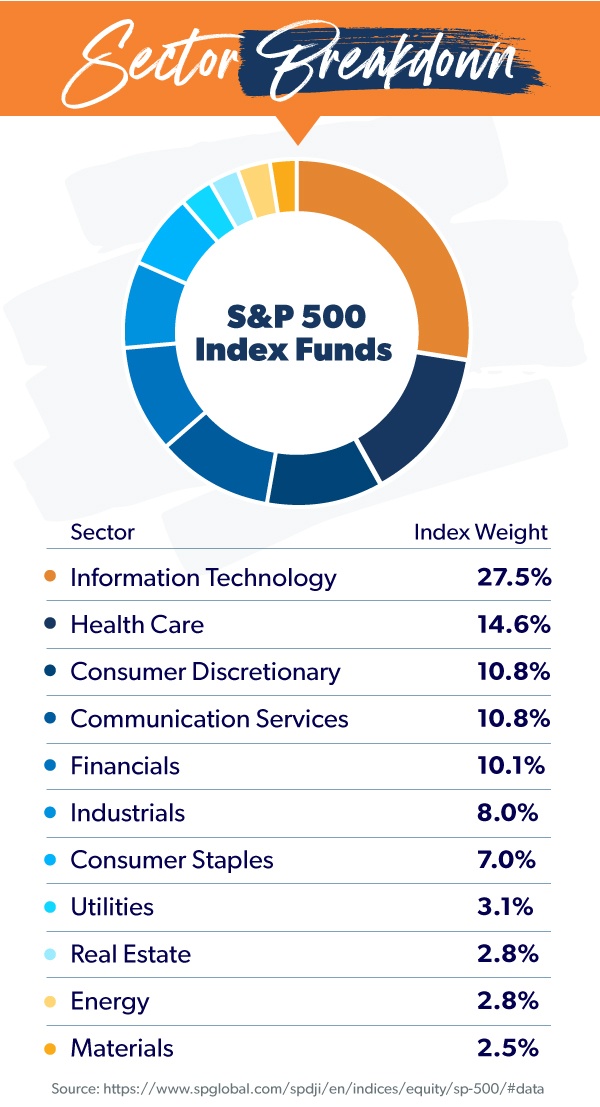 S&P Index Fund Companies
You'll certainly recognize some of the big names that help make up the S&P 500 Index Fund—we're talking Apple, Alphabet/Google (it has two types of shares in the index), Amazon, Berkshire Hathaway, Facebook, Johnson & Johnson, Microsoft, Proctor & Gamble, and Visa. And the performance of these 10 largest companies in the index accounts for more than a quarter of the trading activity and overall return.2
Should I Invest in the S&P 500 Index Fund?
Well first, you have to keep in mind the pros and cons of index funds. Because index funds are passively managed (remember, the fund just follows the index), they have lower expense ratios, aka administrative fees. And that attracts a lot of investors. And as mentioned, it's a fairly diversified fund.
Where the S&P 500—and many other index funds—falls short, however, is in the rate of return. Hear us on this—you want to invest in a fund that will beat the market average, not match it. A good growth stock mutual fund outperforms an index fund.
From 2009 to 2019, the S&P 500 return was just under 14%. While that's not bad, it doesn't keep pace with growth stock mutual funds. Even in a bull market year like 2019, the S&P 500 return was a little better than 31% while the best growth stock mutual funds were returning more than 40%.3
Bottom line: Overall, saving a percent or two on the fees, but giving up a few percent on the return creates a long-term growth gap. Some mutual funds underperform the S&P 500—and you want to stay far away from those—but there are many mutual funds out there that outperform the index.
You've heard me say it before—picking and choosing the right funds is a big deal!
Get With a SmartVestor Pro
So where should you invest? I always recommend that folks spread their dollars among a mix of these four types of mutual funds: growth and income, growth, aggressive growth, and international. This mixture is going to help ensure that your investments are well diversified and help you beat the market average. But listen, you should never invest in anything you don't understand.
It's always a good idea to sit down with someone, like a SmartVestor Pro, who can help you set goals for your financial future and help you understand all your options, from index funds to growth stock mutual funds.