Ready or not, retirement is coming. But just because it's not here yet doesn't mean you should put it off. The key to the retirement of your dreams is found in proper planning and taking the right steps to make it happen.
You know where we're going with this, right? Yup—we're talking about investing and a little golden gem called your 401(k) company match. If your company offers one, that's a great start. But should you be investing if you're still in debt or have those dumb student loans hanging over your head? Of course, right? Not exactly.
What Is a 401(k) Company Match?
A 401(k) company match is a retirement benefit offered by your employer. As you put money into your 401(k), your company will match your investment (up to a certain amount). How your company matches your investment is going to be different depending on the types of retirement benefit plans they offer. There are two main types of company matches:
Dollar-for-Dollar Match
This kind of company match is exactly what it sounds like. You put a dollar in, and your company will too. Often times, this dollar-for-dollar matching is good up until a certain amount. Let's say your employer will match your contributions dollar for dollar up to 5% of your salary. If you make $60,000 a year, your company will match your 401(k) contributions up to $3,000. Did someone say free money? Yup—they sure did.
Partial Match
With a partial company match, your employer will offer to partially match your contribution up to a certain amount of your salary. For example, they might offer a 50% match up to 6% of your salary. So if you're making $60,000, then that means your company will match your contributions up to $1,800 that year.
How a Company Match Really Works
So now that you know what kind of company matches there are, you're probably wondering how a match really works. Does your employer just send over a briefcase full of cash? Not exactly. Like we've said all along, every company is different. But many will match your contributions with something called a vesting schedule. A vesting schedule is a way for your company to not put all their chips on the table until you've been with them for a certain amount of years. Think of it as a warranty for their money just in case you decide to jump ship. Goodbyes are hard, but they're even harder when your company has invested a pretty penny into your retirement.
Let's say your 401(k) company match is "vested" at 50% for five years. That means only half of what your company puts in your 401(k) is actually yours when it goes in. After five years, you'll have complete ownership of all those funds, no matter who put them in. But let's say you decide to resign four years in. By that time, you'll have earned what you put in plus only half of what your employer put in . . . and lose out on the rest.
Should I Take My Company Match?
It depends. Most advice out there tells you that you should always take the company match—no matter what. But is that really the best advice? Nope—unless you have absolutely zero consumer debt to your name.
Debt is the biggest factor standing in the way of you and the retirement of your dreams. If you have any debt (not including a mortgage), it's not going to disappear until you make it disappear. So instead of focusing solely on your future, you need to take a chainsaw to those chains holding you back . . . student loans, medical bills, personal loans, you name it.

Market chaos, inflation, your future—work with a pro to navigate this stuff.
So, if you've got some debt in your back pocket, we recommend holding off on all investing—including your company's 401(k)—until you reach Baby Step 4. What are the Baby Steps? Glad you asked.
The 7 Baby Steps are Dave Ramsey's proven and practical way for you to get out of debt, save for emergencies, build wealth, and change your life. Here's a look at the first four:
Baby Step 1: Save $1,000 for your starter emergency fund.
Baby Step 2: Pay off all debt (except the house) using the debt snowball.
Baby Step 3: Save 3–6 months of expenses in a fully funded emergency fund.
Baby Step 4: Invest 15% of your household income in retirement.
We get it: It's hard to stomach wasting that free company match. That feeling right there (that queasy feeling) is what's going to keep you working hard until you're completely debt-free. Why? Because who wants to waste time when there's free money on the line? (Not you.)
Your income is the biggest wealth-building tool you have. That means that if you're in debt and splitting your payments—one to Sallie Mae and the other to your 401(k)—it'll be hard to get anywhere fast. So . . . as hard as it seems, it's best to wait until you can start putting all your investing eggs in one basket.
Are you ready to start investing but you're not sure where to begin? There's a lot of information out there, and it's easy to get caught in the weeds. We can help. With SmartVestor, you'll get paired up with a pro in your area for free that will help you prepare for the retirement of your dreams.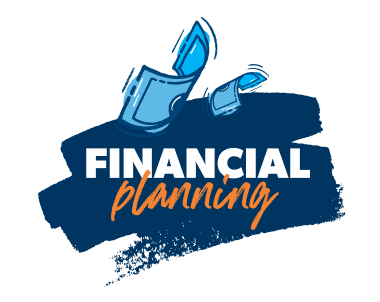 Make an Investment Plan With a Pro
SmartVestor shows you up to five investing professionals in your area for free. No commitments, no hidden fees.
Find Your Pros
This article provides general guidelines about investing topics. Your situation may be unique. If you have questions, connect with a SmartVestor Pro. Ramsey Solutions is a paid, non-client promoter of participating Pros.
Did you find this article helpful? Share it!