Why Middle Schoolers Aren't Too Young to Learn About Personal Finance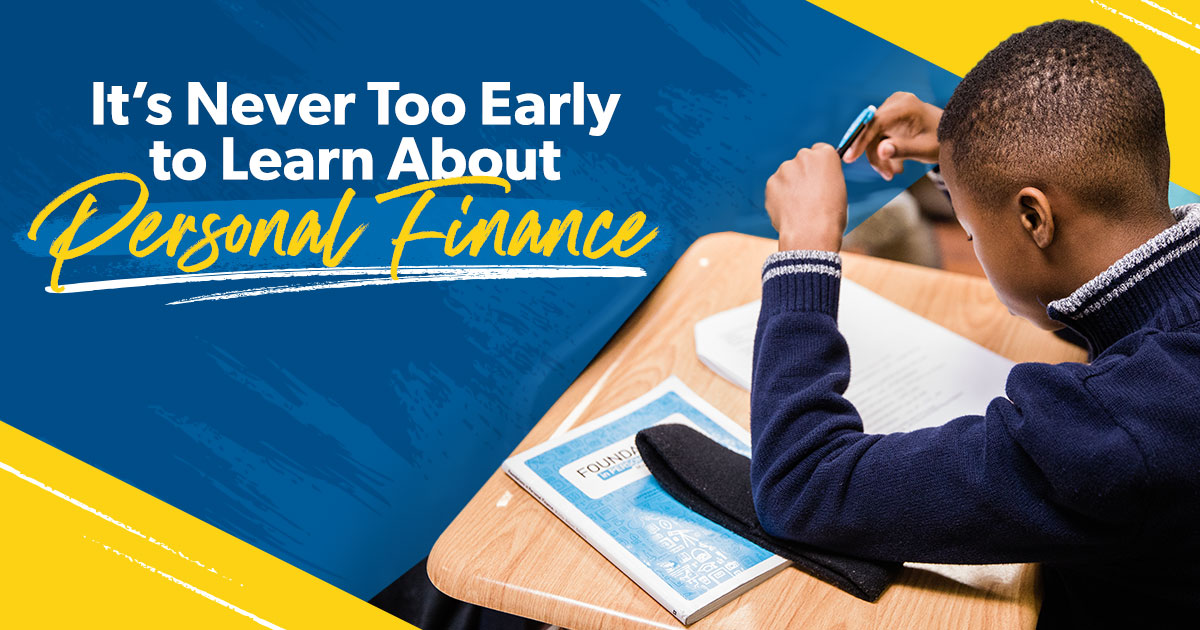 Think back to your middle school days. Like most kids, you were probably obsessed with one thing you just couldn't wait to buy. What was it? The exact same brand of sneakers your friends had? The latest tech gadget or video game? A slap bracelet? Those items were the center of your universe—in the moment. And for the majority of today's middle school population, everything's value is measured by what's in right now. But if you could go back, would you set aside a few of the dollars you spent on this stuff for something less temporary—like a college degree?
Now that you're a teacher, you already know it can be difficult for young people to make a sacrifice today for a bigger payoff tomorrow. But that kind of self-discipline is invaluable in the real world, and it's never too early to start developing it. Giving your students the right tools early on could seriously change the direction of their lives—and that's why personal finance courses are so important, especially for the younger generation.

Are you a teacher? Help your students win with money today!
Your students (and even you) might be intimidated by money lingo like insurance and compound interest at first. But with a curriculum like Foundations in Personal Finance, learning and teaching those topics can be easy and fun. Who knows—personal finance could become one of your students' favorite subjects in school!
Here are some key reasons why middle schoolers aren't too young to learn about personal finance.
They Have Time on Their Side
Most middle schoolers have few—if any—financial responsibilities, but that doesn't mean they shouldn't start learning money management right away. A lot of your students may already be earning money. Some might do chores around the house for cash, while others are expert babysitters. And eighth graders can look forward to getting a part-time job when they turn the minimum legal working age of 14. Doesn't it make more sense to teach them how to handle money before they enter the workforce instead of trying to help them fix a financial slipup later?
If students learn the importance of managing money now, they can get a head start on saving for big goals like a car and college. Too many students wait until the last year of high school to think about these things. They end up running out of time and fall into the trap of car payments and student loans.
Others don't learn about saving until much later in life—after they've already accumulated thousands of dollars of debt. But as a teacher, you can guide your students in the right direction for a lifetime free of debt!
They're Natural Entrepreneurs
Fear, lack of ideas and our jam-packed schedules keep most adults from pursuing their dreams of running their own businesses. But you know who has plenty of courage, lots of ideas and a reasonable number of free hours every day? Kids. Specifically, the kids in your middle school classrooms! They see possibilities everywhere and aren't afraid to take action to make their dreams a reality.
The news is full of stories about young people who had crazy, creative ideas for businesses and decided to run with them—and we're not just talking lemonade stands. Twelve-year-old kids and younger have founded all kinds of companies, selling everything from hip bow ties to healthy lollipops to cups that don't tip over.
If they can learn a few financial and entrepreneurial basics, your students could launch businesses and be their own bosses before their peers even fill out their first job applications. Then, to really grow and thrive, they'll need to understand concepts like profit, taxes and investing so they can maximize their earnings and set themselves up for long-term success.
Our Foundations in Personal Finance curriculum has a list of fun business suggestions that any middle schooler can start. And don't forget to give students plenty of time to brainstorm their own unique business ideas!
They Are the Future
It's inevitable: Today's middle schoolers will one day run our country's households, businesses, schools and government. It's our responsibility to provide them a good financial foundation so they can carry that wisdom throughout their lives and pass it on to the next generation.
Teachers and parents of middle schoolers who've been through our Foundations curriculum are excited about the impact our personal finance lessons have made. One Texas mom was thrilled knowing that her kids "feel more prepared for their futures and capable with the money they are handling already." She further explained, "I even learned a few things myself."
A middle school teacher in Green Bay, Wisconsin, has seen firsthand the positive effect this course has had on his students. He told us this class gives young people the potential to gain more financial freedom in their lives than a lot of adults have. With well-prepared kids like that, it sounds like our country's future is in good hands!
Interested in learning more about our Foundations in Personal Finance: Middle School Edition curriculum? Visit Ramsey Education's website to view sample lesson plans, video content and student activities.