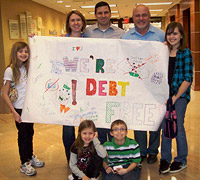 An Entire Family Effort
Tom and Carrie's four kids are just as excited about becoming debt-free as their parents!
Carrie Srail remembers the moment she realized her family was in financial trouble. "We had gone out one morning looking at campers and RVs. When we were riding home, we told each other, 'Yeah, $450 a month is doable.' But we knew full well we had unpaid bills at home and a mountain of debt staring at us."
Carrie's husband, Tom, said he knew they needed to make changes. "It was difficult to face my wife and tell her we couldn't buy food, school supplies, or anything else until payday next week," he said. "We probably looked and smelled good, but we had nothing but a mix of stress and apathy in our financial life. We believed we could out-earn our own stupidity and carelessness with money."
After living month to month for many years, Carrie says that something finally clicked inside them. "We knew we would never be able to keep up with that. So I asked Tom to show me information about 'this guy' he had heard on the radio." At that point, life changed for Tom, Carrie and their four kids.
The Debt-Free Journey Begins
When they started budgeting, it was a scary, and even shocking, realization to see how they were spending money. "At one point, just before we read The Total Money Makeover, we spent $1,000 in one month at restaurants," Tom said.
In addition to cutting back their restaurant visits, they also started cooking, planning meals, and delaying instant gratification. "I had to plan exactly what to do with each thing to get the results we wanted," Carrie said.
The results changed their family tree forever. The Srails paid off $80,000 in 17 months to become debt-free! They recently drove from Cleveland, Ohio, to Nashville to make their Debt-Free Friday call from the lobby at Financial Peace Plaza.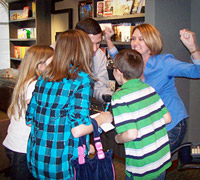 "Hey, America! We're Debt-Free!"
The Srail family in the lobby of Dave's office yelling "We're Debt-Free!" on the radio.
A Major Effect on the Kids
"I'm just thrilled to know that my kids have learned more about money in the last 17 months than I learned in 36 years of my life," Carrie commented. "I am excited for them, knowing they will never have to struggle with money like we did."
Carrie said the whole experience has made the Srail's kids into compassionate givers. "They give from their own envelopes at church each week. They use their own money to buy canned goods for food drives or military collection drives. They are role models for other children on how to tithe and give to others. I am so grateful for that."
Because of their powerful story, Tom and Carrie have also become role models. "One of our greatest joys has been giving away a couple of cases of The Total Money Makeover to friends and family and leading over 30 families through Financial Peace University," Tom said.
Carrie adds that Dave's process is about much more than just getting out of debt. "This is really an opportunity for you to renew your relationship with your family. While Financial Peace University is intended to get your finances in order, you also end up gaining control of your marriage, your family calendar, your eating habits and your overall well-being."

Pay off debt fast and save more money with Financial Peace University.
Moving forward, the Srails are excited about saving for college funds, buying a larger home, investing for retirement, and helping others. "If you told us 18 months ago that we would be able to give away 10%, plus extra offerings each month, I would have never believed it," Tom said. "Today, it is very satisfying knowing we can help others."
"No more ignoring the phone because I know it's a creditor. No more fear of the doorbell because of back payments on utilities," Carrie adds. "I am just looking forward to being happy and peaceful."
This can be you! Check out Dave's Seven Baby Steps to get started on your journey to freedom now!
Did you find this article helpful? Share it!