Job hunting isn't for the faint of heart. You're putting in extra hours after work, chipping away at application questions, polishing up your resumé, and hoping for the best. And to top it all off, you have an extra item to check off your list: writing a cover letter.
What's a cover letter? you ask. A cover letter is a formal note attached to your resumé that explains your interest and goals for a new job. Don't worry if you're not a professional writer—anyone can learn how to write a cover letter that gets noticed with a few pointers (and it will give you better odds of landing your dream job!).
Let's take a look at what to include in your cover letter to make a great impression.
What You'll Learn
What Is a Cover Letter?
A cover letter is a short letter written directly to the person who will read your job application and resumé. Since you only have 7.4 seconds to get a recruiter's attention, you want to make a strong first impression.1 Attaching a cover letter to your resumé is another chance to show off how great you and your qualifications are.

Get Everything You Need to Land the Job You Love!
Traditionally, while your resumé is more of a high-level overview of your past experience, cover letters tell your story and what you want to do. A cover letter is an opportunity to showcase your skills and motivate the hiring manager to consider you for the position.
Not all companies require a cover letter these days, but it's a good idea to add one to your application anyway. So, create something unique! You want your cover letter and resumé to pop out of that pile of papers on the recruiter's desk and grab their attention. After all, the whole point is for them to read it. Let's walk through my top tips for writing an engaging cover letter.
How to Write a Cover Letter
The goal of a cover letter is to convince the hiring manager that you deserve an interview. Here's how you can put your cover letter together to make an impact.
1. Choose a template.
There are plenty of easy-to-use, free cover letter templates that can help you figure out how to format your document. But it doesn't need to be cookie-cutter—it should still show who you are and why you want to work at this specific company.
Think about it: When you're writing a letter to a friend (or a text message, in this day and age), you make it personal and conversational. Each cover letter you write should be personalized for the company you're applying to. Put yourself in their shoes. If you were hiring for this position, what would you be looking for?
No matter which cover letter template you choose, you should learn everything you can about the company and the position. Use that information to make your letter relevant and show you've done your homework. Keep it to around 300 words (that's about one page), and remember, just like your resumé, don't overdo the design. Leave the crazy fonts alone, folks. The goal is to look professional, not tacky!
2. Include your contact information in the header.
Even if your contact information is already on your resumé, you should still put it in the header of your cover letter. Here are the important things to include:
Name
Phone number
Email address
Any helpful follow-up information: a link to your portfolio, website or LinkedIn account (if you don't have any of those, that's okay)
This header can go at the top of the page underneath your name or in the top right corner. If you want to get really formal, you could also include the name of the person you're addressing, the name and address of the company you're applying to, and the date of application. This info can go on the left side of the page below the header.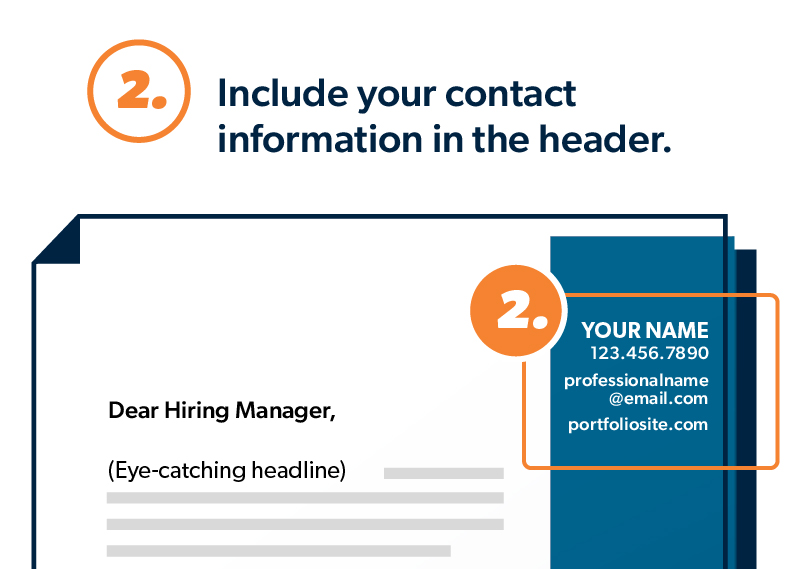 3. Start with the right greeting.
Don't start out with "Dear Sir or Madam" or "To whom it may concern." You're not Shakespeare! Think about how you'd say hello to someone if you were sending them a polite and professional email. Here are some options:
Name of hiring manager: If at all possible, directly address the person who will be handling your application. See if you can figure out who it is through a mutual connection at the company, through the website, or maybe even LinkedIn.
Name of company you're applying to: If you can't find the name of a specific person, "Dear [Company Name] Team" is always a safe bet.
Generic title or position: Another option is to just say "Dear Hiring Manager" or "Dear [Team You're Applying For] Hiring Manager."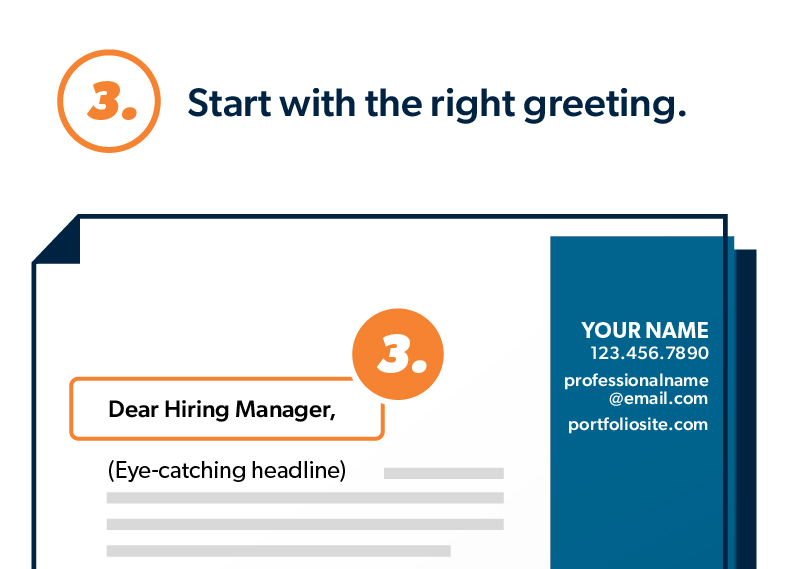 4. Use an eye-catching headline.
Treat your opening line like a hook. It needs to grab the reader's attention and give them a reason to stick around. Make it count! Remember, you've only got 7.4 seconds. For extra oomph, you can write this in large (and maybe even bold) letters to mimic a newspaper article headline.
Think of the headline like a great social media post. When you're mindlessly scrolling through Instagram or Facebook, what causes you to pause, squint your eyes, and take a closer look at what you see?
Here are a few approaches to try out when writing headlines:
Give your personal mission statement. A well-crafted mission statement is a great way to help the reader understand your goals and whether you'd be a good fit for the role. So, why not start out with your personal mission statement? It's basically an elevator pitch about who you are.
Use words and phrases the company uses. Take a look at their website and social media to get an idea of their core values and culture. Using a phrase from the company itself can let them know you're dialed in to their culture. Show them from the get-go that you're speaking their language. Just don't get too cheesy with this one.
Tease out a cliffhanger. Start a story, stir up their curiosity, and motivate them to keep reading. For example, if you've used their product before, tell the story of how you discovered it or how you felt after using it. You could also share an important moment of your life when you discovered your true calling.
Once you've snagged their attention, it's time to make your case about why you're a good fit for the job.
5. Explain why you want the position.
This is your chance to wow the recruiter with your knowledge and enthusiasm about the company and role. Show them you've done your homework by touching on the mission, vision and values of the business. Then, explain why you'd be thrilled to contribute to their work.
6. Talk about your skills and passions.
This is the meat of the letter—but I want you to think lean. The HR team reading your application doesn't have time for a novel. Write a couple of paragraphs, but make sure each one is only a few sentences.
Be humble—but confident—as you talk about your talents and skills. What makes you a good fit for this job? Include both hard skills (like coding or project management) and soft skills (like how you're curious and always ready to learn something new).
Also, describe the passion that drives the work you do. What makes you come alive? What activities cause you to lose track of time? Let the recruiter sense your excitement for work.
7. State what you can bring to their team.
This is where it gets fun. When you've found a job that combines what you do best with what you love to do most, you'll be producing results that matter.
Talk about the core motivation that helps you wake up every morning. Tell the hiring manager how you'll contribute your skills and passions to help move the company forward.
8. Don't use clichés.
While you're writing about what makes you a strong candidate for the job, make sure your words are bold too. Challenge yourself to come up with two or three new ways to say common phrases so you can avoid these clichés:
I have exceptional written and communication skills. When it comes to writing, show—don't tell. If your writing is compelling, you won't need to toot your own horn here.
I'm a team player. Being a team player is great, but this phrase is overused—and boring. Instead, use an example and say something like, "I love helping my teammates win by . . ."
I think outside the box. Well, so does everyone else applying for a job! Instead of using this common phrase, what if you told a quick story about a time when you offered a creative solution to a problem? Remember, show don't tell. Actions speak louder than words.
9. Wrap it up.
Thank the hiring manager for their time and attention. Let me be clear about something: It's not your job to follow up. It's their job to reach out to you. If you lay out your case like I've described, they'll have plenty of motivation to reach out to you for an interview. You've done the best you can do—now relax and let the chips fall where they may.
10. Review your cover letter.
Grammar, spelling and accuracy matter. Every detail should look, feel and sound excellent. Don't let a few typos rob you of your shot at your dream job! Here are a few ways to triple-check your cover letter for excellence:
Print it out and read it out loud.
Double-check spelling and grammar.
Ask a friend to edit it for you.
Once you've perfected your cover letter, all you need to do is submit it along with the rest of your application! Don't overthink the process, guys. Keep it brief, but clearly explain why you'd be a good fit. Your resumé will do the rest of the talking.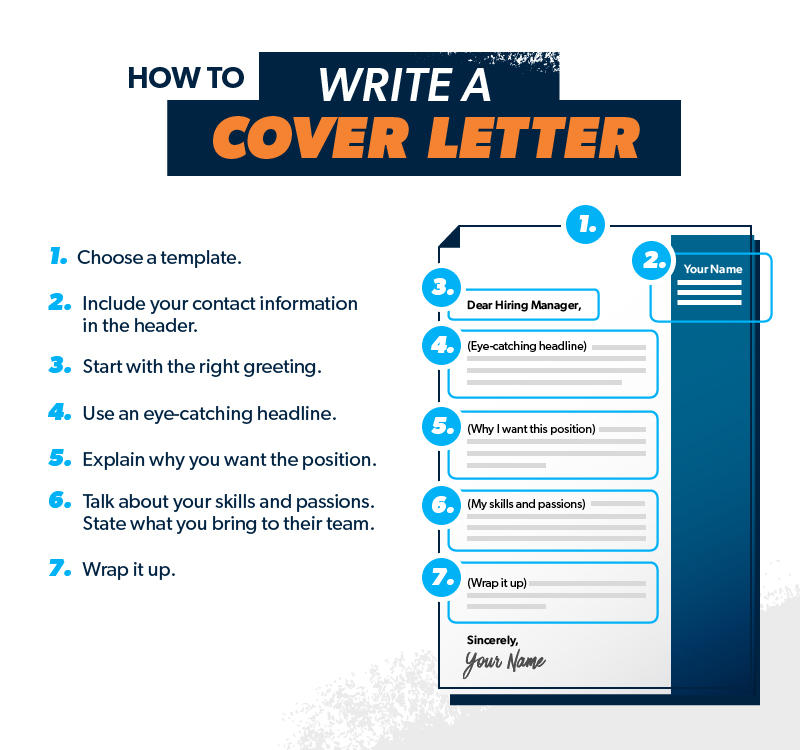 Cover Letter Examples
Whether you're brand new to the workforce, finding the right fit for you, or an old pro moving up the ladder, there's a way to write a cover letter that's best for you and your experience. Here are a few examples of cover letters for entry-level professionals, midlevel managers and executives that you can use as a guide.
Entry Level
If you're applying for an entry-level position, you probably don't have a ton of work experience to talk about in your cover letter. That's okay! You can focus on relevant classes, volunteer work and other opportunities you've had to lead. The point is to focus on the mission of the company and how you want to contribute. Here's an example of how you can boost your application with an entry-level cover letter.

Toby Griffith
332 Maple Street
Mayberry, NC 27030
(555) 555-5555
toby.griffith@email.com
Artie Crowley
Foley's Grocery Store
180 Main St.
Mayberry, NC 27030

Dear Mr. Crowley,
My name is Toby Griffith, and I'm a recent graduate from the University of North Carolina's business program. I'm curious to learn more about the associate marketer position listed for your grocery store corporate office. I first learned about this opportunity through my friend Bobby Anderson, who was just hired in the accounting department.

I'm familiar with your chain of grocery stores because I grew up in Mayberry. I've even shopped at the stores with my family and know some of the staff well. I'm excited to see you're hiring for marketing positions because I'm interested in pursuing a career in business with a focus on food service. I think my previous work experience and community leadership would make a strong foundation for an associate marketer at your company.

For example, in high school, I worked in the concession stands during football and basketball season, and I learned the basics of food safety and customer service. Last summer, I completed an internship at a catering company where I shadowed the catering director. I learned how the director markets the business, orders ingredients, and plans meals and deliveries for large events. I know these experiences would be helpful in a grocery store setting.

You'll find more details about my extracurricular activities and community service on my resumé. Thank you for considering me, and I hope to hear from you soon.
Sincerely,
Toby Griffith
Middle Management
Middle managers will have a few more years of experience under their belts and a better understanding of how their skills produce results at work. This is all great information to include! Here's an example of what a middle manager's cover letter will look like:

Lori Gilmore
214 Oak Tree Lane
Stars Hollow, CT 06101
(555) 555-5555
lori.gilmore@email.com

Elizabeth Smith
Human Resources
Mayflower Hotel
120 Woodridge Road
Washington, CT 06793

Dear Ms. Smith,

On a recent weekend trip through New England, I was lucky to stay at the beautiful Mayflower Hotel. During checkout, I had a conversation with the concierge who mentioned an open position for a hospitality manager. As a former concierge myself, and now innkeeper at the Independence Inn, I'm interested to learn more about this opportunity.
The Independence Inn is a cozy property for travelers looking for a calm and quiet getaway. In the 12 years I've been employed at the inn, I've worked my way up from an entry-level maid to concierge and now innkeeper. These roles have given me valuable insight and experience into housekeeping, customer service and business finance as the inn has grown. Now, I'm ready to take the next step in my career by managing a larger hotel property that serves more guests.

In addition to this hands-on work experience, I also teach a community college course, Hospitality 101, where I train students in hotel and travel operations. I truly enjoy giving back to the community and sharing my knowledge in these areas. If you find my experience is a fit for the Mayflower Hotel, I would be thrilled to train other staff and serve your guests as the new hospitality manager.

Thank you for your time. I look forward to learning more about this position.
Sincerely,
Lori Gilmore
C-Suite Executive
For anyone applying for executive positions, your cover letter will need to be top-notch. You'll want to focus on how you've solved big problems and share your professional wins. On this level, it's helpful to include numbers and data to support your experience. Check out this example of a C-Suite cover letter.
Josh Jobseeker
1000 Sunset Blvd
San Francisco, CA 27030
(555) 555-5555
josh.jobseeker@email.com

Michael Maloof
Human Resources
StarTech Enterprises
12 Market Street
Palo Alto, CA 94020

Dear Mr. Maloof,
I'm thrilled for the opportunity to apply for the role of Executive Vice President at StarTech Enterprises. I started my career as a software engineer, and I have a deep understanding of the challenges, needs and culture of tech firms like StarTech. Throughout my career, I've grown into managerial and leadership positions through proven problem-solving, vision and systems development. I believe these skills will serve StarTech as the company looks to expand into the artificial intelligence market.
My knack for problem-solving and creating systems has served me well throughout my career. Because of this natural skill set, I found technology to be a perfect fit for my passions and technical abilities. Over time, I honed my leadership skills and grew a small developer team into a large-scale department, all while earning the trust and respect of my direct reports. Under my leadership, the developer unit grew from a team of four to a department of 36 people, and we increased productivity. Coding output increased by 18% through new, highly organized and effective workflow and review systems. I'm confident I can help continue to grow and train StarTech's developer teams and increase productivity for future projects.
I appreciate you taking time to consider my application and experience. I've been following StarTech's growth in the tech space for several years, and I have high hopes to contribute to the firm's rapid expansion and industry impact. I would be proud to share my combination of vision and execution with the team as the new Executive Vice President.
Sincerely,
Josh Jobseeker

Stand Out in the Job Search With a Strong Resumé
To stand out even more in your job search, you'll want to put just as much time and effort into your resumé as your cover letter. Check out my free Resumé Guide to set your job application up for success. You've got this! If you want to get noticed, it's time to make your resumé stand out. Follow this simple five-step guide and get noticed in the hiring process.
Did you find this article helpful? Share it!