At 17 years old, I was captain of my soccer team and very confident in my skills. But when I attended a soccer camp at the University of Mississippi the summer before my senior year of high school, all of that changed.
I quickly discovered on the first day that the majority of my fellow campers were from nearby Memphis schools with incredible soccer programs.
These girls had been playing soccer since they could walk, and most of them were competing nationally on travel teams.
Me? I had never even thought about playing soccer until middle school, and even when I tried out, I was cut. When I got to high school, I tried out again and luckily made the team. (Turns out the high school program let anyone on the team.)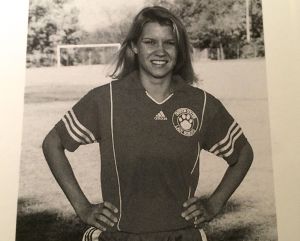 Photo courtesy of 2001 Overton High School Yearbook
With a little practice, I had picked up the sport naturally and began performing at or above the level of the other girls on my team. But I had no idea how severely lacking my skills were until I was challenged by some of the best high school players in the South.
Camp was exhausting. We had three-a-day practices, hours of drills and constant one-on-one matchups. In every possible scenario, I couldn't keep up.
These girls ran circles around me and I began to look and feel like I had never touched a soccer ball in my life. In a week's time, I went from being one of the best players on my team to the last girl picked for scrimmages.
I stuck it out but the week totally killed my confidence. And at times, I was flat-out humiliated. I left physically and emotionally exhausted.
But something unexpected happened when I returned home.
I performed at our first team practice like a completely different soccer player. My coach and teammates noticed it too. I dominated the drills and controlled the ball with ease.
I scored more goals that season than my previous three years combined. And my team won more games than we had in years. Because of how much I had improved, I was stronger and my whole team was stronger.
Related: How to Realize Your Potential
This improvement wasn't an accident. I was better because of the time I spent working with and learning from players who were much better than me.
And that happens in business and in life also.
While it's easy to be the big fish in a small pond, growth doesn't happen there. If we want to grow and truly become better in our gifts, we have to work with and learn from people who are better than us. We have to surround ourselves with women and leaders who are stronger than we are.
Yes, it's a humbling experience. But when you push yourself out of your comfort zone, you'll return like I did—a completely different person, a better leader. There's no better or faster way to grow in your gifts than to surround yourself with other rockstars who are more experienced and more knowledgeable than you are!
Did you find this article helpful? Share it!