We've all been there: You step up to the grocery store checkout counter, but when you open your wallet to pay, it's a mess. The bills are wadded up and out of order, and you're not sure which money you budgeted for groceries and which is supposed to be for gas. Ugh!
And yesterday, you saw your 3-year-old playing with your debit card, so who knows if it's even still in your purse. You dig around and try to do the math in your head. I spent $20 filling up my tank this morning, which means this $50 should be for groceries . . . or was it $30 for gas? Suddenly you feel like the lanky, bored, teenage cashier is judging the hot mess that you are right now.
Well, thanks to my new Rachel Cruze Wallet, you don't have to feel that way ever again! Seriously. I created this wallet because I wasn't finding anything out there that was cute, organized and also empowered me to budget the way that I want.
How the Rachel Cruze Wallet Works
I know you guys work hard to earn your money, and you deserve a wallet that's as intentional as you are. That's why I'm so excited about the Rachel Cruze Wallet!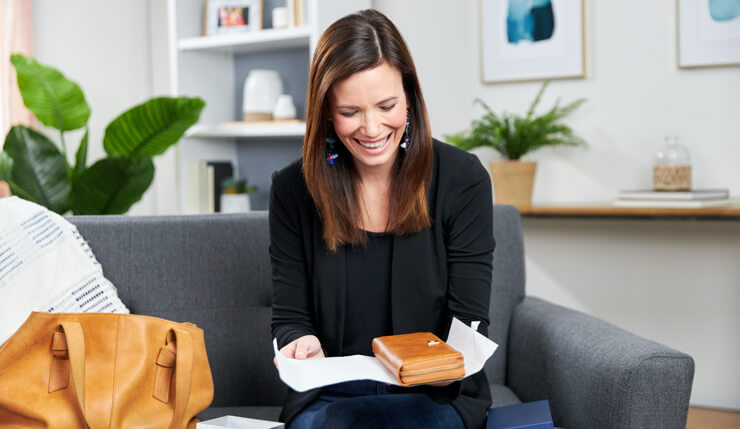 The Envelope System Wallet You've Been Waiting For
Inside, you'll find four sewn-in envelopes to keep your cash organized. Ramsey fans have been using the envelope system for decades to keep tabs on exactly how much money is left in those budget categories you use the most. Taking out cash for the categories you tend to overspend in and keeping them in envelopes will help you stay within your budget. Once the envelope is empty, you're done with that category for the month.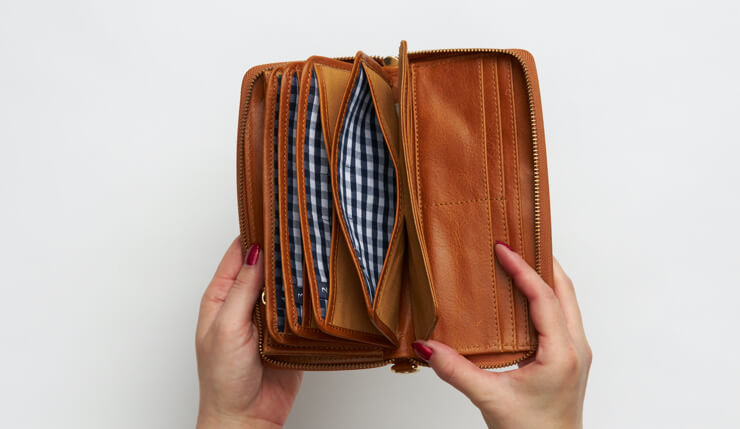 But these aren't your grandma's old cash envelopes. I mean, how cute is the gingham interior? The envelopes are numbered one through four so you can decide how you want to categorize your money.
There are also ten card slots for your debit card, gift cards, membership cards and more. There's also an interior zippered coin pouch—or if you're like me, it's where I put everything from receipts to coupons to emergency Goldfish for my kids.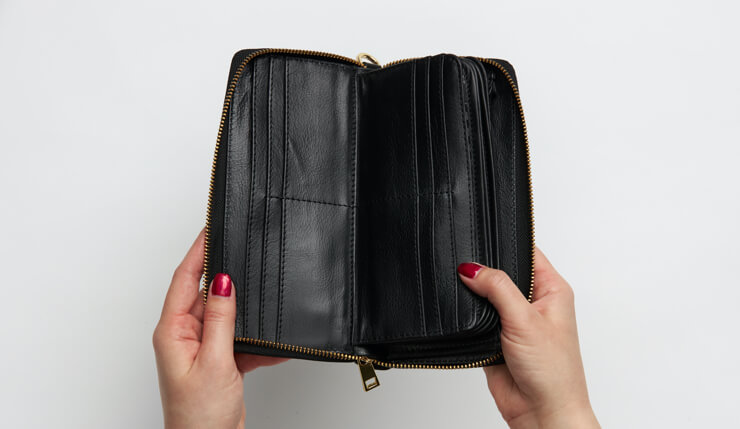 This Will Make Budgeting Better—And Even Beautiful
I can honestly say we designed the Rachel Cruze Wallet with you in mind every step of the way. Working toward your financial goals doesn't have to be boring and blah. I wanted to create something beautiful that will make sticking to your budget easier than ever.
And seriously, it's beautiful. The Rachel Cruze Wallet is made of soft, genuine leather that will only become more timeless with age. Right now, we're offering two colors: camel and black.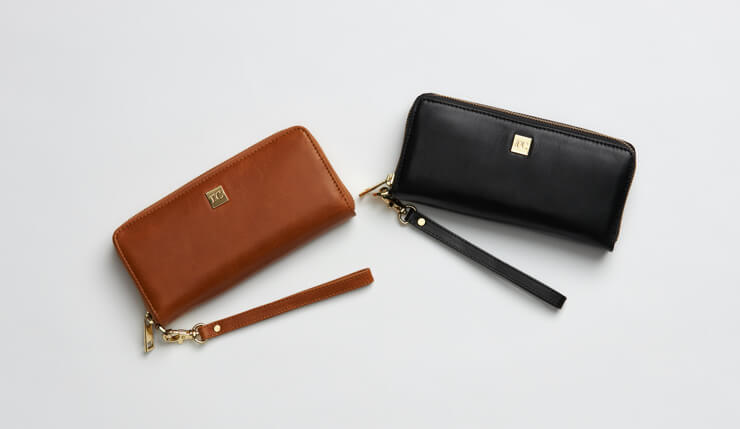 Each piece of leather is unique and personally selected by my partners at JOYN. They purchase leather and cotton from fair-trade local makers, and there's little to no waste.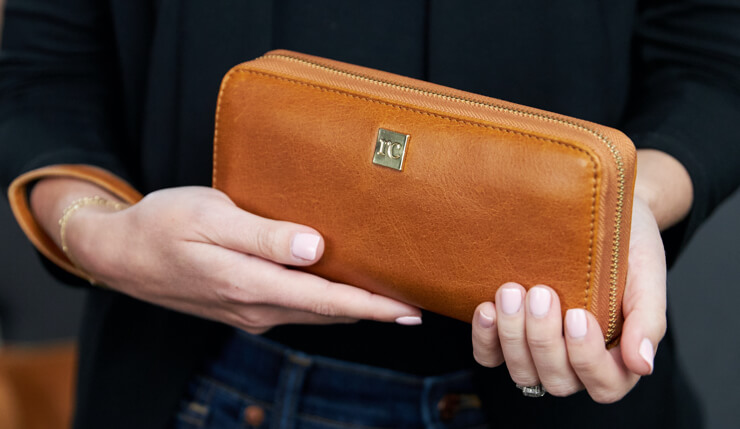 And hey, girl, hey! There's a wristlet for those nights you take it out of your purse and out on the town.
A Purchase With a Purpose
Here's the best part: This is so much more than a wallet.
To create these wallets, I've partnered with JOYN—an organization that empowers vulnerable people in India and their communities. JOYN provides a fair-trade work environment, dignity and a livelihood to people who wouldn't have those options otherwise.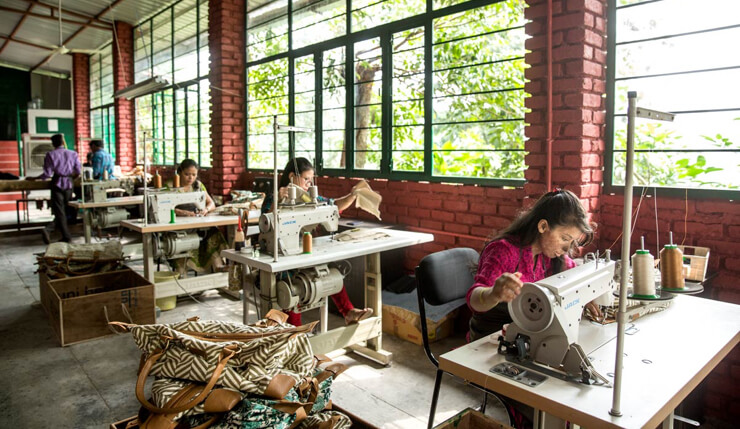 While you're saving money and working to change your family tree, so is each person handmaking these wallets. Many of these makers once lived on the streets without hope or direction. When you purchase the Rachel Cruze Wallet, you're giving someone across the world light in a dark place.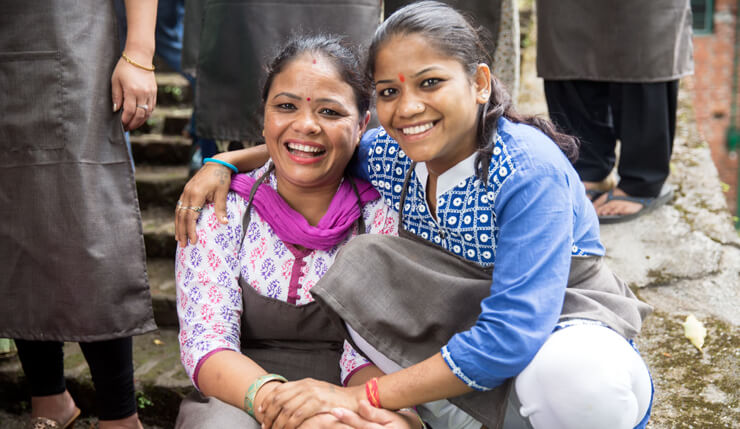 Start budgeting with EveryDollar today!
You know, I talk a lot about living like no one else now, so later you can live and give like no one else. What I love about this is that no matter what Baby Step you're on, this wallet is a tool for you to take control of your money and give back in the process. In each wallet, you'll find a photo of someone who worked on the wallet and a thank-you message from them.
Using the Rachel Cruze Wallet will help you keep track of your spending, stay within your limits, and feel confident about your budget. And for the people who made the wallet, it just might change their life! Create a life you love with a wallet you love. Get your Rachel Cruze Wallet today!
Did you find this article helpful? Share it!