The EveryDollar November Challenge: Experience the Joy of Giving
2 Min Read | Aug 26, 2021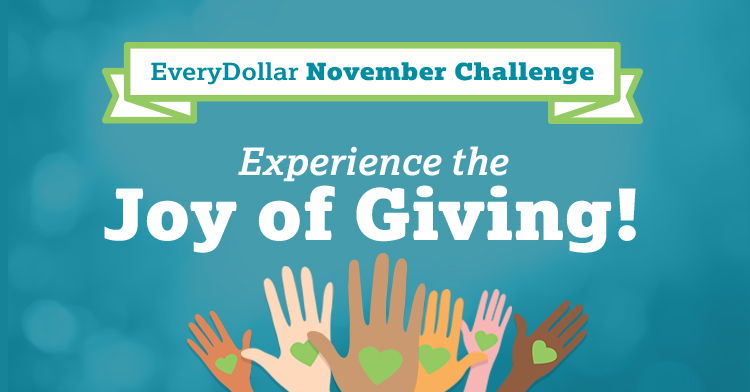 We've officially entered the season of Thanksgiving, and what better way to celebrate than giving thanks? During November, we'd love for you to join us in experiencing the joy of giving. Whether you're giving of your time or money, it's awesome to help someone, and you don't need a giant cardboard check to pull it off.
Here's how to join the challenge:
1. Determine a new way to give. Think about a way you would like to give! It doesn't have to be a large donation, and you don't have to pull out all the stops—something simple that you've wanted to do works just fine. Here are a few examples to get some ideas flowing:
Buy a restaurant gift card and offer to babysit for your neighbor so they can have date night.
Write a thank-you note to someone who serves you well, like your mailman or the custodian at your office.
Serve Thanksgiving dinner at a homeless shelter.
Donate money to your child's holiday classroom fundraiser.
Do yard work for your elderly neighbors, like raking leaves or clearing out roof gutters.
Purchase Christmas gifts for a family in need.
It's your call!
2. Budget your money and your time. If your giving involves money, make sure to budget for it! Set aside the amount you want to give as part of your overall monthly budget. Whether you're giving money or volunteering, clear some time in your schedule and mark the date you'll be sending in the money or going to a toy drive.
3. Experience the joy of giving! When you put a smile on someone's face, it puts one on yours too. Here's to being a cheerful giver!
Challenge your friends and family to complete the EveryDollar November Challenge on Facebook and Twitter by tagging EveryDollar in your post and using #JoyOfGiving.
We can't wait to hear how you used your time or your budget to give someone else a big reason to be thankful!
Did you find this article helpful? Share it!