Most agents go into real estate because they have a heart for helping people. But booming business can cut into your ability to give clients your all. When that happens, it might be time to hire a buyer's agent.
We asked a couple of our top real estate Endorsed Local Providers (ELPs) to share their secrets to hiring success. Here's what they had to say.
It's All About Leverage
"As your business grows and you do well, there's only so much time in the day you can do things," Mark Dimas, a real estate ELP in Cypress, Texas, says.
Listings are easy to leverage because you don't have to spend hours researching and showing properties and working with lenders. "The average person can easily work two to three times as many listings as buyers," Mark explains.
A buyer's agent frees you up to grow your listings so you can help more people. Even better, your customers get the time and attention they deserve, no matter which side of the transaction they're on.
Don't Rush to Fill the Seat
Monica Reynolds, a real estate ELP in San Diego, California, has 36 years of experience and knows what it takes to get the right people on her team. Her four-stage hiring process includes both individual and team interviews. Candidates also take the DISC Profile System assessment to ensure their personality fits the job.
Monica describes the ideal buyer's agent as someone who's "energetic, enthusiastic and loves being with people." Years of experience don't matter as much as a passion for the job and a spirit of cooperation. "They've got to have shiny eyes about the opportunity and agree to work within our guidelines," she says.
Show Them How to Win
Once you bring a new buyer's agent on board, it's important to give them the tools they need to succeed. You can go about this a couple of ways:
Let them shadow you for the first few transactions. "Some things won't come out in an interview or a personality test," Mark says. "You need to make sure you have 100% confidence in the person you're hiring before you give them to your clients."
Teach them to fish and hunt. Monica gives buyer's agents a proposed schedule and a list of activities to do each day to win. "They're on the phone at least five to six hours a day looking for leads and they hold an open house at least every weekend," she says.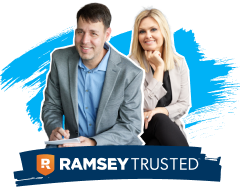 With the right agent, taking on the housing market can be easy.
Buy or sell your home with an agent the Ramsey team trusts.
Connect for Free
Be Smart With Your Split
No one grows their team with the hopes of losing money. But an unbalanced pay structure can tip the scales in the wrong direction.
"Some agents pay 70–80% and don't make any money," Monica says. She takes a two-tiered approach to buyer's agent compensation. "If you bring the lead in yourself, we pay you 50%. If I give you the lead from anything we do, it's 35%."
Mark factors administrative costs into his pay equation. "Out of the gross commission, I remove 10% for transaction coordination, and then I split it 50/50," he says. "Some agents may also take a 5–10% marketing fee off the top before splitting it up."
How Do You Know You're Ready?
Every agent is different, but here are a few signs your business can support a buyer's agent:
You consistently manage four to six buyers a month.
You currently have 10 or more listings.
You close at least 60–70 transactions a year.
You use outside channels, like the ELP program, to generate leads.
You might have to scale back on your net income at first to accommodate a buyer's agent, but the time gained is worth it. "You'll see the reward after probably the first six to eight months and wonder why you didn't do this before," Mark says.

The Endorsed Local Provider program has created the need for a buyer's agent with many of our real estate experts by sending them high-quality leads and providing one-on-one business coaching. Are you ready to grow your team and your business?

Find a trusted real estate agent we recommend in your area.
Find out how you can be part of the Endorsed Local Provider program—the most effective real estate referral program in the country.
Did you find this article helpful? Share it!