Is This for Real?
Yes! 2020 has been a tough year. A lot of people are struggling financially, and the last thing they need right now is to be hounded by collection agencies. That's why Ramsey Solutions bought the debt of 8,000 people from two private debt collection companies and completely forgave it. No strings attached. Seriously. That's $10 million of debt that was in collections—gone! We did this to show people the love of Christ this Christmas season and hope it will jump-start their journey to financial peace!
If you've received a call from the Ramsey team that your debt has been forgiven, we'd love to hear your story. Email us at forgiven@ramseysolutions.com or spread the word on social media using the hashtag
#ForgivenDebt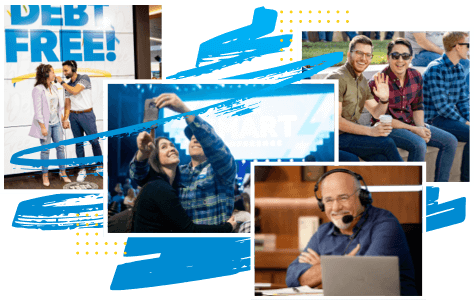 Who Is Ramsey Solutions?
For the last 30 years, Ramsey Solutions has provided biblically based, commonsense education and empowerment that give HOPE to everyone in every walk of life. Our company is dedicated to teaching people how to:
Frequently Asked Questions
How can I be a part of this? Can Ramsey Solutions forgive my debt?

This is NOT a contest or entry for your debt to be forgiven. Keep working those Baby Steps! We have already forgiven the debt of the 8,000 people whose medical and auto debt was in collections with two specific private debt collection agencies.

How do I know this is legit?

You'll be getting a letter in the mail from Ramsey Solutions in the next 3–5 weeks, before the end of the year, to verify your account has been paid off.

Will I receive a zero-balance letter to prove it's paid off?

Yes. Your zero-balance verification will be in the letter from us, along with a lot more details!

Did you also pay taxes for my cancellation of debt income?

No, we are not responsible for paying the taxable income on your debt payoff.

I have multiple debts in collection. How do I know which one you paid off?

The letter you get will specifically state which debt this applies to, as well as the account number and balance.

Will this payoff be reported to credit bureaus?

It will be your responsibility to report this debt payoff to credit bureaus. More information will be in the letter you'll receive from us.

How long until the zero balance shows on my credit report?

It will be about 30–45 days after you contact the credit bureau.

How will this affect my credit rating?

It might help! But it totally depends on other credit rating issues you may have.

Can I receive a check or cash instead of this being paid on my behalf?

No. This specific debt has already been paid.

I had no plans to pay off this debt. Can I use the money to pay my student loans, credit cards or another debt?

No, we've already worked directly with a credit agency to pay off THIS specific debt.

Can I transfer this to a family member?

No, this only applies to YOU because the debt is in your name.

Is this part of the Ramsey Christmas Giveaway? I didn't sign up for that.

Nope, this is totally separate! This is us giving back specifically to people whose debt has been in collections.

Can Dave Ramsey call me directly so I know this is real?

No, but you can call our team at 888-227-3223 to get answers to other questions you have!

I got a phone call about this, but I haven't received a letter in the mail to prove my debt is forgiven. What do I do?

Your letter should arrive by December 31, 2020. If you haven't gotten a letter from Ramsey Solutions by then, please call our team at 888-227-3223.