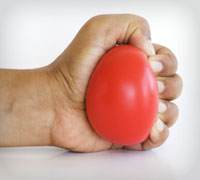 Did you know that the real unemployment rate is only up about 4%? The employment rate has dipped from 95% to 91%. So why is America stressing out about job security and the "high" unemployment rate? The issue that people need to be more concerned about isn't the unemployment rate, it's the job productivity rate. You've heard it before, but have you considered how often outside issues affect work productivity? Personal financial problems are the number one factor that causes team members to lose focus and become less productive at their jobs.
When team members are dealing with personal financial issues, they waste up to 20 hours a month worrying about money problems while on the job. When workers are stressed about money, their health declines. In fact, 75–90% of all doctor visits are stress related. It's been found that 40% of employee turnover is attributed to stress. Think about how that impacts your health care costs! Companies that aren't concerned about their team members' personal financial issues are only hurting themselves.

Click here for free, SHRM-accredited webinar content on all things HR and business leadership.
Dr. Tom Garman of Virginia Tech, the leading expert on the subject of financial literacy in the workplace, found that when team members were offered financial education, 75% said they began making better financial decisions, and 65% reported that their financial situation improved. Garman estimated that for every dollar a company invests in a financial education program, they will get a return of three dollars. So why wouldn't you want to help your team members through tough financial situations? Not only are you helping your workers, but you're also helping the company as a whole.
Team members who aren't worried about their personal finances are far less likely to have unplanned absences. They are better able to engage and concentrate while at work. Their productivity and loyalty increases, while their stress and money problems decrease. Plus, when you have financially fit workers, your Human Resources department will be able to focus on issues other than your workers' money-related problems.
Whether you offer the financial education during work hours or after, you will be helping your team tremendously. Many companies that offer some kind of financial education typically do so free of cost or at a reduced rate. This is a great way to get workers moving in the right direction with their money.
When personal financial issues are no longer a problem, team members are able to do what they're supposed to do while at work—their job! Make this a reality in your business today!
Did you find this article helpful? Share it!