If you were like a lot of people in 2020, you might have reconnected with exercising again. And by reconnect, I mean you were sick of being stuck in your house, so you went outside to walk—and you realized this whole exercising thing isn't the worst. It's not as great as a pint of Jeni's Gooey Butter Cake ice cream . . . but it's not completely evil either. After a while, you were ready to invest in some exercise equipment, and you were faced with two options: Peloton vs. NordicTrack bikes.
Now, can I just stop and confess something right here? I, George Kamel, am the owner of a Peloton bike. Now, I know what you're thinking . . . George, you work out? Hey, hey—I never said those words exactly. I said I own a Peloton bike. There's a big difference.
All joking aside here, yes, I've used our Peloton. My wife was the instigator, but I'm starting to turn a corner (metaphorically, at least, since the bike is immobile).
And even though the thought of working out hasn't turned into the action of working out much yet—I've got to say that these bikes are pretty awesome. You don't have to be a gym rat or a cycling enthusiast to understand that. So, if you're in the market for one of these bikes, good news—I've done the (mostly unbiased) research for you on which one is better: Peloton vs. NordicTrack. Let's ride!
Peloton vs. NordicTrack: Cost Comparison
Let's get into some numbers here. Prepare your hearts now, people, because these bikes come with a pretty high price tag. But remember, this isn't your grandma's classic white exercise bike from the 1980s. These things basically come with an iPad built into the bike, so yeah—it's going to cost more than that $300 off-brand treadmill you saw on Amazon (which we actually bought before our Peloton, and pretty quickly sold).
Bottom line? Both Peloton and NordicTrack's most "affordable" bike models are still . . . expensive.
1. Upfront Cost
Peloton
Upfront cost: The original Peloton Bike is $1,495 shipped to your door (plus tax).1 That may seem high to you, but they just dropped the price of their bike by $400 to get it down to this price!
Returns: You get free returns and a 30-day home trial. And if you decide this bike isn't the one for you, these guys will give you a full refund (and free pickup!) if you return the bike within 30 days.2
NordicTrack
Upfront cost: The NordicTrack S15i is $1,599 shipped to your door (plus tax).3
Returns: You can return it for up to 30 days. But they slap you with a $250 return shipping fee to take back the bike.4 Ouch.
2. Monthly Subscription
Peloton
Cost: The All-Access Membership is $39 a month (plus tax) for your entire household. You can create one account for your whole household to use without having to pay additional membership fees.
Just want the classes and not ready to spring for the bike yet? Get class access with a Digital Membership for $12.99 a month (plus tax) through the Peloton app. This is a single-user membership, so you can only set up one profile. You'll miss out on a few cool stats and features you'd get with their All-Access Membership, but hey, can you use it with any stationary bike!
Bonus: You can try the app for free for 30 days.5
NordicTrack
Cost: The Monthly Family Plan costs $39 a month (plus tax) for the entire household. They also offer a Yearly Family Plan that's $396 (plus tax) up front, which makes it a little cheaper for the family at $33 a month—but you'll be out all of that money at one time. Like Peloton's All-Access Membership, you can make one account for everyone in your house to use without having to pay extra membership fees.
If you only need an account for one person, you can get the Yearly Individual Plan for $15 a month (plus tax). This includes all of the same features as the family plans—it just can't be shared.
Bonus: Your first month is free. That's right—a one-month iFIT Family Membership is included here.6
3. Maintenance Fees and Warranty
So, what happens if your super expensive exercise bike needs some repairs? Maybe some random piece of the pedal breaks off or the shiny screen cracks. Glad you asked. Here's how the warranties stack up for Peloton vs. NordicTrack.

Start budgeting with EveryDollar today!
Peloton
Warranty: The bike frame has a five-year warranty. The bike pedals, components and HD touchscreen have a 12-month warranty.7
NordicTrack
Warranty: There's a 10-year warranty on the bike frame and a two-year warranty on the parts.8 Impressive. Plus one for NordicTrack in this category.
4. Additional Equipment
Peloton
Non-free dumbbells: If you want to do strength training, you're going to need some dumbbells. And yeah, you could buy the pricey ones Peloton makes. Or you could just buy your own pair of cheap weights and call it good.
Special shoes: Sure, Peloton will sell you some of their special shoes, but it comes with a big "special" price tag. To use the Peloton, you need clip-in spin shoes with Delta-compatible cleats—but there are more affordable non-Peloton options (mine were $85 on Amazon).
NordicTrack
Free dumbbells: Two three-pound dumbbells are included.
No special shoes: You can lace up regular running shoes for this—no special cleats needed since the bike is built with standard road bike pedals.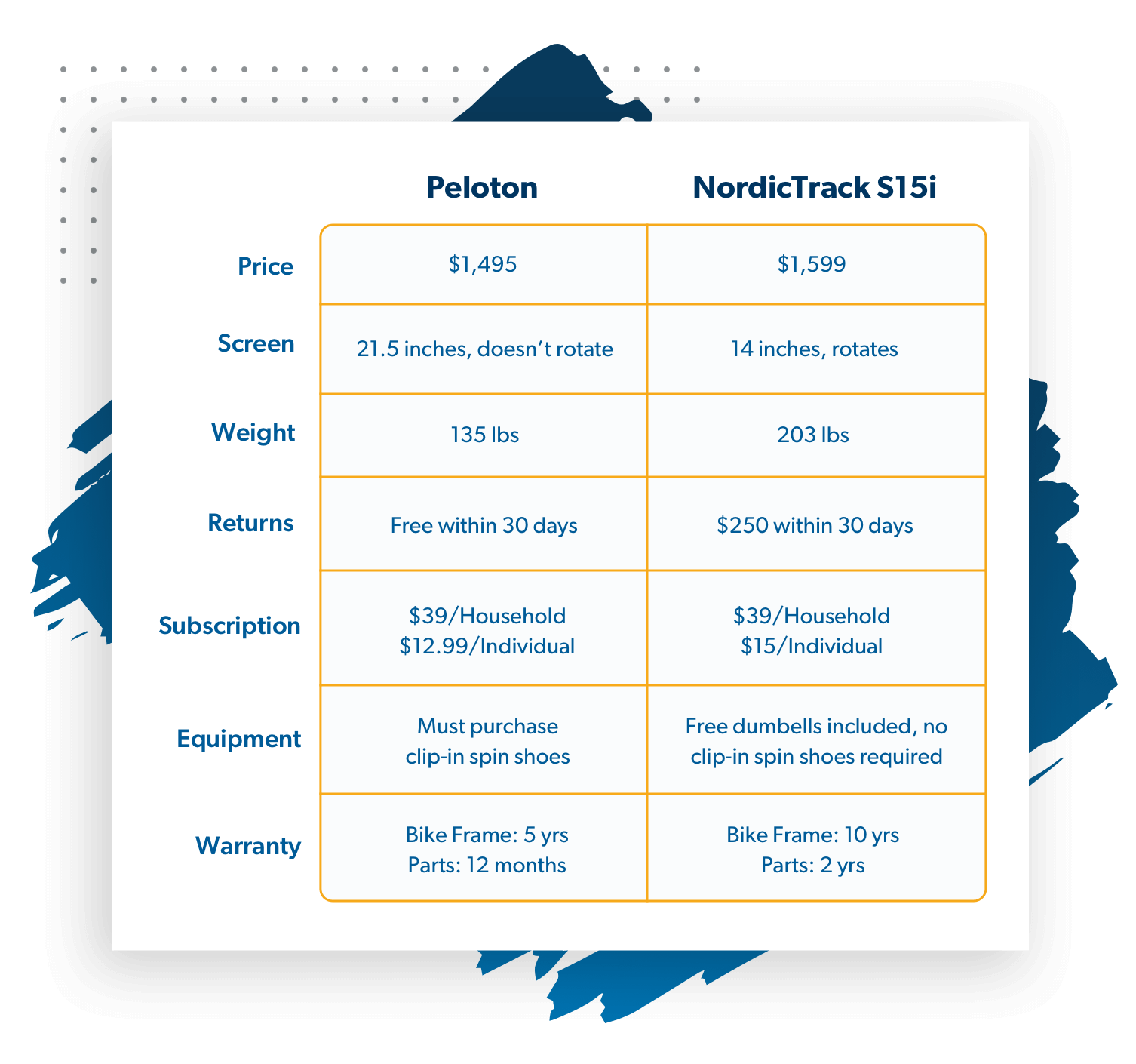 Peloton vs. NordicTrack: Specs, Features and What You Actually Get
Okay, tech nerds. Let's talk about the specs on these bikes. Sure, they might look the same at first, but guess what? They're not. Let me walk you through the pros and cons of the Peloton and NordicTrack bikes.
Pros of Both
Bluetooth: No need to get tangled up in cords—both of these guys have Bluetooth headphone connectivity (a new feature for NordicTrack!).
Apps: Both have a solid app experience (Peloton has their own custom app, and NordicTrack uses iFIT).
Luxury: Both are high-quality bikes with a really quiet, smooth ride. I definitely felt a difference in luxury between the $300 knock-off and the Peloton.
Track your progress: Riders can see their power output, calories burned, heart rate (heart rate monitor needed), and how they compare with other riders.
Cons of Both
Space: Yeah, these bikes will take up some floor real estate in your house or apartment, especially if you start doing classes that use weightlifting.
Weight: You'll need at least two strong people to move either of these bikes.
Peloton
Interface: The bike has a better, faster, more user-friendly interface (aka touchscreen display).
Resistance: You've got to adjust this bike manually. If you've ever taken a traditional cycle class, this turn knob kind of resistance is nothing new to you.
Screen: This 21.5-inch screen is huge, but it doesn't rotate.
Weight: 135 pounds
NordicTrack
Interface: It's not as fast, modern or user friendly as Peloton.
Resistance: Your resistance on the bike will change in real time to adjust to the path the bike is on. You can also control the incline and decline with a quick touch of a button.
Screen: This screen is much smaller at just 14 inches, but it does rotate, enabling you to do workouts off the bike too.
Heavy: Clocking in at 203 pounds, this thing is 68 pounds heavier than the Peloton.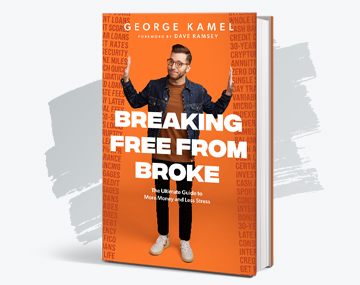 More Money. Less Stress. Yes, Please.
In his new book, George Kamel does the research for you and exposes all the worst money traps out there so you can build real wealth!
Start Reading for Free
Peloton vs. NordicTrack: Experience Comparison
So, how do things stack up when it comes to the overall experience of riding a Peloton vs. NordicTrack? Here's my take:
Pros of Both
No gym: Not having to leave your house to go the gym is the biggest pro ever!
Work out anywhere: You can do a workout on your own time, any time—24/7, 365 days a year.
Classes: Both apps offer tons of options for livestreaming classes beyond just the whole cycling thing. You can take outdoor running classes and treadmill classes, or focus on strength, yoga, meditation, stretching, bootcamp, walking or cardio classes.
Pros of Peloton
Instructors: There are so many high-quality, entertaining, talented instructors, and they make incredible playlists for the classes (some even have a live DJ—what!).
Community: You can do challenges with friends and interact with other riders in your class.
Programs: The Peloton app also gives you programs for running, core training, cycling, and yoga that last several weeks (like a marathon training program).
Badges: All your classes and accomplishments are saved in your individual profile—you even get badges. Hello, bragging rights!
Pros of NordicTrack
More scenic routes: These guys nail it with a huge library of scenic virtual classes. You can virtually ride everywhere from the Grand Canyon to Dracula's Castle. (Currently, Peloton only offers this feature on the bike—not in the app.)
Better warranty: If something goes wrong with the bike, you're covered for much longer with NordicTrack.
No fancy shoes required: Because this bike is made with standard road bike pedals, the sneakers you already own will work just fine.
Peloton vs. NordicTrack: The Bottom Line
GEORGE'S VOTE: Peloton wins!
Let me count the reasons why: Peloton wins because of the cheaper price, bigger screen, better interface, high-quality instructors, free return policy, and overall more impressive brand. They're just better you guys. I don't know how else to put it.
How To Get a Good Deal on a Peloton
Find coupon codes.
Believe it or not, you don't have to pay full price for a Peloton. There are a lot of ways you can score a good deal on one (hard to believe, I know). Look for coupon codes and referral codes. They're out there—you just have to do a little Google searching to find them. And sometimes you'll find a discount for $100 off accessories, which you can use to buy those fancy schmancy shoes (if you want to).
Shop used.
I know people don't like to buy things secondhand sometimes, but it's an easy way to pay a lot less and avoid paying tax on this beast too. That's what we did when we bought our Peloton! We saved hundreds of dollars after negotiating on Facebook Marketplace, and even got the Peloton bike mat thrown in to sweeten the deal (a $59 value!). Bonus: If you buy it used, someone else will have already put the whole thing together for you. (Yeah, I'm not trying to be Tim the Toolman Taylor.)
Save up.
Okay, let me just be real clear here: I'm not telling you to go buy a Peloton or NordicTrack bike while on Baby Step 2, okay? Don't @ me.
Obviously, if you buy either the Peloton or NordicTrack bike, save up over time and pay cash for it. And whatever you do, do not pay in installment payments or go into debt for this bike. Don't do it! Believe me, you don't want to be paying this thing off for months—or years—especially if the bike just ends up being a drying rack for your clothes. Just kidding. I know, I know—you're going to use it. And I sincerely hope you do use it since this thing costs an arm and a leg.
Want more tips on things like how to be a cost-conscious consumer? Find out the hidden truths that are keeping you broke, how you can stop getting screwed by crappy companies and products, and how to save a buck or two while you're at it. Check out my new podcast, The Fine Print. In each episode, we tackle the latest money traps and trends you need to know about to make smarter decisions with your money.
Did you find this article helpful? Share it!