Get Rachel Cruze's New Book, Know Yourself, Know Your Money
4 Minute Read | March 18, 2021
If you're like most people these days, you've probably taken a couple personality tests in your time. Whether that's the Enneagram, Myers-Briggs, Strengths Finder, DiSC, Kolbe or even just a BuzzFeed quiz—the options are nearly endless when it comes to self-discovery and learning more about why you are the way that you are.
But what about when it comes to being self-aware about why you handle money the way you do?
Why do you cringe when your spouse wants to talk about the budget? Why do your palms get sweaty before you click the "place order" button when you shop online? Or why do you keep making plans to pay off your debt, but you just never seem to be able to follow through? In her new book, Know Yourself, Know Your Money, bestselling author Rachel Cruze will help you understand the answers to those questions (and more questions you didn't even know you had).
So . . . Why Do You Handle Money the Way You Do?
When you get ready to take control of your money, there are key steps to follow. In fact, there are seven to be exact—we call them the 7 Baby Steps. But just having the head knowledge of how to do it doesn't equal behavior change. It just doesn't. After all, Dave Ramsey always says, "Personal finance is 80% behavior and only 20% head knowledge." You can know the right steps to take, but if you don't actively shift how you act and the choices you make, you're not going to get too far.
Preview Rachel Cruze's new book to learn why you handle money the way you do!
That's where Know Yourself, Know Your Money comes in. Rachel dives into the world of self-discovery and helps you think about the why behind how you view and handle your money. It's time to learn what you believe about money, why you believe what you do, and how to use that insight to help you reach your goals.
What's Inside the Book
Know Yourself, Know Your Money breaks the self-discovery process into two parts. In Part 1, you'll learn all about your own personal money mindset and what makes you tick. In Part 2, you'll explore all the ways you interact with your money and why. Oh yeah—it gets personal real fast, but in the best possible way. Get ready to uncover things you never even knew about yourself and your money ways!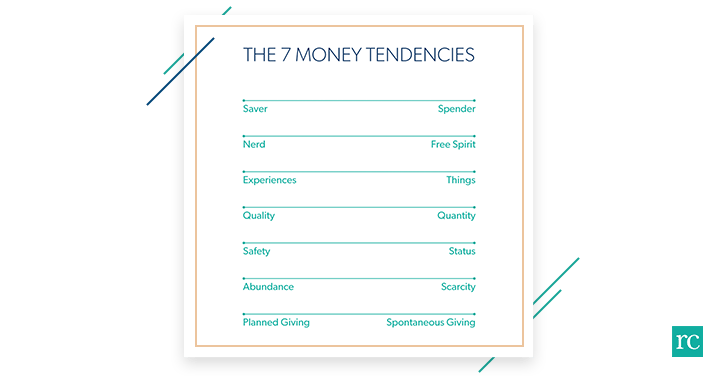 In Know Yourself, Know Your Money, Rachel will walk you through the 7 Money Tendencies—a sliding scale that shows you how your views and experiences in the world impact your money habits every day. It's a great road map to use as you dive deeper to uncover the why behind how you handle your money. You'll get up close and personal with your money fears and beliefs while discovering what motivates you to spend money and what motivates you to save money. And what's a little self-analysis without a look back at your childhood? You'll learn which Money Classroom you grew up in (Anxious, Unstable, Unaware, Secure) and how your first impressions of money still impact your decisions today.
If you feel like all this soul-searching is making you want to journal—well, you're in luck. At the end of each chapter, you'll get a chance to stop and reflect on what you've learned, jot down what stood out, and interact with the content you just read. It's eye-opening, and super insightful, but not as scary as it all might sound—we promise. In fact, one of the greatest things about Know Yourself, Know Your Money is that the book doesn't equip you with all this insight and knowledge and then just leave you hanging. Rachel actually walks you through where to go from here with actionable ways to make the best decisions with your money.
So, forget "new year, new you." Instead, just get to know the real you better. There's no time like the present to take this important step in learning more about yourself and your money! Preorder Know Yourself, Know Your Money before January 5 and you'll get $150 worth of free bonus items! These awesome freebies include a financial coaching call with a Ramsey Preferred Financial Coach, a 30-minute video lesson from Rachel, and the Know Yourself, Know Your Money audiobook and e-book. Yeah—that's a whole lot of bang for your buck, so nab this great deal while you still can. Here's to the journey of getting to know yourself in a whole new way!