Have you ever experienced getting stuck on a sandbar with a newbie boat owner? Maybe they sideswiped a dock? Or misjudged the bridge height?
These types of mishaps can be super expensive (and embarrassing)!
Thankfully, they're covered by boat insurance. Let's go over what you need to know about boat insurance coverage before you or one of your passengers forgets to drop the anchor.
What Is Boat Insurance?
Simply put, boat insurance covers you if your boat is damaged or destroyed.
In 2020, the U.S. Coast Guard counted 5,265 accidents that involved 767 deaths, 3,191 injuries and approximately $62.5 million in damage to property as a result of recreational boating accidents.1 That's a lot of damage, and a lot of repair bills!
Depending on individual policy coverage, boat insurance policies cover damage to your own boat or equipment, as well as injuries to people and damage to other boats or property.
Typically, boat insurance covers most watercraft with motors or sails like fishing boats, yachts, sailboats, speedboats, etc. It does not usually cover boats without a motor or sail like canoes and kayaks.
Is My Boat Covered Under My Auto Insurance or Homeowners Insurance Policy?
If you're lucky enough to own a boat and a home and a car, that's awesome. But the key word there is own. If you still owe money on those things—and especially if you have debt on vehicles—it's time to rethink a few things.
When you're on Baby Step 2, every dollar you aren't using to keep the Four Walls in place should go toward getting you completely out of consumer debt. We all need a way to get to work, so we're not saying you need to sell your car and walk everywhere.
What we are saying is that no vehicle—boat, car or otherwise—should delay your date with debt freedom. So, boats aren't in your dock right now, and neither are luxury cars. Downsize to a cheaper car and get intense about eliminating your debt for good ASAP.
There's also a rule of thumb about things with motors in them—you know, cars, trucks, RVs and boats—the total dollar value of those items should never add up to more than half of your annual income.
That's because anything with a motor in it goes down in value quickly. If those numbers don't match up for you, you have too much money tied up in stuff that's plummeting in value. Sooner or later, you'll be underwater on all of them—and underwater is the last place you want to be on a boat.
For example, say you pull in a yearly salary of $50,000. You also have a $10,000 car and a $20,000 boat. The math says you need to sell one or both of them, even if you own them outright!
And if they're financed? Get both of them on Craigslist or Facebook Marketplace pronto and get yourself a budget car with cash while you finish off Baby Step 2.
But suppose you really do own your home, your car and a boat free and clear. Now you're sailing in style! If so, you might be wondering if your homeowners insurance or auto insurance covers your boat. In general, homeowners and auto policies do cover some watercraft, but not most.
They have strict restrictions on what they'll cover. Any watercraft with a speed that exceeds 25 mph isn't covered by existing homeowners or car insurance.2

Don't let car insurance costs get you down! Download our checklist for easy ways to save.
So, if you think of your canoe like a boat, and you even gave it a name like a boat, that's good news. (And really sweet!) Your canoe is most likely already covered.
But if you own a fishing boat or a speedboat, or anything faster than a canoe, you'll need a separate boat insurance policy.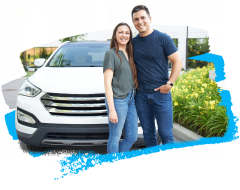 Get the car insurance you actually need.
With a RamseyTrusted pro in your corner, you'll get the top-notch insurance coverage you need without breaking the bank.
Connect with a Pro Today
What Does Boat Insurance Cover?
Now that you've had a chance to think about boat insurance requirements, let's talk about what it covers.
Boat insurance coverage can vary widely based on boat type, boating location and how often the boat is used. Plus, there are several types of optional boat insurance that we'll talk about in a minute.
But, in general, boat insurance covers most of the costs typically associated with a boating accident like repairs and medical bills.
Here's a breakdown of the standard types of boat insurance coverage. Of course, the amount of money these types of coverage provide depends on the coverage limits, deductible amount, and other factors specified in your policy.
Liability
First up is liability. It's probably the most important type of boat insurance. Liability coverage pays for the other person's property repair and medical bills after an accident that you caused.
In addition to helping pay repair bills for damage to other boats, liability boat insurance also covers repairs to docks or any other objects you hit. It also helps pay for legal fees in case you get sued.
And if you make a habit of letting your passengers drive your boat, you need guest passenger liability. This type of insurance covers you if someone driving your boat (with your permission) causes an accident.
If you don't have liability coverage for your boat, you could be stuck paying hefty repair bills out of your own pocket.
Physical Damage
Now let's go over how boat insurance covers the repair or replacement of your boat if it's damaged. The damage can come from:
Collisions with other boats, docks, submerged objects or floating debris
Damage from wind, hail, lightning or other weather
Theft or vandalism
Fire
There are two types of policies for physical damage: agreed value and actual cash value. The main difference between the two is the way depreciation is handled.
Agreed Value

Together with your insurance company, you decide how much your boat is worth. The agreed-upon figure is the maximum amount the insurance company will pay out to replace or repair your boat.For most boats, agreed value is the best policy type. If you own a rare boat, however, the boat's value will most likely increase. That's when the next type of policy is most useful.

Actual Cash Value

This policy type pays up to the boat's value on the day it was damaged. So, the amount your insurer pays out should enable you to restore your boat or buy a new one with the same value.

This goes both ways. Meaning if your boat has increased in value since you bought it, you're golden. But if it has decreased in value since you bought it, you'll get less than what you need to buy a new one.
Medical Payments
This coverage helps pay medical bills if you or your passengers get hurt while on board, boarding or leaving your boat. It can cover doctor, hospital, X-ray and ambulance expenses. Like we mentioned earlier, the amount of coverage will depend on the payout limits, deductible amount and other considerations spelled out in your policy.
If you have questions about how much these boat insurance coverages cost, we put together comprehensive information here.
Optional Boat Insurance Coverage
Remember that the purpose of insurance is to cover expenses you can't afford. So, if you own your boat outright and are debt-free with a hefty emergency fund, we recommend paying for the expenses below out-of-pocket. We're just letting you know about these options, so you won't have to wonder when you come across them.
On-Water Towing
Think of it as roadside assistance for boats. If your boat breaks down on the water, on-water towing boat insurance pays for towing (distance depends on coverage limits), jump starts, soft un-groundings and fuel delivery.
Ice and Freeze Coverage
Even if you don't live in an area where below freezing temperatures are the norm, ice and freeze coverage is smart to have for those times when you're hit by a sudden cold snap. This type of coverage takes care of winterizing mistakes and power failures that can leave your engine unprotected.
Personal Property
Personal property coverage helps replace pricey unattached items on your boat like marine electronics, scuba gear, laptops or any other gadget that makes boating so fun! Note: Fishing equipment is typically covered separately.
For example, if you or one of your passengers accidentally drops an expensive cell phone overboard while on your boat, personal property boat insurance will cover the cost to replace the phone.
Uninsured/Underinsured Boater
Uninsured Boater (UB) or Under-Insured Boater (UIB) insurance will pay for injuries and damages if you're hit by a boater with no insurance (not wise!) or not enough insurance. UB and UIB coverage will pay medical and property costs for you and your passengers up to your policy's limits.
We recommend talking with one of our Endorsed Local Providers (ELPs) who, in addition to other types of insurance, is also knowledgeable about boat insurance and the policy options that are right for you.
What Doesn't Boat Insurance Cover?
Boat insurance doesn't cover everything. Most of the things it doesn't cover are pretty logical, but others aren't quite as clear.
Wear and Tear
Boats get old and wear out. Insurers know this and won't pay for cosmetic or mechanical repairs from normal use.
Faulty Machinery
If it's a unique situation, insurance companies might pay for a mechanical breakdown. But if something on the boat breaks because you didn't use or maintain it properly, don't count on your insurance company bailing you out.
Animal Damage
Run-ins with underwater creatures are common. (Hey, they live there!) So, if a dolphin or shark damages your boat, insurance companies typically don't cover repair costs.
Infestations
Another sea creature that's not covered? Mussels! Mussels love to cling to watery surfaces and can cause major damage. Check to make sure a large family of mussels (or any other infestation) isn't using your boat's hull as their home.
Improper Storage and Transportation
If you didn't properly tie down your boat to the trailer, and it falls onto the road halfway to the lake, insurance companies are savvy about this kind of damage and won't cover it. Or if you store your boat in your backyard for the off-season instead of a proper storage facility, sorry, insurance won't pay for any damage.
Accidents Beyond Your Navigational Limits
When you buy boat insurance, agents typically ask where you do your boating. It's called a navigational limit. If your boat is damaged outside of your navigational limit, your insurance won't cover it.
Accidents Outside Your Layup Period
Same concept here as the navigational limit. If you told your agent your layup period (when you don't use your boat) is between the winter months of November and February, and you take your boat out in December, you won't be covered.
Underage or Unnamed Operators
Got a 12-year-old niece or nephew who loves to take the wheel occasionally? It could be legal in your state, but most likely it isn't. (Check your local laws.) If the 12-year-old gets into an accident, insurance companies won't cover the damage.
Storm Plan
Most insurance companies require boat owners to submit a written storm plan to prove they have an idea for safeguarding their boat in case of stormy weather. This is especially true if you live in a hurricane zone.
Storm plans don't have to be lengthy, but they do need to spell out how and where you plan to store your boat in the event of an oncoming storm. Your insurance agent will tell you the best way to document and submit your plan.
How to File a Boat Insurance Claim
We hope you never need to file a boat insurance claim. But if you do, here's how and when to do it.
First, just like a car accident, take pictures and document everything that happened, including the damage that occurred. Get the name(s) and contact information for anyone involved in the accident.
Next, call your insurance company. They should have a dedicated line for claims with a professional who can answer your questions about the claims process.
Ask when/if your agent will be available if you need help dealing with the aftermath of a claim. Your agent should understand the claims process and help you through it.
Get the Smartest Boat Insurance Coverage
Whether you're just starting out and shopping for boat insurance for your shiny new toy or you're a seasoned boater and you're looking for new insurance, we recommend contacting one of our Endorsed Local Providers (ELPs). Our ELPs are independent agents who are experts in multiple types of insurance, including boat insurance.
They'll do the legwork for you, by comparing boat insurance policies, coverage amounts and prices, to get you the best deal.
Did you find this article helpful? Share it!