Get Ahead of College Costs With a Financial Advisor
Build your college savings plan with help you can trust.
How to Save for College Without the Stress
Learn About College Funds
There's more than one way to save for college. A pro can help you craft a strategy that lines up with your finances and goals.
Navigate the Rules
Timing, eligible costs, taxes—it can be overwhelming. SmartVestor Pros know the ins and outs so you'll be confident your plan covers all the bases.
Avoid Student Loans
If scholarships and financial aid don't cover the college costs, you need to bridge the gap. A SmartVestor Pro can help you build a bridge that won't lead to debt!
SmartVestor is a FREE service that helps you find nearby financial advisors—we call them SmartVestor Pros—who can help you shore up those college funds.
You'll Choose From Pros Who:
Have at least two years of experience and a rock-star track record.
Pass through multilayered vetting with flying colors.
Engage in regular coaching so they can consistently serve you well.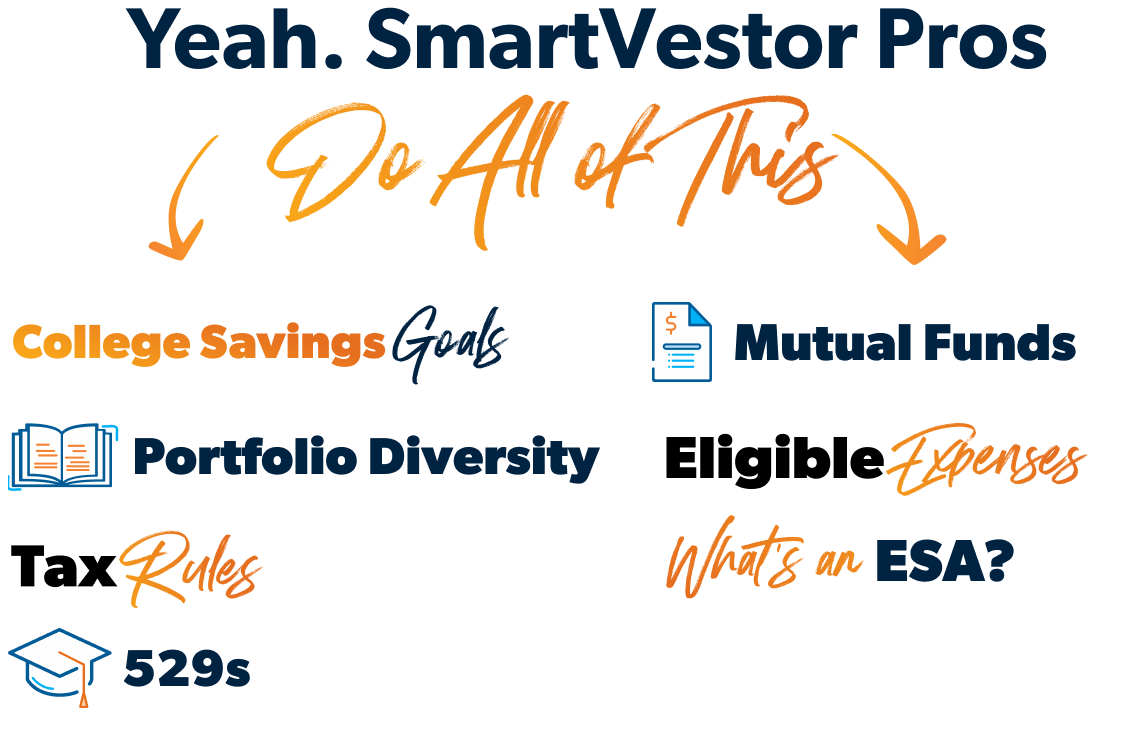 Find Your SmartVestor Pros
Instantly see up to five Pros.
It's fast, easy and free.
FAQ
What is SmartVestor?

SmartVestor is a free service that connects you with investing professionals in your area.

How much does SmartVestor cost?

Nothing, zilch, nada. SmartVestor connects you for free.

What should I expect after I fill out the form?

Our SmartVestor Pros will contact you within 24 hours to introduce themselves and help set up an appointment for you to interview them. Then, you can simply select the pro you want to work with.

How do I choose my SmartVestor Pro?

To make it easy, we'll send you a list of questions you can ask during your first interview. In general, you'll ask them about their investing philosophy, how they get paid, and how often they communicate with their clients. Above all, if something doesn't feel right, keep looking.

What can a SmartVestor Pro help me with?

A SmartVestor Pro can walk you through setting goals and then help you craft a college savings plan. They'll teach you and answer your questions about the types of accounts and investments you can build into your college savings plan. And a fringe benefit? The peace of mind that comes with knowing you're doing everything you can to get ahead of college costs.

When's the right time to start saving for kids' college?

Our philosophy—starting with the Ramsey Baby Steps—is that you need to pay off your debts (mortgage is okay, though) and save up an emergency fund first (3–6 months of expenses). Then you can start investing 15% of your income in retirement. And then you can start investing in college savings plans. And it doesn't matter how young your children or grandchildren are—even if they're not born yet—go ahead and get started. Your investment pro can guide you through every step.

Are SmartVestor Pros financial aid advisors?

A bunch of our pros are financial advisors, but heads up—that's not the same thing as a financial aid advisor. If you're looking for someone to help you invest in a college savings plan, a financial advisor is what you're looking for. But if help navigating FAFSA and scholarships is really what you're seeking, that's financial aid advising. Expert advice is worth its weight in gold, but you can also get free number-crunching tools like our college savings calculator—a great way to start getting an idea how much money you'll need to cover the full cost of college
RamseyTrusted is our seal of approval in the marketplace—a symbol fans can look for to find service providers our team endorses. And sure, our providers are sharp folks, but industry know-how isn't what gets them the RamseyTrusted shield. They have to earn our trust by meeting Ramsey's high standards of excellent customer service before we ever allow them to work with our fans. And speaking of trust—you should understand that we get paid to promote the services of our providers and refer clients to them.