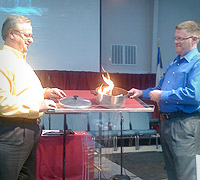 When you have more, you can give more. And giving is a big part of how the church tangibly shows the love of Christ to the community and the world. Now that Ensley Church of the Nazarene in Pensacola, Florida is debt-free, they have a lot more to give!
For the last few years, the church has been teaching Dave's Financial Peace University class, and one day a light went on for pastor Don Hastings.
"A lot of our leadership team had personally gone through the class, and they recommended that we start using Dave Ramsey's principles in handling our money collectively as a church," he said. If they work for families, why wouldn't they work for the church as a whole?
The church has plenty to show for its efforts, including a $280,000 mortgage that is now paid in full! And according to Pastor Don, the effects of the class and of living debt free reach far beyond the numbers.
"People in our church smile a lot because they know we're debt-free. The ripple effect of that is very interesting," he said. "It is so deep that it changes the core value and the giving of the church. We're still frugal and good stewards of God's money, but we're just not saddled with a bunch of debt!"
Growth Without Growing Pains
While church growth is a blessing, it can also bring the stress of funding newer and bigger buildings and the questions of how to pay for additions to the current congregation site. No such problems at Ensley. Pastor Don says it is so freeing what his parish can do now that the mortgage payment isn't hanging over them. They are in the process of building an educational facility and a worship center, and "there's no pushback on building a new building, because no one has anything to push back on. We have no debt, and we have money."

It has also changed Ensley's scope of who they can help. "We have begun to see beyond the four walls of ourselves and the church. We are now seeing into the community and the world." Some of the ministries they use to impact the community include their children's group giving out free books to kids at a local hospital and their food pantry ministry for the needy.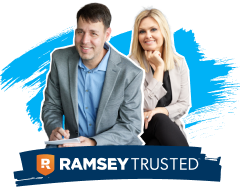 With the right agent, taking on the housing market can be easy.
Buy or sell your home with an agent the Ramsey team trusts.
Connect for Free
A Win-Win
"I would tell pastors and church leaders that having Financial Peace University at their church is a win-win situation," Pastor Don said. "We are seeing a wholesale change. Financial Peace University has been a positive thing for our church, and I strongly recommend that other pastors give it a shot. It really does work!"
On behalf of the entire Ensley congregation, Pastor Don called in to The Dave Ramsey Show to give a big debt-free yell and celebrate with Dave.
Just imagine … this can be your church, too! Take Pastor Don's advice and check out how Dave's life-changing class can help equip and empower your church to give like never before.
Did you find this article helpful? Share it!