Man on a Mission: How One Teacher Is Transforming His Town
3 Min Read | Sep 28, 2021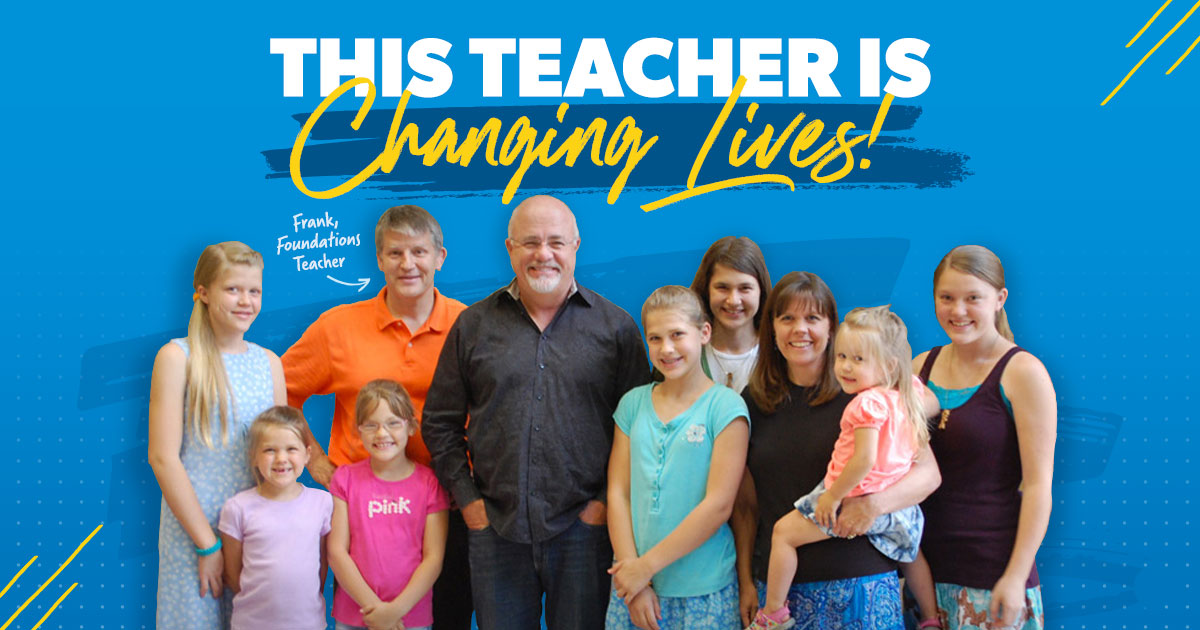 Before graduating from Ogemaw Heights High School in West Branch, Michigan, every student must first learn how to balance a bank account, save for retirement, and live without debt (and within a budget).
Impressive, right? Wait 'til you meet their teacher.
Economics teacher Frank Dame has been hard at work re-educating an entire generation of young people, and he's doing it with Dave Ramsey's student-centered curriculum, Foundations in Personal Finance.
After five years of teaching teens to win with money, the effects are really starting to show.
Students Changing a Town
"All of this stuff is refreshingly new to them," Frank says of the old-school ideas of saving until you can afford to buy and using cash instead of credit. Most teens are shocked to find out they can buy a car, a house or even a college education without borrowing money.
Now they know their options, says Frank. And they're doing something about it.
Many students are finding ways to attend college debt free or choosing a community college instead of a pricey four-year university. Other teens are telling their parents to sell the car or pay off their home mortgages early. Some are even contacting their part-time employers to ask about 401(k) matching—at fast food restaurants and the mall!
"I guarantee [this course] is making a difference," Frank says of the 1,000 students he's been able to reach so far. "There are several kids who are very excited about thinking outside the box and doing things differently than their parents did—or than the world is telling them to."

Laying the Foundation
Before teaching Foundations in Personal Finance, Frank was an English instructor for 22 years. But when Michigan law changed, requiring students to graduate with an economics credit under their belts, he was asked to develop the curriculum.
So he talked to parents and leaders in the West Branch community.
"The people in town said, 'We want someone who can balance a checkbook, who can balance their own budget, who isn't spending money that they don't have,'" he says. "So much of what they said came back to personal finance."
Due to a tight budget, Frank's students used the same set of Foundations workbooks for years. The kids had to do all their writing on a separate sheet of paper and leave the books behind at the end of each semester.
Now, thanks to a sponsorship from Fifth Third Bank, each student gets a brand-new book to write in and review long after high school.
Taking His Work Home
The students at Ogemaw Heights aren't the only ones benefiting from this curriculum. Frank and his wife Susie have applied these financial principles to their own lives—and to the lives of their eight children.
"I started teaching the curriculum in my 40s, and a lot of the principles I should have been applying earlier in life," he says. "My kids are going to be better savers and more forward thinkers than I was—I get to impart that vision upon them."
His oldest son, 19-year-old Frankie, is already off to a great start. After graduating high school early and earning his bachelor's degree at age 17, the teen now has a full-ride scholarship to law school and is working part-time to cover extra expenses.
Talk about being money-smart!
That seems to be what Mr. Dame is all about—teaching kids how to win with money, and changing a heck of a lot of family trees in the process.
Did you find this article helpful? Share it!