How the Cook Family Went From County Fair Vacations to a Caribbean Resort
3 Min Read | Sep 28, 2021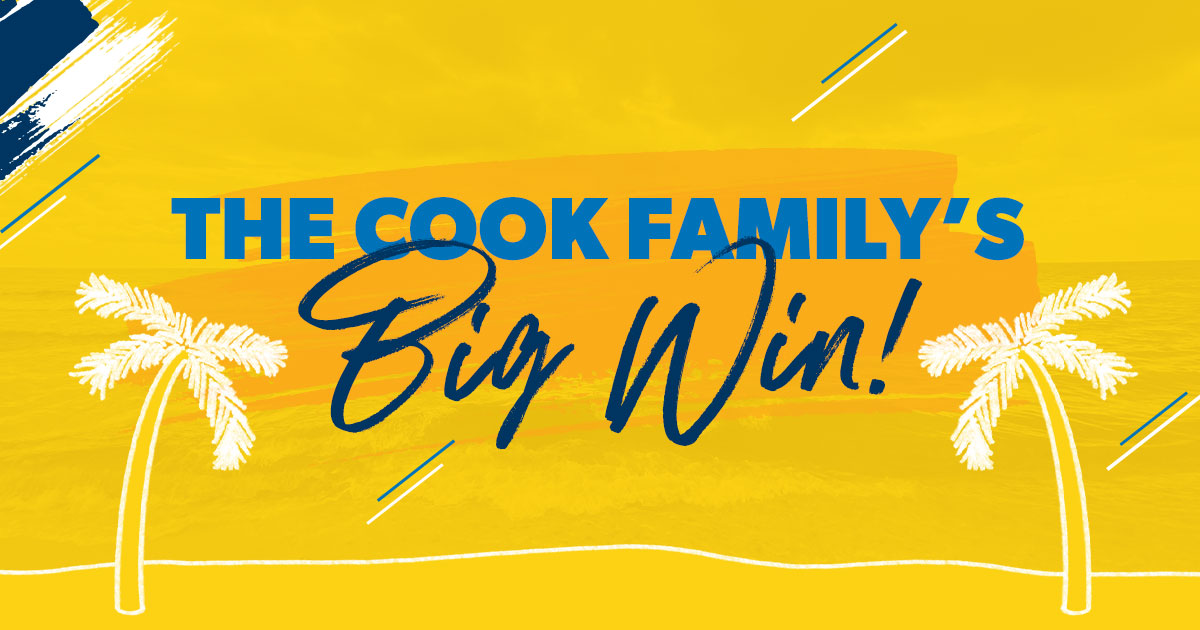 They deserve a hug every now and then, you know. Teaching is one of the most undervalued professions in America.
We love teachers, and that's why we love the idea of Teacher Appreciation Month. In that spirit, we're giving away some great prizes again this year to show teachers how much we appreciate them—including an all-inclusive vacation for two!
That's right! The Teacher Appreciation Giveaway runs throughout the month of April. Teachers can enter at ramseyteachergiveaway.com
A previous winner, Darcy Cook from Mesa, Arizona, recently told us all about her experience winning the vacation giveaway. Darcy and her husband chose the Couples Swept Away Resort in Negril, Jamaica.
"Our family's definition of vacation was taking our animals to the county fair every year," she said. "So this was amazing. We had an absolutely fabulous time."
Darcy and her husband recently had their third child, so they used the vacation as a "babymoon." "I can't think of one thing I would change about our stay there," she said. "The sand was like sugar, and the water was the perfect temperature and crystal clear. I tried paddle boarding for the first time, and even though the water was probably 20 feet deep, I could see every starfish at the bottom!"
"It was so relaxing and valuable," she said. "With the hours I was working at school, I definitely ignored our relationship more than anything else, so the vacation came at the perfect time."
Taking the Budget to the Next Generation
As a high school agriculture teacher, Darcy has a powerful opportunity to show her students how to manage money. She's used Dave's Foundations in Personal Finance curriculum to help her students do just that.
Darcy said that most agricultural curriculum available on the market is weak, but they were excited to take the basic money lessons from Foundations in Personal Finance and apply them to this field.

"We approach it from more of a business standpoint," she said. "So we look at inventory and control and identifying expenses and costs. You need to know where you're at, what you need to spend, and what you're spending it on ." The budgeting lessons in Foundations in Personal Finance have been helpful with that process.
Some of her students have even started their own small businesses. "We had a couple of students purchase 100 laying hens with some help from the business community here, so that was very cool."
Encouragement for Teachers
Most people grow up having at least one teacher who made a huge impact on their life, and Darcy isn't any different.
"Mr. Stevens helped me see that I could do more than just set goals. He helped me see that I could achieve them as well." Inspired by his example, she set out to work with animals and eventually as an agricultural teacher.
She loves the profession and is passionate about encouraging other new teachers as well. "It's not just a matter of getting a job," Darcy said. "It's a matter of finding a match with a community and administration that mirrors your philosophies and allows you to really help students."
"Education makes an incredible difference," she said. If you're passionate about teaching, Darcy said, "there's a place in education for you."
Every year, thousands of students learn life-changing financial literacy skills through our Foundations in Personal Finance curriculum. Your students can be next! The curriculum simplifies big topics like debt, insurance, taxes, real estate and the global economy. Make sure your students are ready to enter their future with confidence and tackle their finances head on!
Did you find this article helpful? Share it!