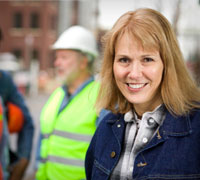 A recent study conducted by Hewitt Associates, a human resources consulting firm, found that women in the workforce aren't prepared for retirement. Since the typical female lives an average of three years longer than a male and makes less money, the firm discovered that women aren't saving enough for those extra three years of retirement. In fact, they aren't saving or investing anywhere near as much as their male coworkers.
Women tend to be more conservative investors, investing almost 1% less than men. They also begin to save 2-4 years after men start saving. Plus, females fluctuate in and out of the job market more often than males due to family reasons. All this results in thousands of dollars missed in salary, raises and benefits.
In a group of 10 women, only one will feel confident enough to manage her own money and investments. Nearly 25% of females do not contribute enough to their company retirement options to take advantage of the match programs offered to them. It was found that men earned $84,000 in their company match programs, whereas women earned significantly less, rounding out at $57,000. That's a $27,000 difference.
In general, four out of five individuals—both men and women—aren't saving enough to be able to continue the same lifestyle once they are retired. Hewitt Associates estimated that everyone will need to replace 126% of their salary after retirement due to inflation and rising medical costs. Currently, team members can only substitute 67% of that amount.
Isn't it time to teach your team members how to handle their money so they can retire comfortably? Who wants to be worrying about money when they could be enjoying a happy lifestyle? All it takes is a little planning on the front end.
Let us help you train your team for success and confidence with Financial Wellness.
Did you find this article helpful? Share it!