Kindness Isn't Canceled: 5 Ways to Give During Challenging Times
7 Min Read | Apr 21, 2021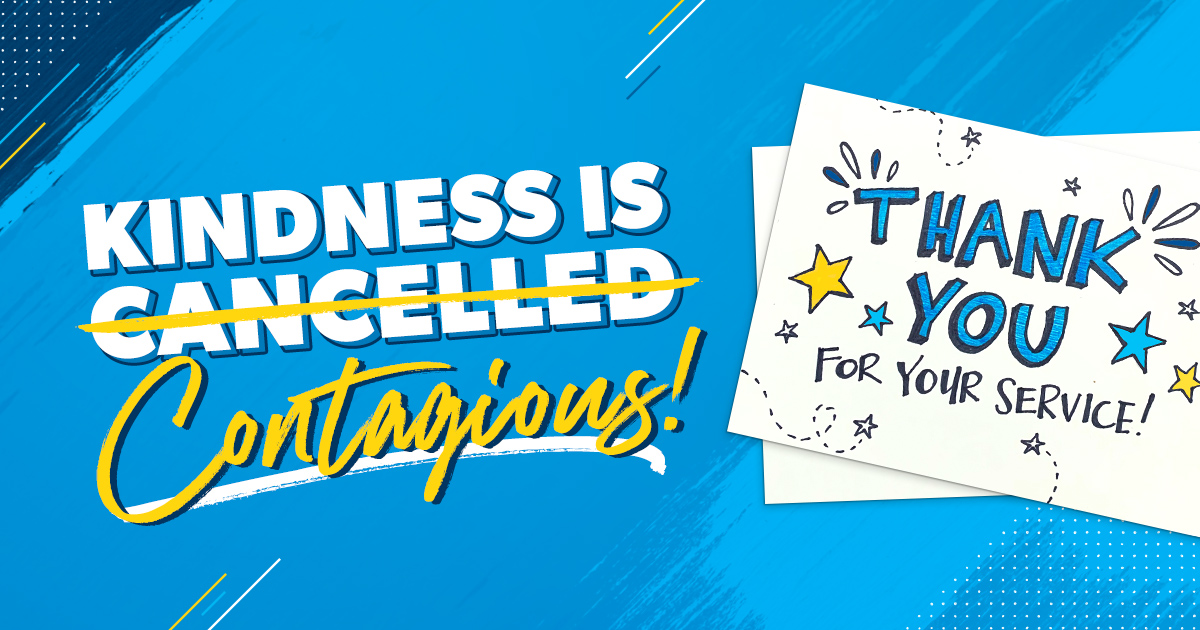 As a teacher, you've been in the middle of the arena, fighting new battles for your students every day. Whether that's navigating distance learning and reminding your students to mute themselves during the lesson (as cute as Fido is, his barking is a bit distracting) or just trying to keep your students engaged to finish this school year strong, you've given them your all.
Now's a great time to remind your students that giving is fun! The good news is that it doesn't have to be complicated. This might require a little extra creativity to come up with ways to be generous from 6 feet apart, but it will pair perfectly with Chapter 12, Lesson 6 of our Foundations in Personal Finance curriculum. Here are some ideas for howyou can keep your students engaged and help them serve where they are with what they have.
1. Send a word of encouragement.
They say kindness is contagious—whoever "they" is—and it's true! A kind word doesn't cost a thing, but it sends a ripple effect to those around you. There are endless ways your students can give a verbal high five (or elbow bump) to those around them, but here are a few ideas to get them started:
Send handwritten notes to hospital staff and first responders. They're likely exhausted, and your students' kind words will make their long shift a little better!
Leave a positive note in sidewalk chalk on their neighbor's driveway. A small drawing or a "Have a great day, neighbor!" is sure to brighten their day.
Be a virtual pen pal. A lot of nursing homes have virtual pen pal programs that your students can sign up for and write to a new friend. In a season where contact has been even more limited than usual, this is a surefire way to bring a smile to someone's face.
Write to someone serving in the military. Especially if they're overseas, even just a simple "Thank you for your service" can bring extra meaning to their work.
2. Share your talents.
Odds are, students will make the biggest impact on others when they tap into their own strengths. What are your students good at? Ask them what they love to do. Prompt them to lean into their gifts and then share them with others!
Music. Do your students sing or play an instrument? Create a piece of music and record it for someone.
Digital media. If you have a student who's talented in tech, encourage them to make a video montage full of pictures and videos to share memories with a friend.
Academics. Are your students particularly good at a school subject? Have them offer to tutor a fellow student free of charge. They could make a big difference in their life!
Writing. Encourage your students to write a creative short story and send it to a friend (or see #1 for more ideas of who to send it to).
Art. If you have a student who's artistic, they could create a piece of artwork for a local small business owner. If it's their favorite coffee shop, they could draw the building or paint a picture of a coffee cup. The last 12 months were likely very challenging for them, so this will mean a lot!
Culinary. Your students could bake some cookies for your local hospital staff or join a meal train for nurses. They're likely working long hours and might be too tired to cook dinner when they get home.
Athletic. Do your students like to run? They could host a virtual 5K to raise money for a local charity! They could invite others to join them from afar.
Helper. If you have students who just enjoy helping others in general, they could post a sign in their front yard offering to help their neighbors run errands, bring in groceries, rake leaves, etc.! They can just write something simple like, "Hi, I'm (student name) and I'm here to help! Call for neighborhood support."
3. Give incognito.
There's only one thing better than being the recipient of an anonymous gift—being the giver! The opportunities for this are endless, but here are some ways your students can give without anyone knowing it was them.
Leave someone an anonymous gift. Your students can drop a present on their front porch (like ding dong ditch—but better!), or they can order something off of Amazon and have it shipped to them. A good book, a new candle or a box of chocolates makes any day better!
Pay for the person behind you in the drive-thru. This one is fun because your students will get to see the excitement of the person behind them in their rearview mirror before they drive off! And who knows—they might even pay it forward (or backward?) to the next person in line.
Leave a kind note and some candy. Your students can carry these around with them and sneak them onto a stranger's windshield, leave one with their grocer, or tape one to their neighbor's door to spread a little extra kindness.
4. Donate supplies.
There are a ton of organizations taking donations right now! Your students likely have something they're able to give up for someone in need.
Groceries. They could find a local food drive and off-load some of those soup cans they haven't opened. (Just remind them to check expiration dates first!)
Clothes. Encourage your students to do a closet cleanout and give their gently used items to Goodwill. A guiding rule for this: If you haven't worn something in a year, it's time for it to go. If your students didn't wear it last summer, they likely won't wear it this summer.
Books. Did your students finish reading that novel? Places like your local library and the Salvation Army are always taking book donations.
5. Give virtually.
If your students want to serve others without leaving their home, we've got them covered! Here are some ways they can give with the click of a button.
Send a virtual coffee. Have a friend who's working long hours? Places like Starbucks will let your students send a virtual gift card. If all else fails, they could Venmo them $5 and the coffee emoji. Simple and impactful!
Order food. Your students can use services like Grubhub or DoorDash to have a meal shipped to someone so it arrives when they're home from work. Dinner is served!
Send flowers. Who wouldn't be happy to see a bouquet on their doorstep when they get home? Your students can support a local florist and send someone a bouquet.
Give to a charity online. If your students don't have physical resources like clothes or books to give but they'd still like to donate somewhere, organizations like Samaritan's Purse will let you virtually "pack a shoebox" full of gifts for a child in need. This would be a great activity for your whole class to do together!
The past 12 months have likely been some of the most formative years for your students. Every day, they get to decide whether they'll feel bummed about the challenges of this year or focus on how it's chock-full of opportunities to give and serve others! As a teacher who cares, you want to see your students giving, even during tough times. A great way to learn more about the importance of giving—even from a distance—is to read Chapter 12, Lesson 6 of our Foundations in Personal Finance curriculum.

Get expert money advice to reach your money goals faster!
Do you have stories of creative ways your students gave to their community this year? We'd love to hear about it!