Communicating Benefits Results: How to Show the Return on Your Investment
9 Min Read | Sep 27, 2022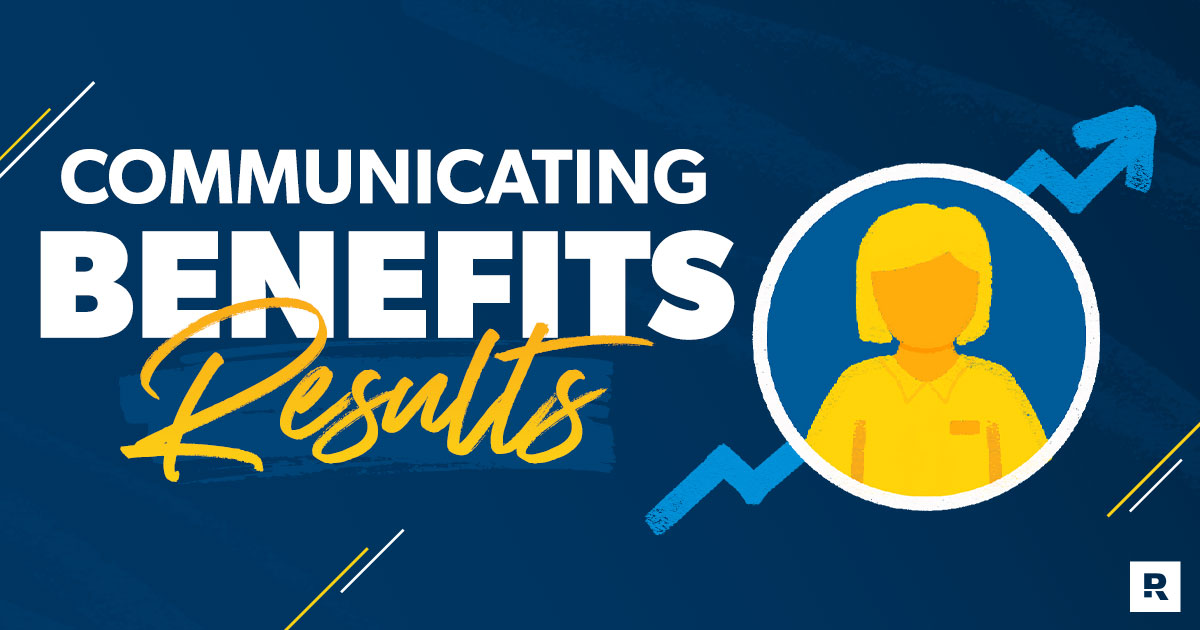 As an HR decision-maker, finding the best mix of employee benefits for your organization is a big part of your job. And every time you launch a new program, you're hopeful it will be a true benefit for your workers. After all, you know the right benefits are a win-win because they aid both engagement and recruitment.
But the launch phase is only the beginning of a new benefits program—within a short time, leadership will want to know about the results and ROI. That's when you get the fun of trying to prove that your new benefit is worth the resources you're investing.
How do you show company leaders the true value of a program?
It isn't always easy, but there are several methods you can use to communicate your benefits results to company stakeholders.
It isn't always easy, but there are several methods you can use to communicate your benefits results to company stakeholders.
Let's consider a few.
Frame the Cost as an Investment in Employees
We all know business owners are always watching expenses to protect profit, and that means benefit costs get plenty of attention. So when you're making the case for launching or renewing a program, acknowledge what everyone already knows: benefits can be expensive.
The key here is to follow up with the fact that benefits are an investment in employees—one that keeps on reaping good results for years. A good employee benefits package definitely helps in the following ways:
It makes for happy, healthy employees.

Their wellbeing in turn enhances productivity.

Those same happy and productive employees will spread the word about their experience to other candidates throughout their tenure.

And even after they leave the company, they'll likely continue giving other applicants positive reports about their employee experience with you.
As an employer ready to invest in its people, your reputation will precede you and the word will get around that you're an organization that cares.
In talks with leaders, emphasize how teams with good benefits programs are marked by both productivity and longevity on the job. Those should be pretty easy marks for you to measure in your organization, and they'll help establish the value of the programs you offer. If you have testimonials from your benefits or feedback from employees who have used them, these will go a long way in proving the human ROI to leadership. Look for benefits with built-in reporting and feedback options.
Show How the Right Benefits Reduce Turnover
We've seen so far how the right programs can bring in and retain employees, but there's a different angle you can take on benefits that gives your company another compelling reason to care: as a hedge against turnover.
Replacing valuable employees is one of the most expensive parts of running a business. And it's an all-too-common issue in HR. A 2017 Gallup poll revealed more than half of American workers are actively looking for a new job or watching for new job openings. (1) And when they jump, both experience and research show they leave behind gaping holes in your team's morale and productivity.
The Society for Human Resource Management reports direct replacement costs sometimes go as high as 50 to 60% of a worker's annual salary. (2) And that cost isn't limited to higher income earners—even for those making $50,000 or less, companies often spend from 16 to 20% of salary on replacement efforts. (3) And what about total turnover costs? At times they can range from 90 to 200% of salary. (4)

Click here for free, SHRM-accredited webinar content on all things HR and business leadership.
Whatever the costs are for your company, you can be sure turnover hurts when it happens. But the right benefits can be a big help in preventing it by keeping existing employees healthy, motivated and protected.
The right benefits can be a big help in preventing turnover by keeping existing employees healthy, motivated and protected.
Choose Programs With Metrics and Reporting
How do you communicate the above to stakeholders? As mentioned above, in order to show decision-makers that a benefit is working both for employees and for your company's bottom line, you need programs that offer metrics to track and reporting to share.
Fortunately there are many popular employee benefits that do. Whether it's total weight loss in a health and wellness program or participation and contribution rates in a 401(k), the results will be clear. Look for a behavior-based metric or goal associated with the benefit, in addition to just participation.
Once you know that a benefit program features a defined metric, the question becomes how can you get reports on its effectiveness for your company? Ideally you'll find a program that also offers aggregate reporting. There are several kinds of reports you'll find useful in communicating a benefit's ROI:
Total number of participants

Employee engagement with the benefit

Progress with any action steps the program recommend

Lifestyle change associated with the program, during or after the benefit

Employee feedback about the program
When you can show that a high percentage of your workers are using a benefit, that those users are engaged with the program, and that their behavior is changing for the better, you'll know you have a winner on your hands.
For example, think about how this would work for a fitness membership benefit. Automatically putting everyone into a gym membership through a blanket contract makes it hard to be sure who is using the opportunity. It also has the unintended effect of making some employees more passive about taking advantage of the offer.
One good way to encourage and track engagement is to require gym receipts for reimbursement of fees. This also means that employees will be more likely to change their behavior in a positive direction, in this case from inactivity to regular exercise. You can even add fitness incentives such as offering extra vacation hours for workers who track a certain number of steps, days logged at the gym or pounds lost.
Case in Point: the ROI of Financial Wellness
Consider the impact a successful financial wellness benefit can have. When employees have their finances in order, they'll be a lot less likely to exit your team just to chase a small rise in salary.
When employees have their finances in order, they'll be a lot less likely to exit your team just to chase a small rise in salary.
Or think of absenteeism. Sonus Benefits has reported that unscheduled employee absences cost the average U.S. business $660 per worker annually! (5) Do some quick math to see how those absences are impacting your own business this year.
Now consider the effect of greater financial wellness on absenteeism. The Society of Actuaries in 2017 published a report measuring the benefits of workplace financial wellness and found when employee financial wellness is improving, unplanned absences drop nearly 25%.(6) And as workers get in better shape with their money through a great employee benefit, the same study found several other examples of solid ROI:
Steady increases in employee contributions both to flexible spending accounts and HSAs

A 60% drop in the probability of wage garnishments

A 13% rise in the likelihood of being on target for retirement among employees who engage with the benefit repeatedly.
Those are some impressive results. Whether they match your own company's experience with financial wellness or with another program, they're the kinds of measures stakeholders are looking for as proof of value when decided on benefits.
SmartDollar Has Proven ROI
At SmartDollar, we've seen firsthand the impact one benefit program can have on business. In fact, our financial wellness program has been delivering undeniable results in companies nationwide for years!
We encourage employees to get intentional with their money through our inspiring videos, content, and tools. As a result, they not only get out of debt and on a budget, but their employers gain as well on a number of metrics.
Let's start with the basics of personal finance. We surveyed SmartDollar users both before starting the program and a year after beginning. The results speak for themselves:
Before starting, 44% were living paycheck to paycheck. A year later the number had dropped to 31%.

Prior to SmartDollar, 65% said they were prepared to cover a $1,000 emergency. A year on, 77% could do so.

In the initial survey, 47% of employees reported being scared or confused about their finances. But after a year of using SmartDollar, that number had dropped to 29%.

Forty-two percent of beginners told us they were financially stressed, but only 26% said the same a year later.

And what about retirement confidence, undoubtedly a major indicator of financial wellness? Less than a quarter (24%) started our program feeling confident; a year into SmartDollar, the share had risen to 45%.
After that crucial first year using SmartDollar, the average employee had not only paid off $9,405 in debt but had also saved $6,127. That's a total average financial turnaround of $15,532! SmartDollar employers are giving their employees substantial raises just by teaching them how to get smart with their money!
Business impacts are also substantial. SmartDollar companies have reported from 5–10% dips in wage garnishments, 5–15% rises in participation in other voluntary benefits, and an average of 10% higher employee retirement contributions!
For HR decision-makers looking into the value of a benefit, one of the most impressive features of SmartDollar is our reporting. We update you on total participants, employee engagement, plan progress and total financial turnaround. And you can use those numbers to incentivize and engage your employees more deeply as financial wellness rises.
We give you everything you need to clearly communicate your results to leaders:
higher productivity and the numbers to prove it

aggregate reporting that's easily accessible for your HR team

a turnkey format that allows any company of any size to accomplish an easy rollout

a dedicated relationship management team of benefits experts to help you succeed
What company leader could pass up the opportunity to help both profits and employees with those kinds of proven results in participation and engagement? SmartDollar could be your next opportunity to be everyone's hero.
Want to learn more about bringing SmartDollar and real financial change to your team? Contact us now for a demo.
Did you find this article helpful? Share it!