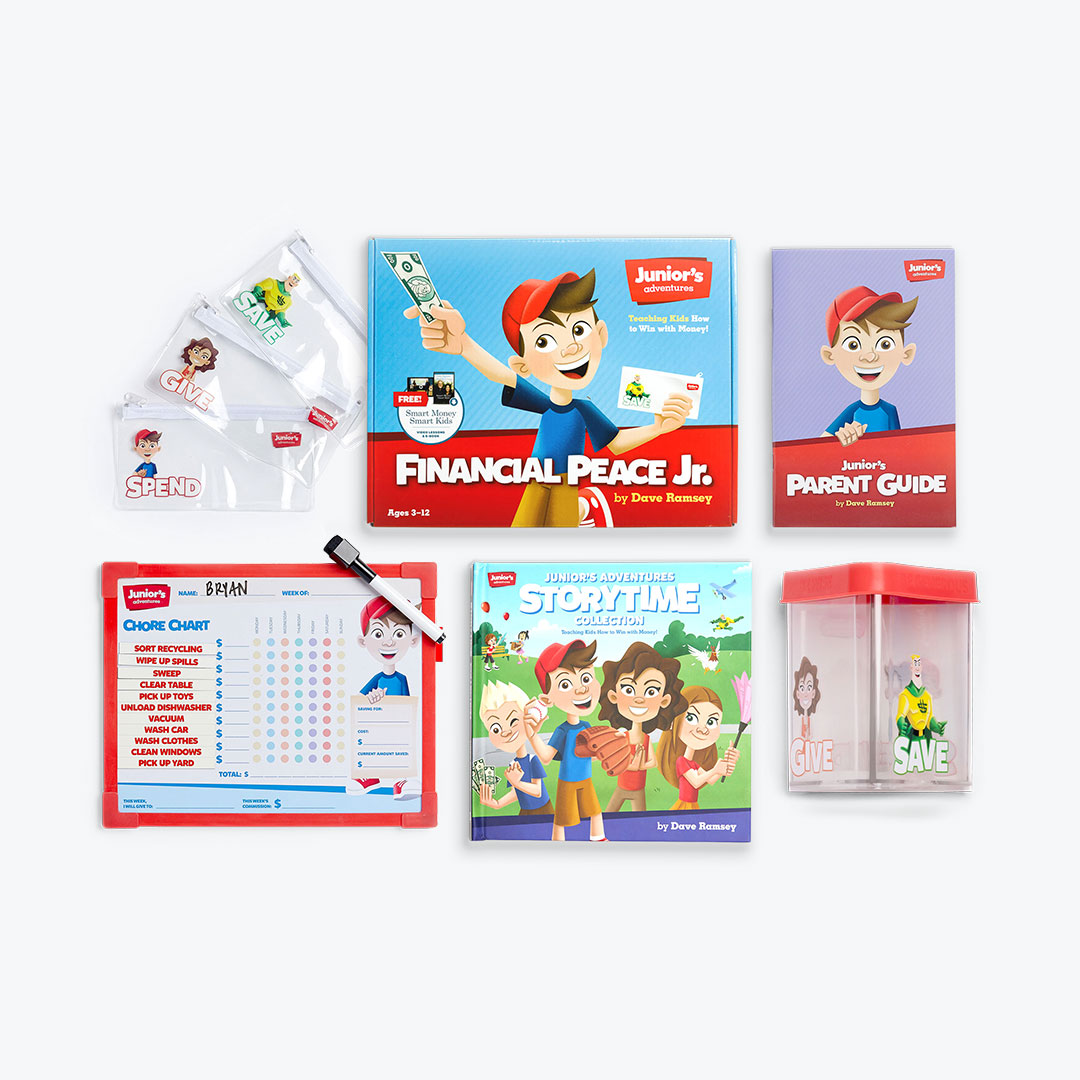 Adventure Pack
Teaching Kids How to Win With Money!
Description
The Adventure Pack will equip you with all the tools you need to teach your kids important lessons about money and life. This special bundle includes Financial Peace Jr., the Junior's Adventures Storytime Collection and digital PDFs, and the Smart Saver Bank.
With the Adventure Pack, your kids will learn:
How Earning Money Works
How to Save and Pay Cash
The Importance of Giving
How to Have Fun Spending on a Plan
The Dangers of Debt
The Importance of Integrity

What's Included?
Teach your kids how to spend, save, and give with the Smart Saver Bank! It has been completely redesigned to make learning about money even more fun. Three compartments labeled SPEND, SAVE, and GIVE make it easy for kids to budget their cash. The heavy-duty plastic and silicone top make the bank durable. Plus, the bank is transparent so kids can see their progress!

What's included?

Clear plastic bank split into three compartments for SPEND, SAVE, and GIVE.
Silicone top with slots for coins and bills.
Three plugs on the bottom for easy money retrieval.
1 FREE audio lesson about SAVING from the Smart Money Smart Kids class.
Customer Ratings and Reviews
Shipping & Delivery
Physical Shipping
All physical products will be processed and ready to ship within two business days (often even faster). The total delivery time depends on the service you select and where your order is being delivered. You may see multiple shipping options to choose from during checkout. Our default choice will always be the most economical but not necessarily the fastest.