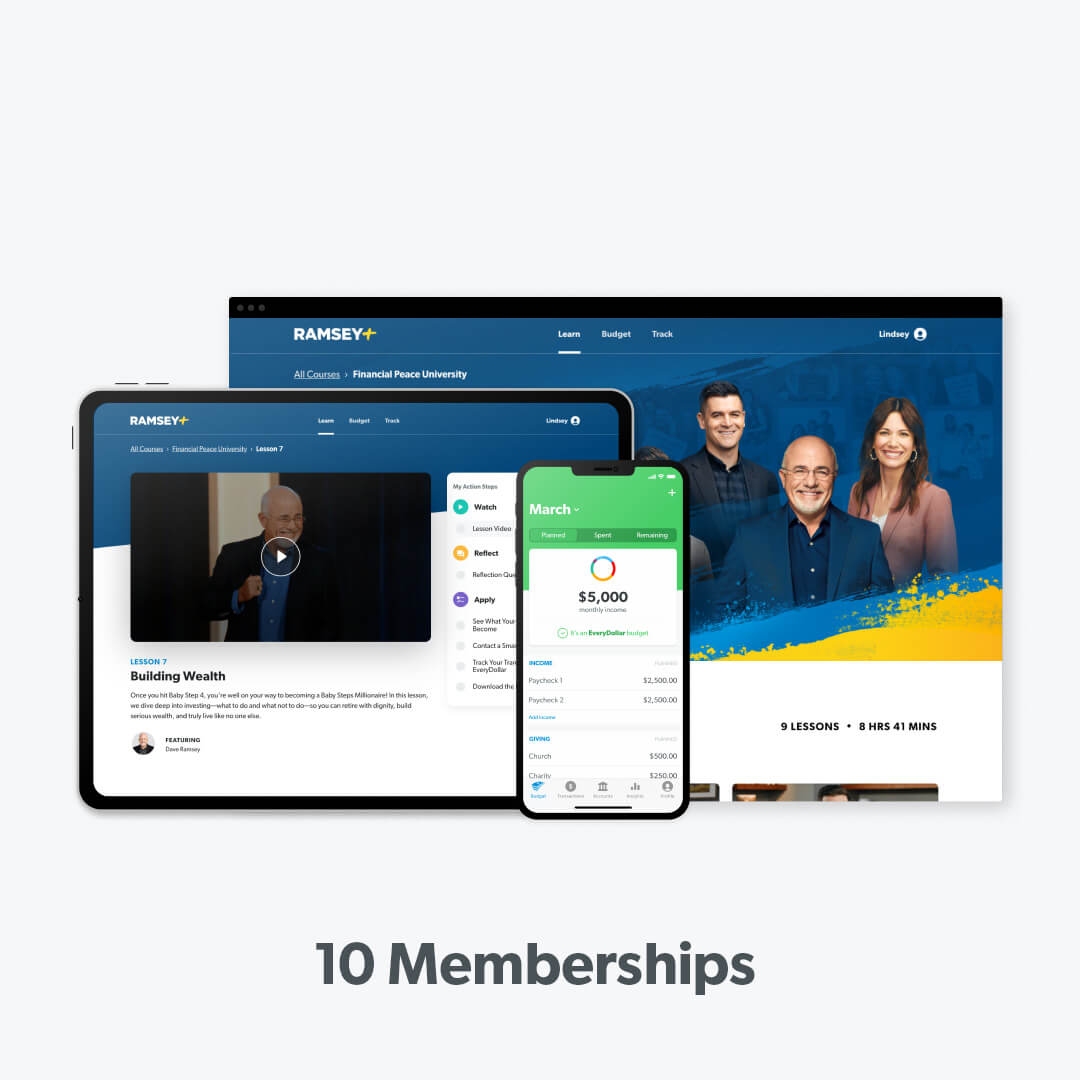 Financial Peace University Church Site License
A Membership for Families in Your Church
Description
Imagine this—hundreds of families paying off debt, celebrating money wins together, and giving like no one else. That's the kind of unity you could see in your church THIS year.
Whether you've taken Financial Peace University yourself, led an FPU class, or even listened to The Ramsey Show, you know that when the people of God are debt-free, they do crazy things, like give free cars to single moms or pay for a stranger's groceries. If you wouldn't mind that kind of crazy in your church, you're in the right place.
With a church site license, every person in your church will get a one-year membership to Financial Peace University—the proven plan that's helped nearly 10 million people win with money—plus the tools they need to carry it out.
We just made some huge updates to Financial Peace University! So, whether someone has never experienced the hope of FPU or just needs a refresher, now's the time to take the course.
Two New Experts
Mental health expert Dr. John Delony and money myth-buster George Kamel make their FPU debut with new content on how to have more power over spending.
New Content
We've added even more content throughout the course to help people deal with the money challenges they're facing today. They'll learn:
• How companies manipulate people's brains to get them to buy—and how to outsmart them
• How to become a millionaire and the myths about building wealth that are just plain wrong
• How to avoid the modern money traps that are stealing from each paycheck (we're looking at you, buy now, pay later)
• And even more!
What your church members get:
• One Year of Financial Peace University
• Three Months of the Premium Version of EveryDollar
• Live Group Financial Coaching
What you'll get:
• A comprehensive launch plan
• Promotional materials
• Financial Peace University vouchers
When your church gets plugged into Financial Peace University, you'll see the difference in every area. And it all starts by equipping you—and your church members—to steward money God's ways.
If your church is exempt from state sales tax, please connect with our team at help@ramseyplus.com and we can send you an invoice without sales tax.
Shipping & Delivery
Online Access Code
When you purchase a voucher item, you'll receive an email after completing your order. In this email you'll be provided both a link and a unique online access code. To access your product, click on the link and enter your unique voucher code when prompted.