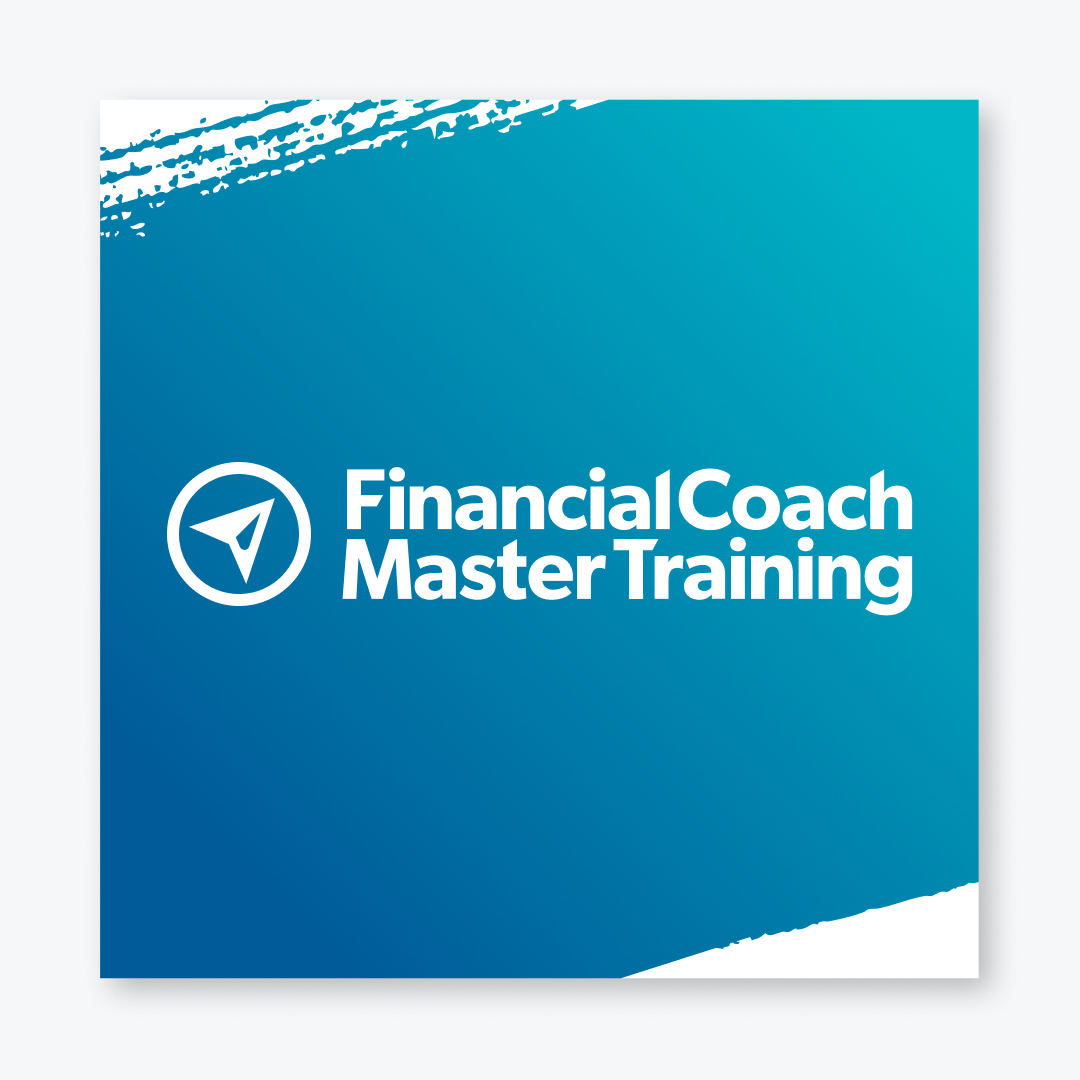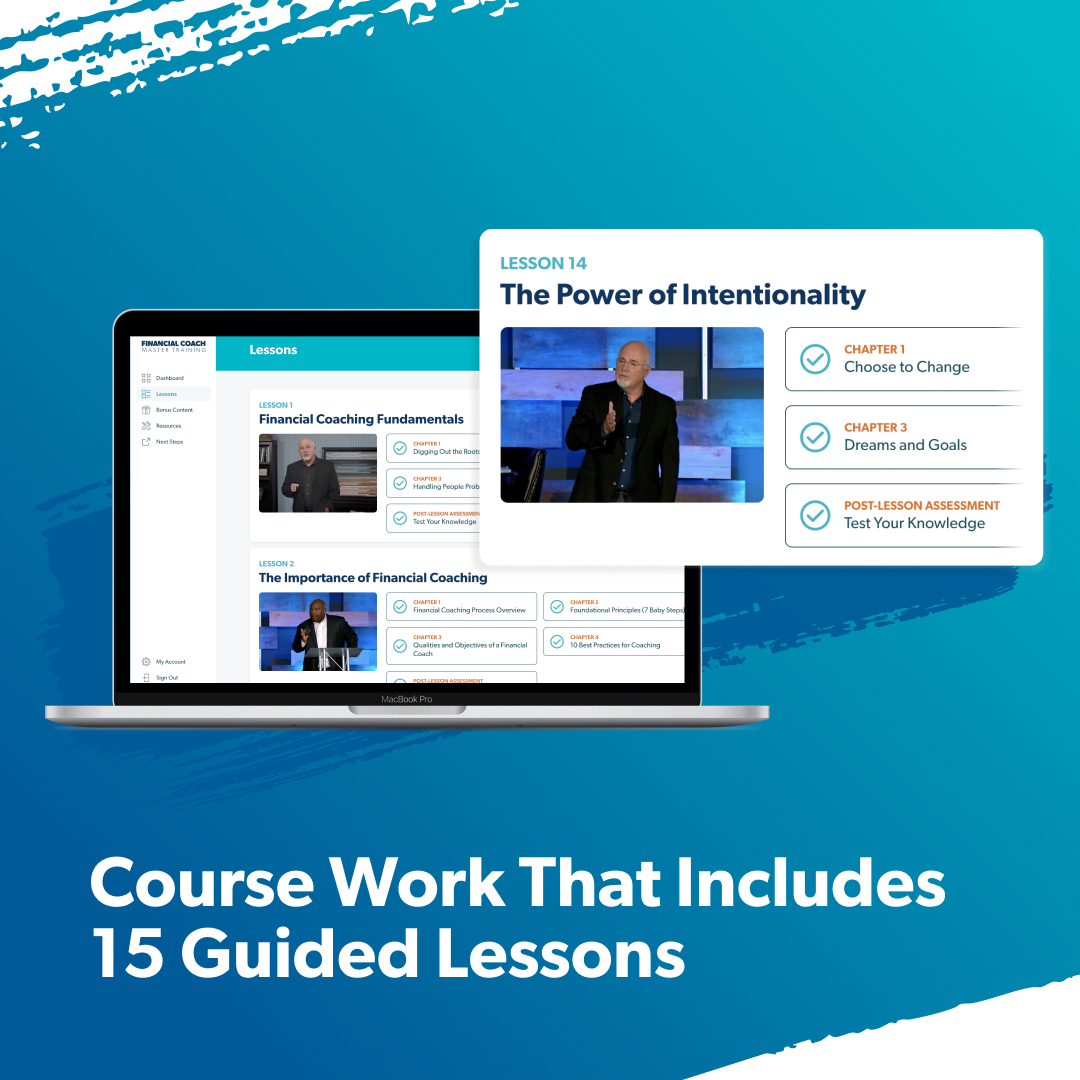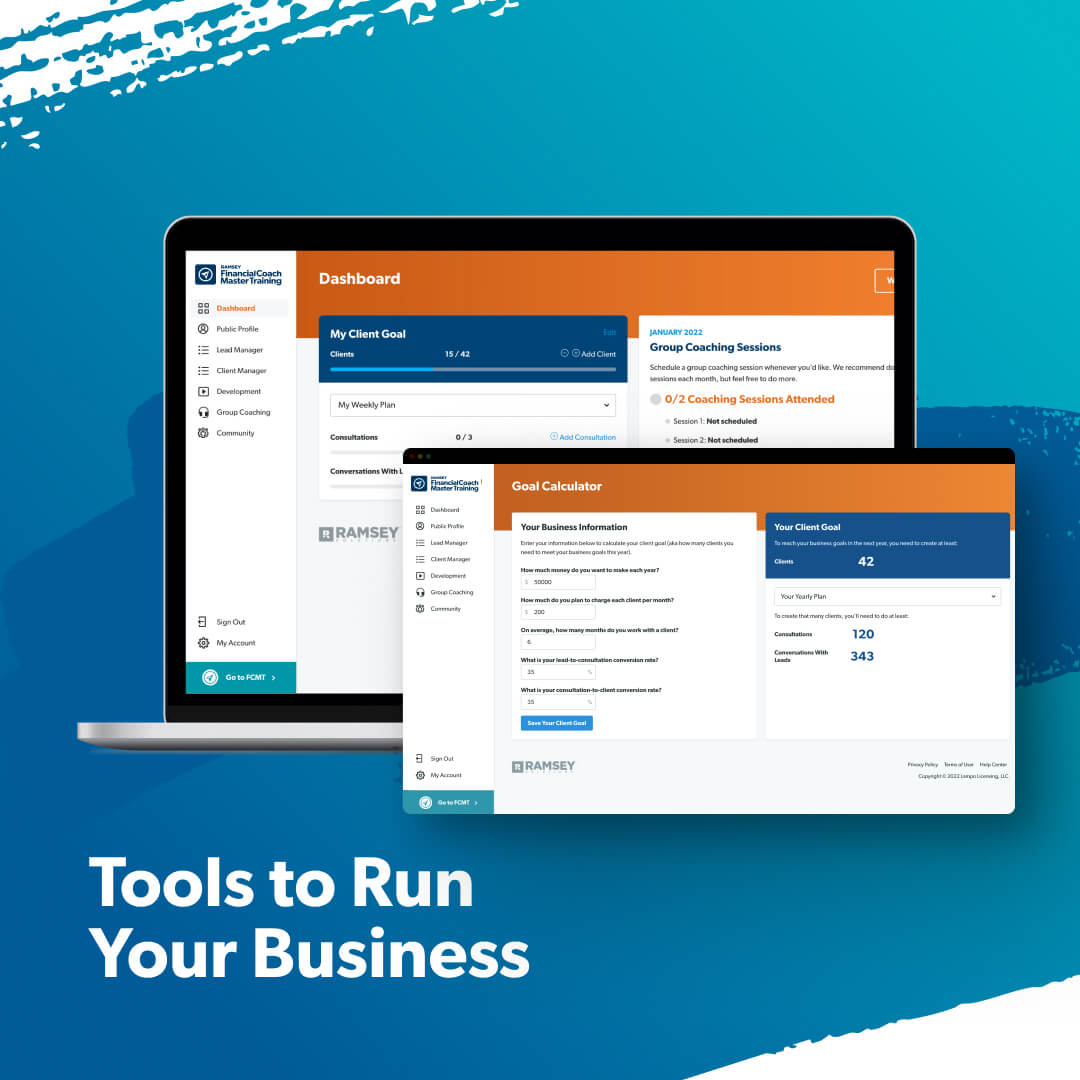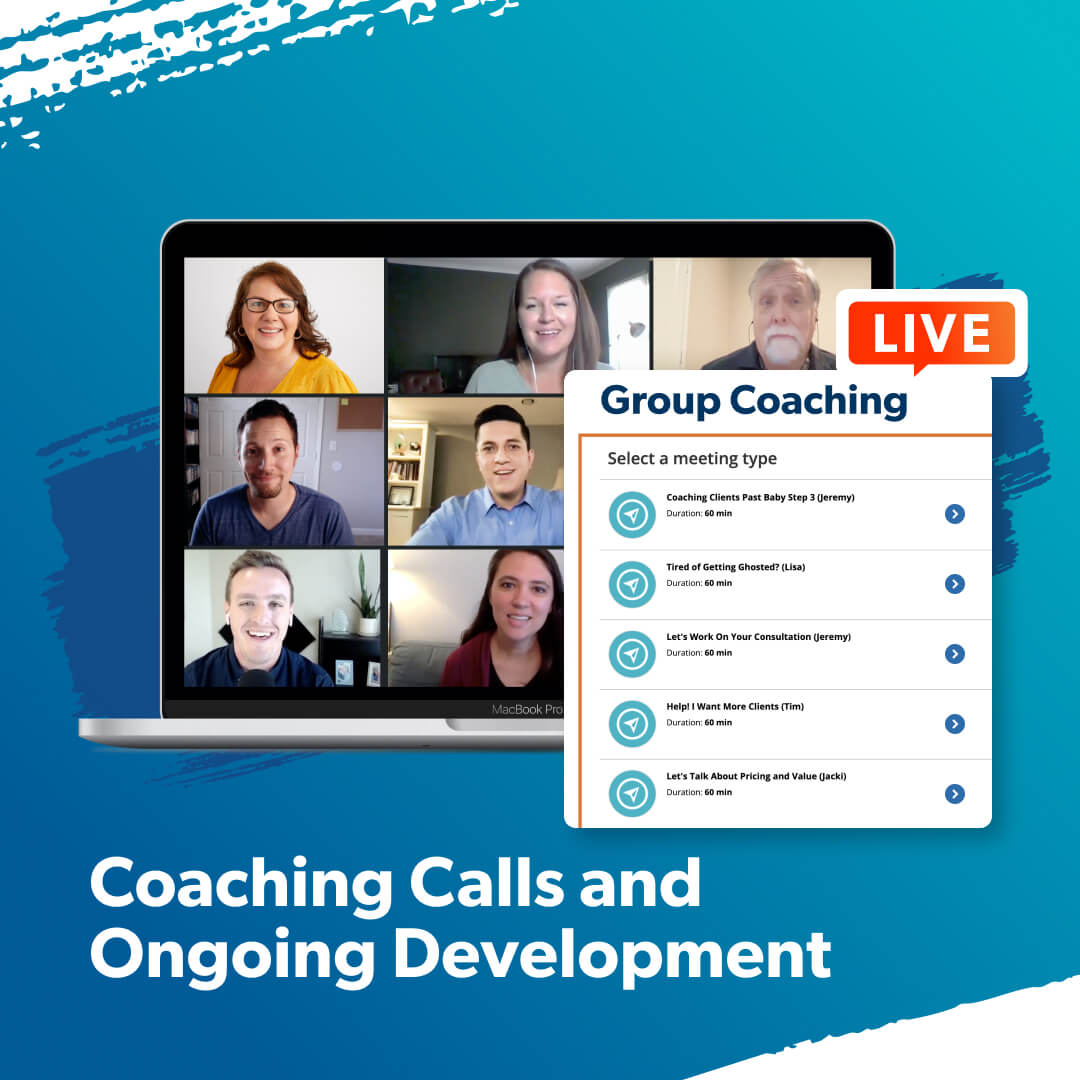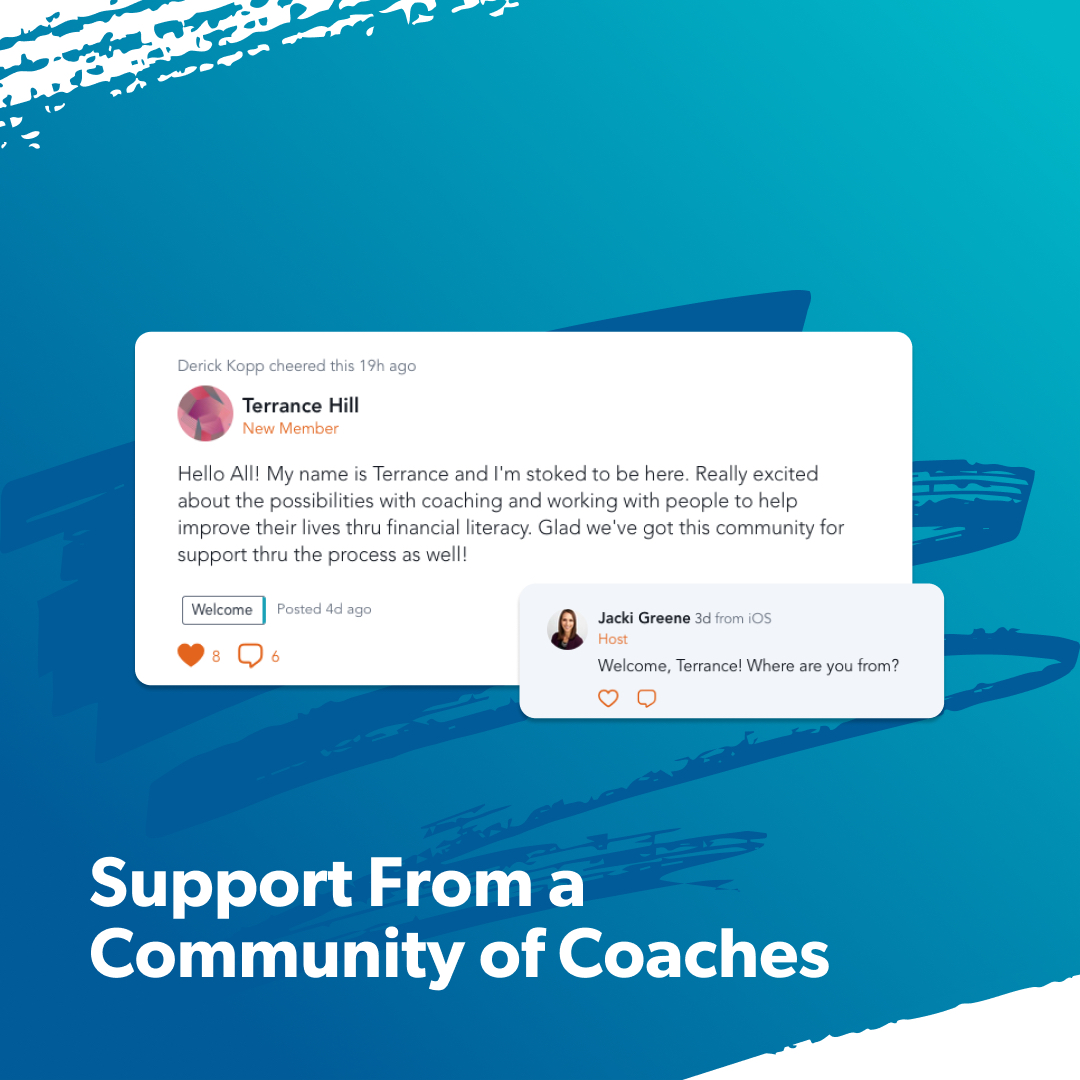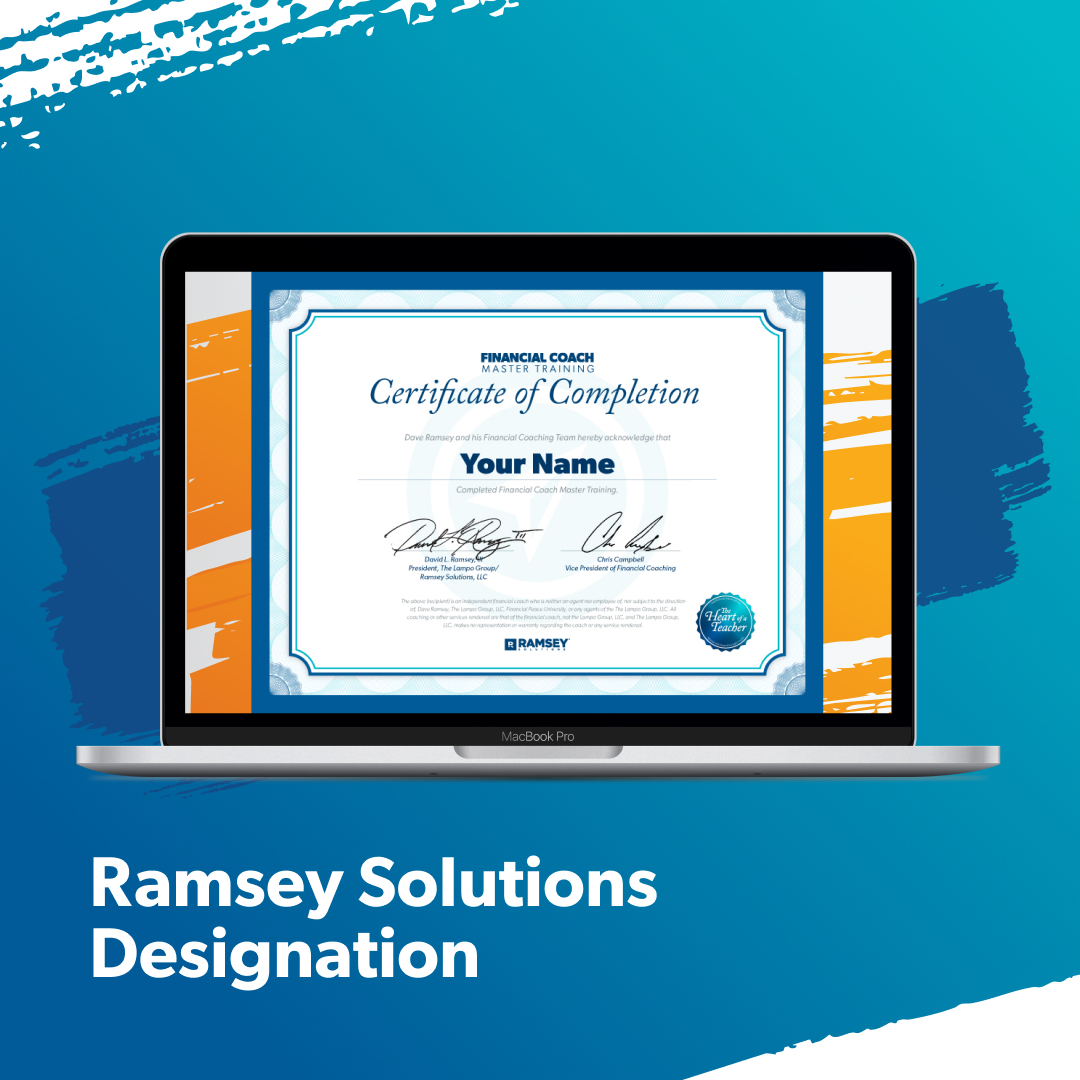 Financial Coach Master Training
Change lives and make money as a Ramsey Solutions Master Financial Coach
Description
Over the last 20 years, thousands of people have taken our coach training, learned the life-changing skill of coaching, and launched their own successful coaching practices. Now you can too.

The new Financial Coach Master Training (FCMT) has been designed for one reason: to help you become a world-class coach who makes money while making a difference in people's lives.

The new FCMT experience is interactive, self-paced and 100% online. After you complete the 15 guided lessons (which takes an average of 45 days), you'll officially become a Ramsey Solutions Master Financial Coach and unlock access to Coach Accelerator, where our team will work with you to build your coaching practice.

With a full year of training, development and support from Dave Ramsey's team of coaches, you'll . . .
Establish a foundation of financial coaching and learn the fundamentals of personal finance.
Discover how to identify, understand and resolve your clients' needs.
Get equipped to launch your financial coaching practice.
Gain the confidence and credibility to cause true transformation in people's lives.

This program is not for everyone. It's not for people who make excuses, expect handouts, or take shortcuts. It's for those of us willing to do the work to become the best coach possible and create life-change in those we coach.
Click to watch
an overview
What's Included?
Training

During this phase of Financial Coach Master Training, you'll be guided through 15 lessons by our team of Ramsey coaches. After each lesson, you'll take an assessment to help you validate what you're learning, help you implement ideas, and guide you into the upcoming lesson. You'll become an expert on personal finance topics and how to coach your clients through them. Click here to get an overview of each lesson.

Coaching

Once you knock out the 15 lessons, you'll get access to the next phase of training—Coach Accelerator. This is where you'll engage in group coaching with our expert team and start to apply everything you've learned. During these personalized sessions, our coaches will help you master your craft, get more clients, and grow your business. And they'll be available as often as you need, Monday through Friday.

Tools

With FCMT, you get the tools you need to run your coaching business like a pro. Wondering how you'll organize your contacts, keep track of coaching appointments, and take payments? You can do it all with the lead and client manager tools. Plus, you don't have to figure out how to build your own coaching website. We'll help you get it up and running in no time with our easy-to-use website builder.

Community

Ultimately, the most successful coaches have one thing in common: They don't do it alone. Being a world-class coach is one thing—being surrounded by world-class coaches is another. In Financial Coach Master Training, you'll get plugged into a community of like-minded coaches who are all moving in the same direction. Your community will encourage you, hold you accountable, and guide you to become the best coach you can be.

Our Ramsey Designation

Once you've completed the training, you'll earn the title Ramsey Solutions Master Financial Coach. Use this designation to boost your credibility when promoting your coaching services.
Here's What People Are Saying
I was going back and forth about becoming a personal financial coach for some time. I finally look the leap and went through the master training. I was amazed by how much more knowledge and resources this training has equipped me with. The coaches they have in charge of the training really know their stuff and we're so helpful. I found this extremely helpful in equipping me and helping me launch my coaching business.
I'm the one who signed up for Financial Coach Master Training during your noon call today. Already started the online course! Planning on completing a lot sooner than most. I feel it's God's calling for the next chapter in my life. I am so excited about this. It's time for me to give back, and I am hoping to also make a living doing this important work. I am totally passionate about it. Ramsey helped me when I needed it most, so I want to share and help others achieve goals they don't even know they have or are capable of reaching.
I just wanted to drop you a note and say thanks for the guidance and perspective you gave during my coach training sessions. This training was extremely valuable to me, and I look forward to getting out there and helping people find the peace and freedom that comes with a strong financial foundation. It was an honor learning from you, and I will likely reach out to you for advice in the not-too-distant future!
I just finished Lesson 13, and I really appreciated all the amazing info. As a former teacher, I was feeling very intimidated by the marketing aspect of advertising and getting my financial coaching business off the ground. Now, I have a plan and guide on how to get started.
I just wanted to share some good news you might get a kick out of. I landed my first client after launching August 20. I'm based in St. Louis, and my first client is in Japan! We're figuring out [the] 14-hour time change difference to speak on Zoom. But how cool is that? I'm already international!
I just want to thank you from the bottom of my heart. Your gentleness and kindness [on the coaching call] were so appreciated. You provided me with a ton of hope and encouragement that this path is an awesome path to be on. Thank you for being an inspiration for me as a coach. I don't know that you will ever understand your impact today. . . . I will carry the experience with me for years to come.
I am beyond grateful to see Lesson 13, Building a StoryBrand, added to the FCMT training. Even though I've read Donald Miller's book, hearing him deliver the content was just what I had been praying for to move my website development (and marketing efforts) forward. Thank you, Ramsey Solutions, for recognizing the need and delivering content that helps us help our clients!
About Dave Ramsey
About Donald Miller
About Jeb Blount
About The Ramsey Coaching Team
FAQs
What happens after I purchase FCMT?
After you purchase FCMT, you'll receive an activation email with your login details and next steps.
Are there any required in-person trainings?
Nope. Financial Coach Master Training is an interactive training that is entirely online. There are no required in-person trainings.
How long will it take to complete the guided lessons?
Most people complete the lessons within 45 days—but no pressure, you can do it at a pace that works for you. Once you finish, you'll become a Ramsey Solutions Master Financial Coach and unlock access to Coach Accelerator, where you'll get ongoing development and support from our team as you build your coaching practice.
Is there a discount for couples who want to become financial coaches together?
Yes! If both you and your spouse would like to become financial coaches, you can get a spousal discount on Financial Coach Master Training. Just email fcmtsales@daveramsey.com, and one of our team members will be happy to set you up.
Can I use my training to launch a financial coaching business?
Definitely. Most coaches turn their skill for coaching into a business (and charge an average of $200 per session).
Something's come up. Can I get a refund if I don't want to finish FCMT?
You can only get a full refund on FCMT if you send us a request within three days of original payment and have not progressed past Lesson 1. Send us your refund requests at fcmt@ramseysolutions.com.
Can I keep getting development and support after FCMT?
Financial Coach Master Training includes a full year of training, development and support from our team of coaches. After that year is up, you can continue receiving development and support for $995 a year.