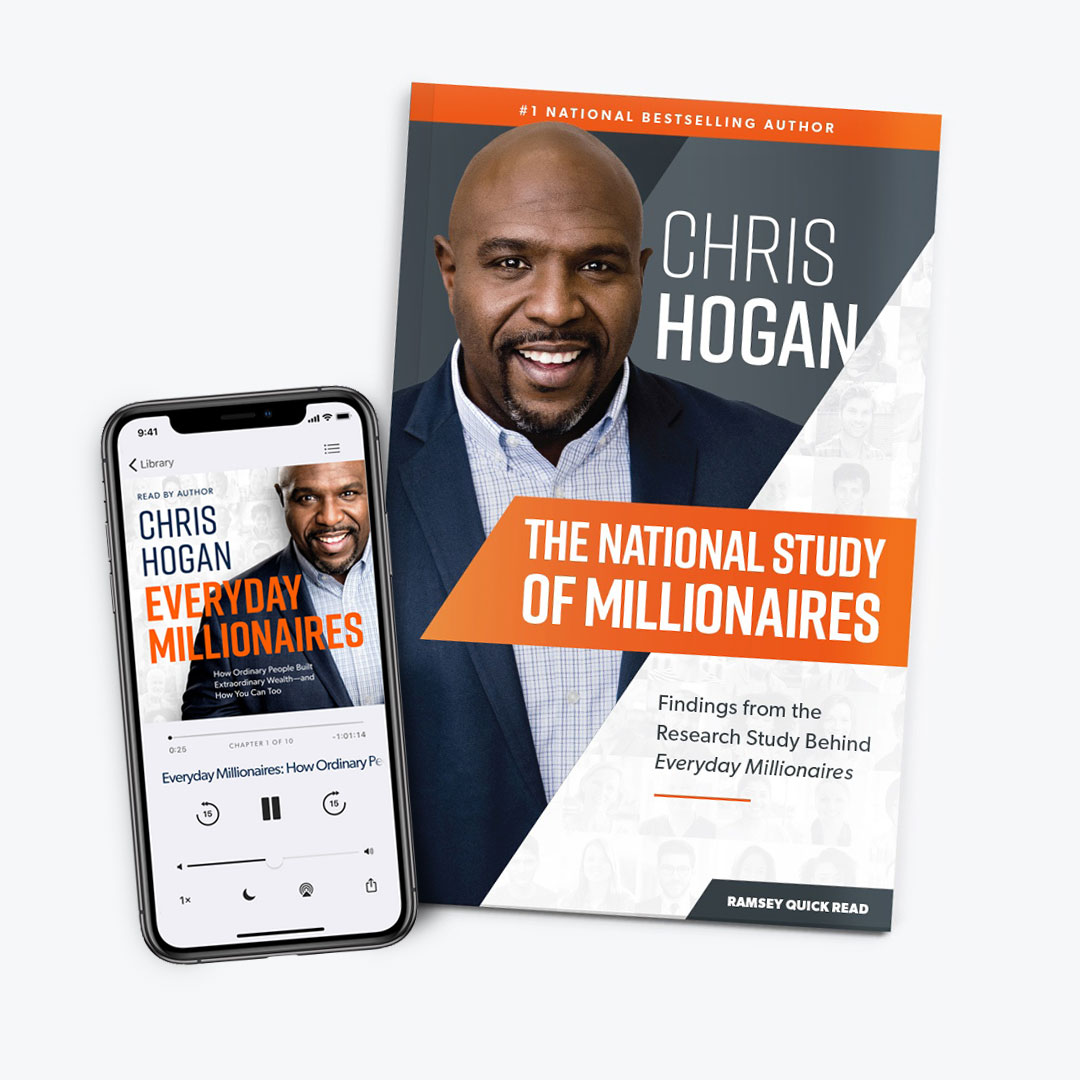 The Everyday Millionaires Bundle
Take a Deep Dive Into the Habits and Strategies of Millionaires
Description
In Everyday Millionaires, #1 national bestselling author Chris Hogan will show you how ordinary people built extraordinary wealth—and how you can too. You'll learn how millionaires live on less than they make, avoid debt, invest, and are disciplined and responsible! We're releasing the full research data as a 116-page paperback Ramsey Quick Read for the National Study of Millionaires exclusively bundled with the Everyday Millionaires audiobook. Now you can take a deeper dive into the habits and strategies millionaires have in common.
Everyday Millionaires is based on the largest study ever conducted. We surveyed 10,000 U.S. millionaires—and the results will shock you! We've bundled the book together with the full comprehensive research so you can see a complete picture of who millionaires are and how they built their wealth. You'll learn that building wealth has almost nothing to do with your income or your background! It doesn't matter where you come from. It matters where you're going.
Most people think it takes crazy investing knowledge, a giant salary, a streak of luck, or a huge inheritance to become a millionaire. But that couldn't be further from the truth—and these statistics don't lie! Here's what you need to understand: If you're willing to do the work—if you'll follow our financial principles, if you'll commit to our plan—then you can become a millionaire.
What's Included?
Everyday Millionaires - Audiobook

The National Study of Millionaires
Customer Ratings and Reviews
About Ramsey Solutions
Product Details
Everyday Millionaires Audiobook:
Read by: Chris Hogan
Format: M4B Audiobook
Length: 6 hours 58 minutes
Language: English
ISBN-13: 9780977489534
SKU: 9780977489534OLP
The National Study of Millionaires Paperback Quick Read:
Pages: 116
Publisher: Ramsey Press
Format: Paperback Quick Read
Release Date: May 1, 2020
Language: English
SKU: 9781942121275OLP
Shipping & Delivery
Physical Shipping
All physical products will be processed and ready to ship within two business days (often even faster). The total delivery time depends on the service you select and where your order is being delivered. You may see multiple shipping options to choose from during checkout. Our default choice will always be the most economical, but not necessarily the fastest.
Immediate Download (Audio)
To get your downloadable product, simply complete your order and then open the order confirmation email you will receive at checkout. Click on the link in your confirmation email and your audiobook will begin to download.
Audiobooks are delivered as M4B format, unless otherwise noted.
Additional download instructions for your specific device can be found on our Digital Downloads FAQ page