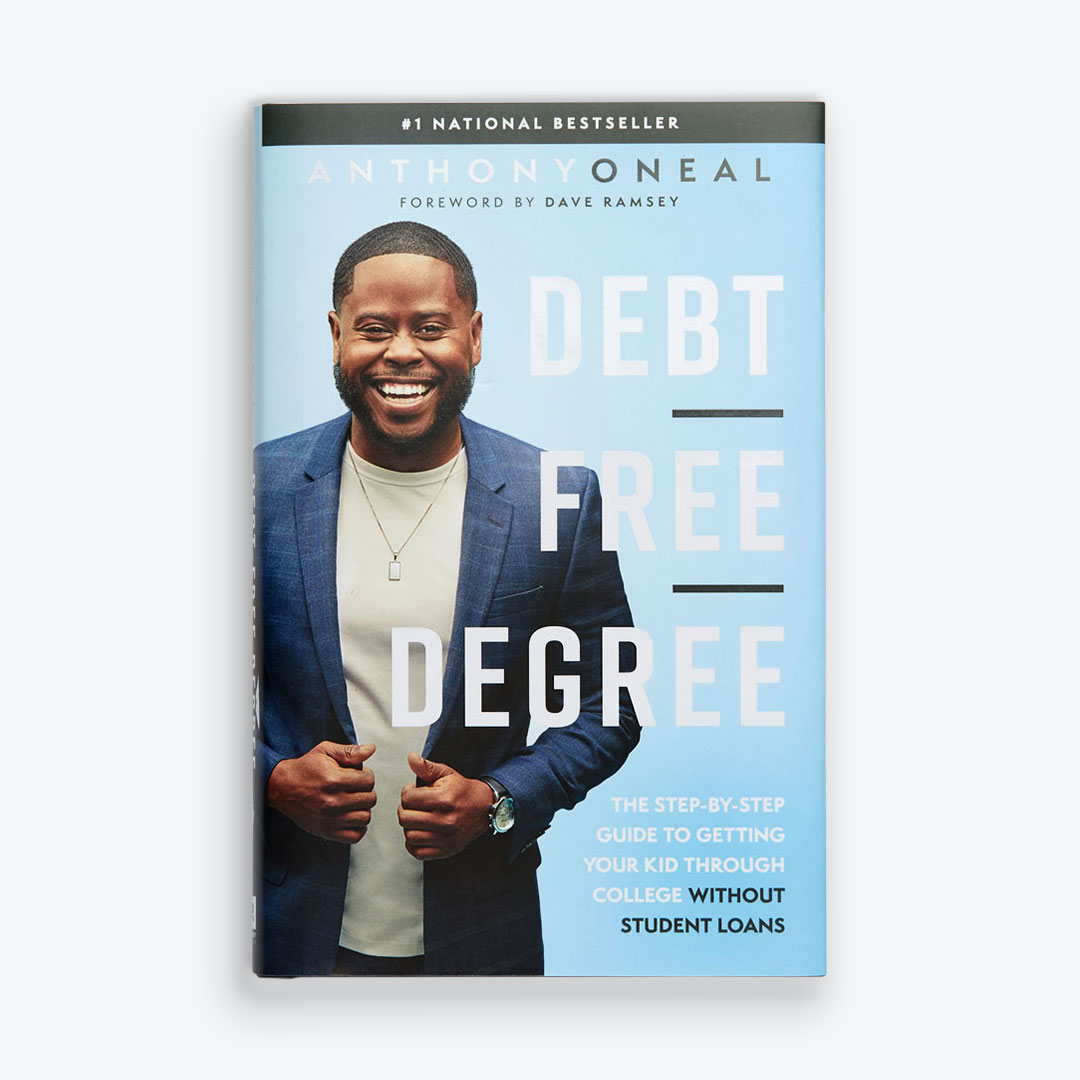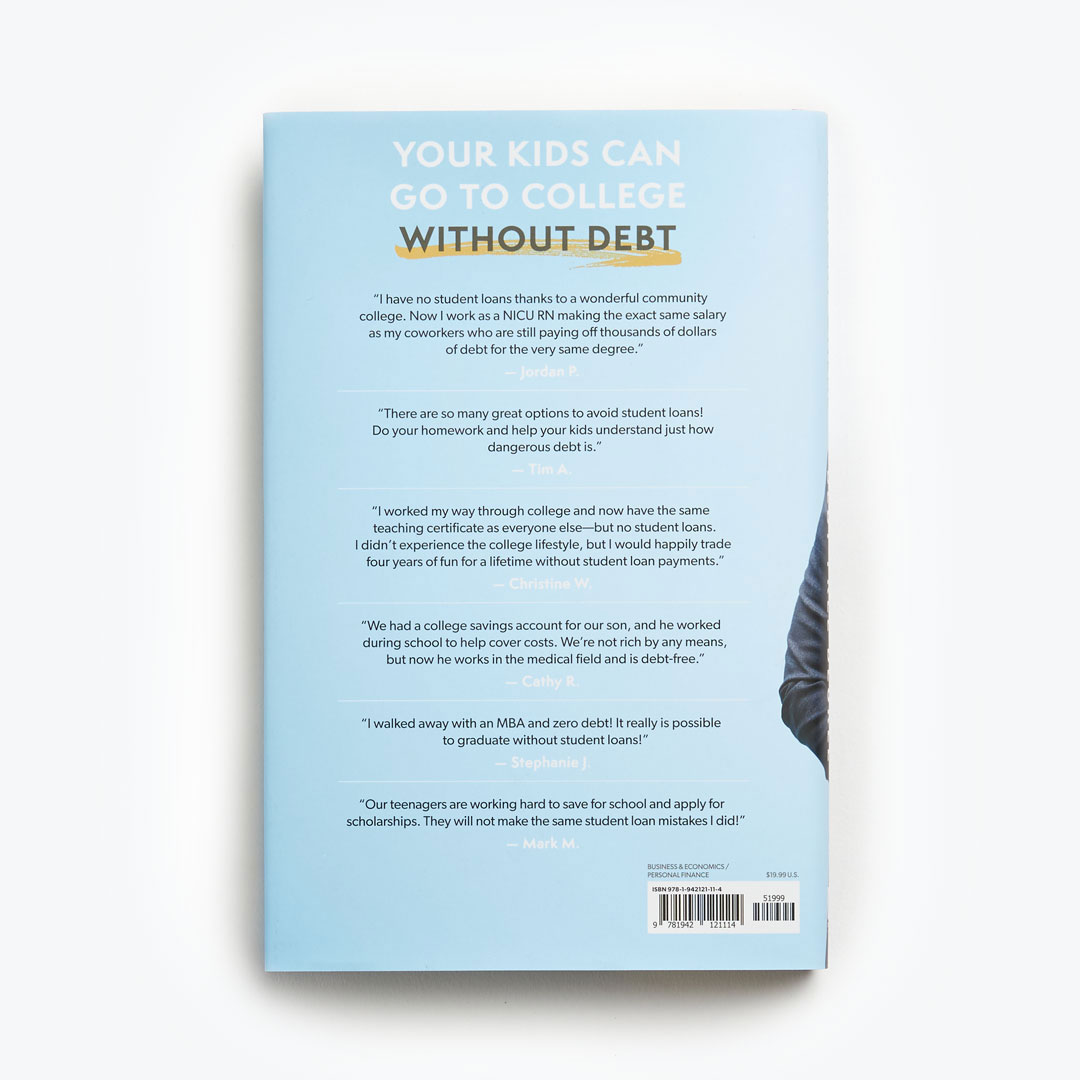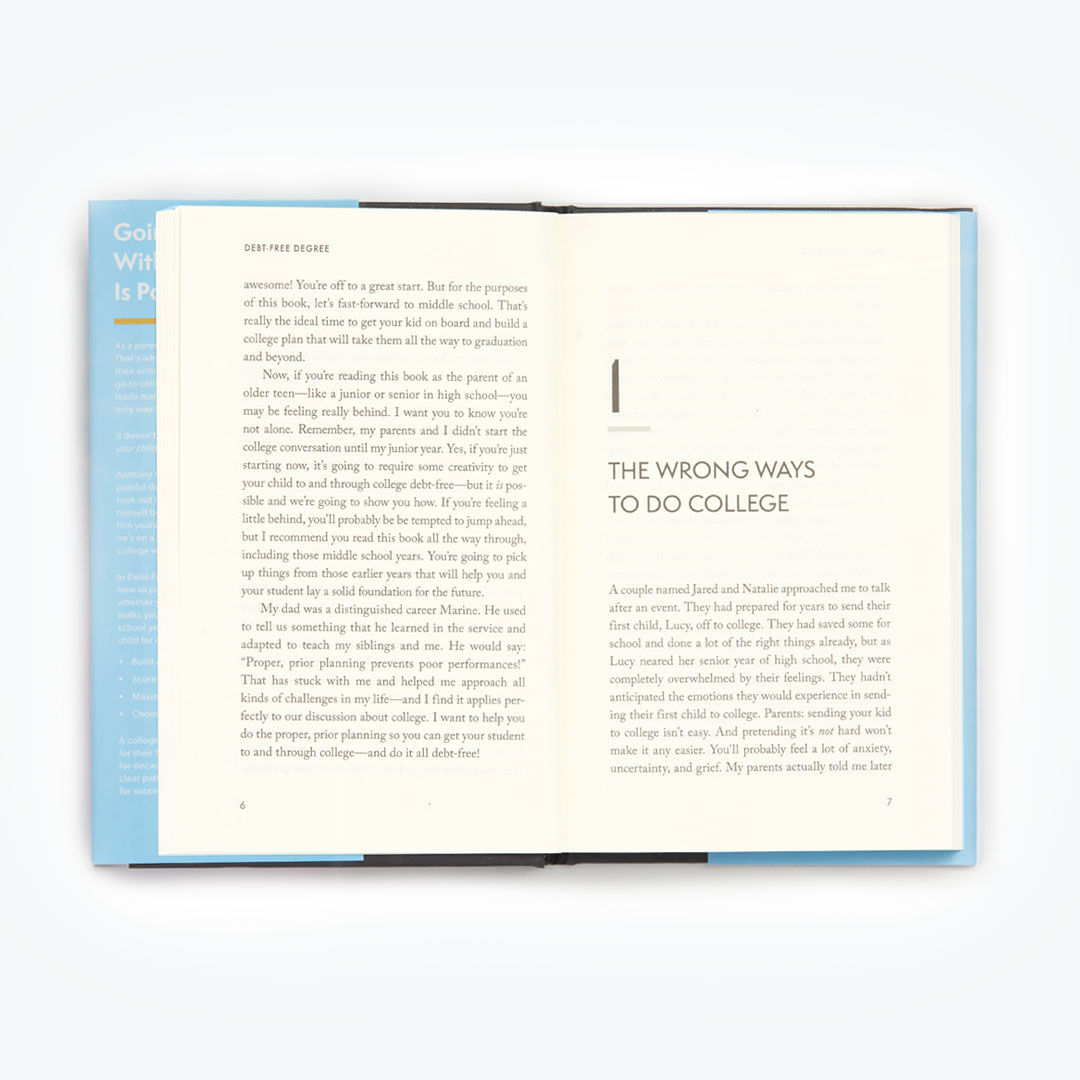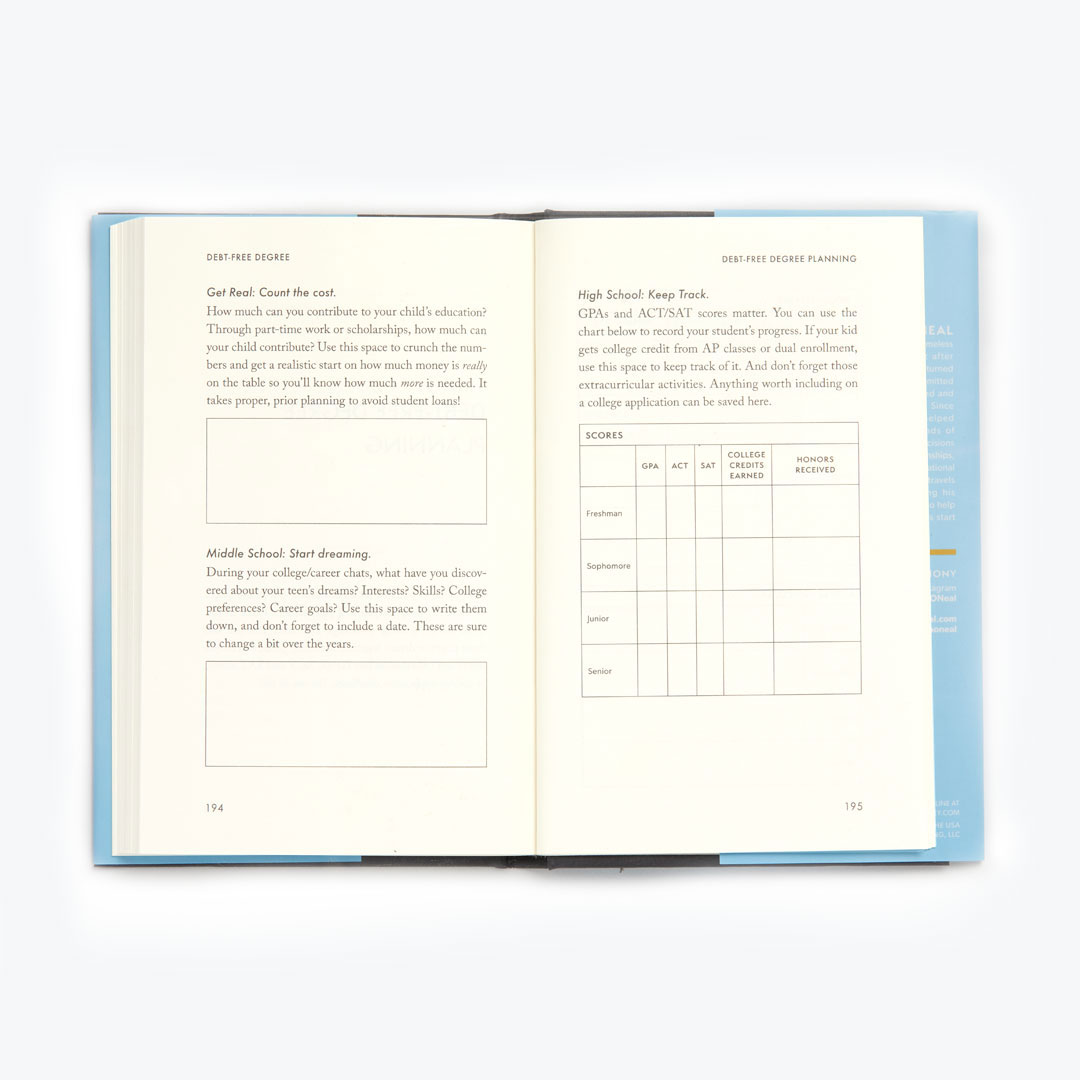 Debt-Free Degree
The Step-by-Step Guide to Getting Your Kid Through College Without Student Loans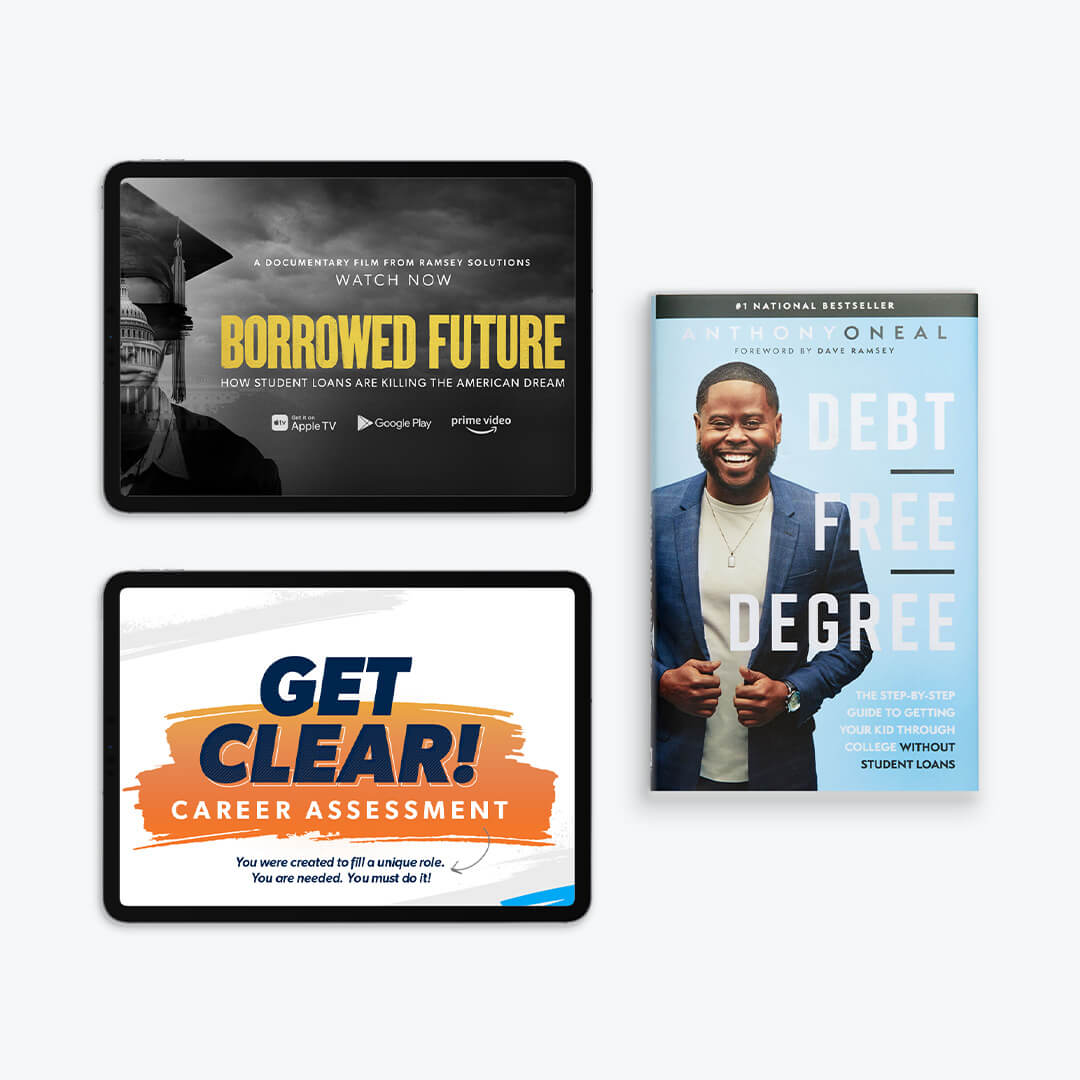 Bundle & Save
Upgrade to the New College 101 Bundle. The Get Clear Assessment and Debt-Free Degree are the perfect gifts for high school grads and college students!
Description
Great news! Your kids CAN go to college without debt. This new book will show you how!
"The idea that students can't get a quality education without debt is absolutely ludicrous to me. But far too many people are falling for this myth, and it's ruining their futures. They're carrying a huge burden before they even get out of the gate!"
--Dave Ramsey
Every parent wants the best for their kid. That's why they encourage them to go to college! But most parents aren't in a position to pay for their kid's college, so they end up turning to student loans.
The average graduate walks away with $35,000 in student loan debt and no clue how much that debt will actually cost them. But there's a different way!
In his new book, national bestselling author Anthony ONeal teaches parents how to help their kid pay for college without debt, even if they haven't saved for it. This is a step-by-step plan that combines common sense and honest humor. It's not some stuffy "how-to" guide, but a book you'll actually enjoy reading!
Debt-Free Degree doesn't just tell you what to do. It also tells you why to do it, how to do it, and when to do it.
It will show you how to cash flow your kid's college education and what to do at each stage from middle school to high school. It will also teach you about scholarships, grants and free community colleges.

Debt-Free Degree will also teach you:
How to prepare your kid for college.
Which classes your kid should take in high school.
When your kid should take the ACT and SAT.
How to do college visits the right way.
Why it's important to choose a major.
A college education is supposed to prepare your kid for their future, not rob them of their paycheck for decades. Debt-Free Degree shows parents how to help their kid pay for college without student loans and set them up for financial success.
How to Pay for College (The Right Way)
Customer Ratings and Reviews
About Anthony ONeal
Product Details
Pages: 206
Publisher: Ramsey Press
Format: Hardcover
Release Date: October 7, 2019
Chapters: 10
Language: English
ISBN-13: 9781942121114
Genre: Student Loans, College Planning
Target Audience: People Wanting to Help Their Kids Go to College Debt-Free, College Students Wanting to Avoid Student Loans
SKU: 9781942121114OLP
TABLE OF CONTENTS
Chapter 1: The Wrong Ways to Do College
Chapter 2: How to Pay Cash for College
Chapter 3: Middle School: It's Never Too Early to Talk College!
Chapter 4: Freshman Year Academics: Now It's on the Record
Chapter 5: Freshman Year Beyond Academics: The Well-Rounded Student
Chapter 6: Sophomore Year: College is Closer Than You Think
Chapter 7: The X's and O's of the Big Tests
Chapter 8: Junior Year: Welcome to the Main Event
Chapter 9: Senior Year: The Home Stretch
Chapter 10: How to Be Successful in College
Shipping & Delivery
Physical Shipping
All physical products will be processed and ready to ship within two business days (often even faster). The total delivery time depends on the service you select and where your order is being delivered. You may see multiple shipping options to choose from during checkout. Our default choice will always be the most economical but not necessarily the fastest.