New Arrivals
Don't miss our newest items to arrive in the store for Christmas!
New! 2023 Ramsey Goal Planner
Get Inspired and Encouraged to Focus on the Most Important Areas of Your Life
Goal setting can feel intimidating, but it doesn't have to be! Ramsey Personalities Rachel Cruze, Dr. John Delony and George Kamel are teaming up to be your guides in the new 2023 Ramsey Goal Planner. They'll help you work on your goals in three important areas of your life: financial, relational and spiritual.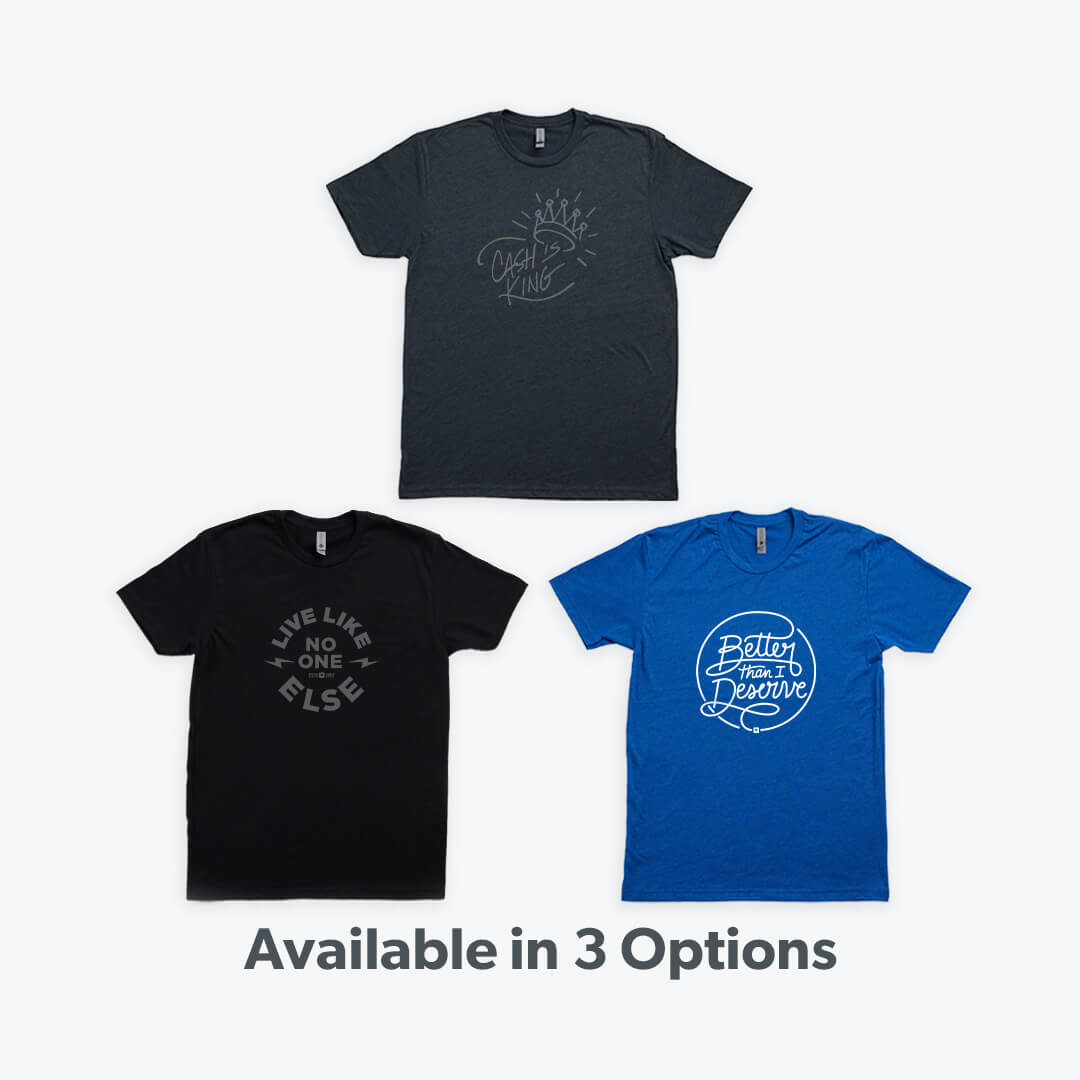 Wear Your Ramsey Story and Spread Hope
Whether you're working your money, career, or relationship goals, we know you're going at it hard. And that's something to celebrate—no matter where you are on your journey. Now you can celebrate and share your Ramsey story with our new line of Ramsey apparel! Available in t-shirts, hoodies and sweatshirts.
$20 - $45
New! Rachel Cruze Wallet in Red
The First-Ever Genuine Full Grain Leather Wallet with Integrated Cash-Envelope System
If you want to control your spending, this wallet is here to be your built-in accountability partner. Rachel Cruze and our new partner JOYN have teamed up to create a handmade genuine leather wallet that you can be proud of!
New! Questions for Humans: New Years
Put Down the Phone for the Holidays and Actually Connect
Mental health and relationship expert Dr. John Delony wants to help you have better conversations and improve your relationships this New Year's Eve. Whether you're hanging with family or ringing in the new year with a bang, the Questions for Humans: News Years edition was designed to help you have fun and connect—no phones necessary.
New! Financial Peace - Live and Give Box
Gift Financial Peace University and Dave Ramsey's Bestselling Books
In this box, you'll get the guidance you need to pay off debt and build wealth the Ramsey way. You'll start with The Total Money Makeover—Dave's all-time bestselling book that's helped millions of families change their lives forever. Next, walk through Financial Peace University—where you'll get a deep dive into our practical plan, the Baby Steps, and learn everything you need to know about money topics from insurance to real estate. Finish up with Baby Steps Millionaires, Dave's brand-new book that will inspire you to hope and work for your future like you never have before.
New! Rachel Cruze Slim Wallet
The Beautiful Full-Grain Leather Slim Wallet Created to Keep You on a Budget
Do you feel like you've finally gotten control of your money and you're pretty good at this whole budgeting thing? Do you find yourself using Everydollar and pulling out your debit card more often than cash these days? If so, you'll be happy to hear that Rachel Cruze and our partner JOYN have teamed up (again!) to create a new, slim version of the Rachel Cruze Wallet.
New! Foundations in Personal Finance: High School Edition for Homeschool
Available with a Ramsey Homeschool Membership
Teaching your teen about personal finance doesn't have to be complicated. Seriously, you just need a homeschool curriculum that's got everything prepped for you, in one place, and made with your unique homeschool environment in mind. Well, that's Foundations in Personal Finance. 
Foundations Curriculum Sponsorship Donation
Give the Gift of Hope this Christmas
By making a small one-time donation, you'll help sponsor a school and get this curriculum in the hands of teachers all across the country—so students never have to make the same money mistakes we made.
New! New Year, New Me Bundle
Get Ready for the New Year and Make 2023 Your Best Year Ever
Be inspired to hit your goals and strengthen your relationships with:
2023 Ramsey Goal Planner—Get monthly inspirational teachings that'll help you reach your financial, relational and spiritual goals.
Questions for Humans: New Year's—Put down the phone, laugh and connect with these New Year's-themed conversation starter cards.