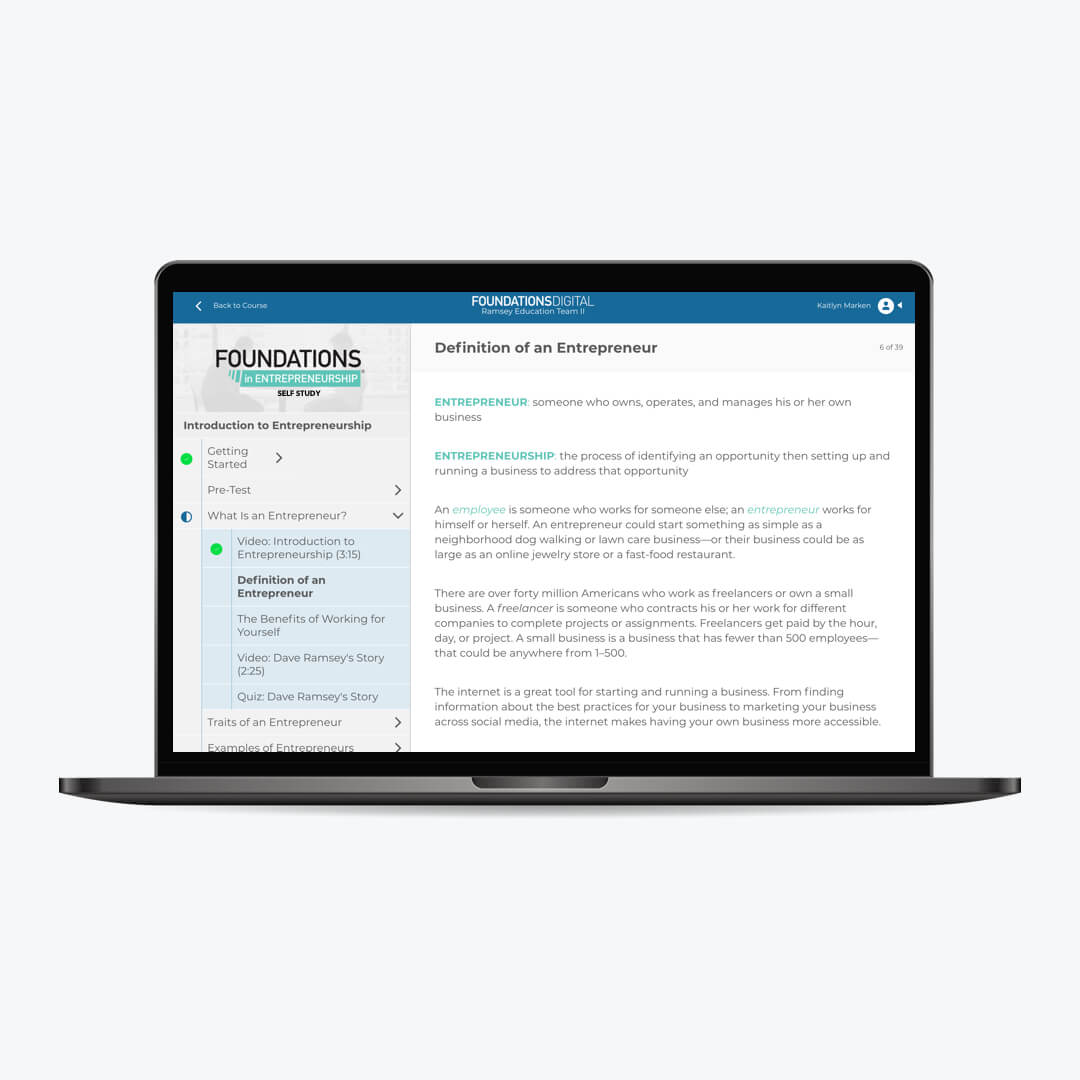 Foundations in Entrepreneurship for Self-Study
Online Course for Grades 7–12
Description
As a parent, you want to set your kids up for success and teach them skills they'll need to become successful adults! With auto-graded assessments, engaging video content and—best of all—no need for an instructor, this self-paced online course can easily fit into even the busiest of schedules. Foundations in Entrepreneurship is divided into four distinct modules hosted by Ken Coleman. Each module contains multiple lessons supported with video instruction by Dave Ramsey, Rachel Cruze, Chris Hogan and Christy Wright.
How It Works:
Once you purchase the curriculum, you'll receive a link and a unique online class code. Follow the instructions on the email to register. You'll have access to the online course for one year beginning when you first redeem the class code.
If I have multiple children can they all use the same copy of the curriculum?
The Self-Study edition of the curriculum is intended for one student as the assessments included in the course can only be completed once.
Curriculum Features:
Fully digital content—all you need is a computer or tablet and internet access
Stand-alone chapters that can be used in any order
Customer Ratings and Reviews
Product Details
Number of Assessments: 20
Number of Chapters: 4
Certificate of Achievement: No
Hours of Video: 1.5
Approximate Time Needed to Complete the Course: 6-7 hours
Applicable for School Credit: We provide educational content. We do not provide course credit; however, you may submit a request for course credit to your teen's school or education system. Once your teen completes the course in its entirety, you may contact our team to request a certificate of completion. Please allow 2-3 business days for the delivery of the certificate. The awarding of course credit is at the school's or education system's discretion.​​​​​​
Course Overview:
Module 1: Introduction to Entrepreneurship

Introduces the topic of entrepreneurship, explores traits of entrepreneurs and leaders, examines examples of entrepreneurs, and provides guidelines for effective communication and dealing with conflict.

Module 2: Economics and Finances

Explores economic concepts including economic systems, capitalism, and the relationship between cost and profit. The module will also explore financial topics such as operating expenses, retained earnings, taxes, a P&L statement, resource management, and charitable giving.

Module 3: Marketing

Explains the differences between products and services as well as identifying the marketplace need for a product of service. The module also covers marketing, branding, social media and selling.

Module 4: Business Management

Explains what a business plan is and how to write one, how to write strong goals, what to consider related to business growth, things to consider related to hiring staff, how to use technology in business, and the importance of generosity.
FAQs
Are there assessments?
Yes! The Self-Study edition includes pre-chapter and post-chapter assessments that can be taken once. These are auto-graded, so students can see their score as soon as they finish the test.
I have multiple children. Can they all use the same copy of the curriculum?
The Self-Study edition of the curriculum is intended for one student as the assessments included in the course can only be completed once. 
How long do I have to activate my course?
You can take all of the time you need to activate your course (don't forget about it though!) but once activated you have one year to complete your course before your access expires.
Shipping & Delivery
Online Access Code
When you purchase a voucher item, you'll receive an email after completing your order. In this email you'll be provided both a link and a unique online access code. To access your product, click on the link and enter your unique voucher code when prompted.