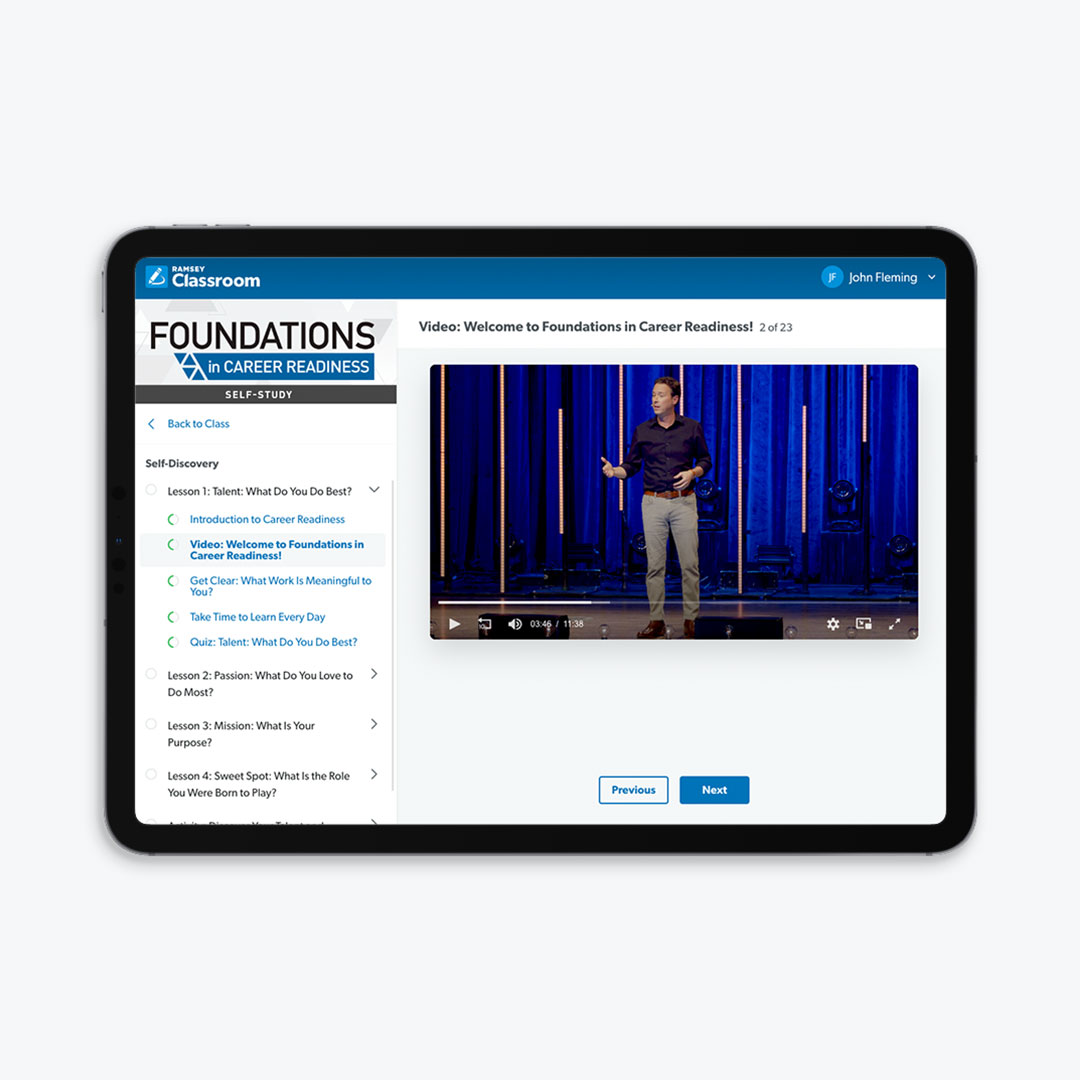 Foundations in Career Readiness for Self-Study
A Game Plan to Help Teens Prepare for a Career They'll Love
Description
Set your teen up for a lifetime of fulfilling work with Foundations in Career Readiness. In this course, Ken Coleman will teach your teen how to get clear on their talents, passion and mission. He'll help them learn how to make the right connections to get the job they want, draft a resumé, and ace any interview. This course will give your teen the confidence they need to take control of their future and excel in today's job market.
This curriculum includes:
Fully digital content—all you need is a computer or tablet and internet access
Auto-graded assessments (because we know you're busy!)
Video lessons, case studies and activities your teen can complete at their own pace—no instructor needed!
How It Works:
Once you purchase the curriculum, you'll receive a link and a unique online class code. Follow the instructions on the email to register. You'll have access to the online course for one year beginning when you first redeem the class code.
If I have multiple children can they all use the same copy of the curriculum?
The Self-Study edition of the curriculum is intended for one student as the assessments included in the course can only be completed once.
Customer Ratings and Reviews
About Ken Coleman
Product Details
Number of Assessments: 16
Number of Chapters: 4
Certificate of Achievement: No
Hours of Video: 1.5
Approximate Time Needed to Complete the Course: 6-7 hours
Applicable for School Credit: We provide educational content. We do not provide course credit; however, you may submit a request for course credit to your teen's school or education system. Once your teen completes the course in its entirety, you may contact our team to request a certificate of completion. Please allow 2-3 business days for the delivery of the certificate. The awarding of course credit is at the school's or education system's discretion.​​​​​​
Course Overview:
Module 1: Self-Discovery

Guides students to determine their talent, passion, and mission. Students will be led through a self-discovery process of determining what they do best, what they love to do most, and what results matter the most to them. Then, students will begin to identify what their dream job is.

Module 2: The Proximity Principle

Defines The Proximity Principle: the right people + the right places = opportunity. Students will learn how to put this principle into practice by networking and making connections. They will learn how to develop their personal brand, make the most of their first job, and get tips on finding an internship.

Module 3: How to Win at Interviewing

Addresses the interview process from start to finish: writing a resumé, drafting a cover letter, preparing for and acing the interview, and following up after it. This module gives valuable information about what students need to know about interviewing.

Module 4: Getting Your Dream Job

Prepares students to pursue their dream career. This module explains the value of an entrepreneurial mindset and how entrepreneurship skills can help in any job. Students will learn how to land their dream job by gaining an understanding of the importance of mentorship, learning from failure, and staying motivated in all stages of their journey.
FAQs
Are there assessments?
Yes! The Self-Study edition includes pre-chapter and post-chapter assessments that can be taken once. These are auto-graded, so students can see their score as soon as they finish the test.
I have multiple children. Can they all use the same copy of the curriculum?
The Self-Study edition of the curriculum is intended for one student as the assessments included in the course can only be completed once. 
How long do I have to activate my course?
You can take all of the time you need to activate your course (don't forget about it though!) but once activated you have one year to complete your course before your access expires.
Shipping & Delivery
Online Access Code
When you purchase a voucher item, you'll receive an email after completing your order. In this email you'll be provided both a link and a unique online access code. To access your product, click on the link and enter your unique voucher code when prompted.