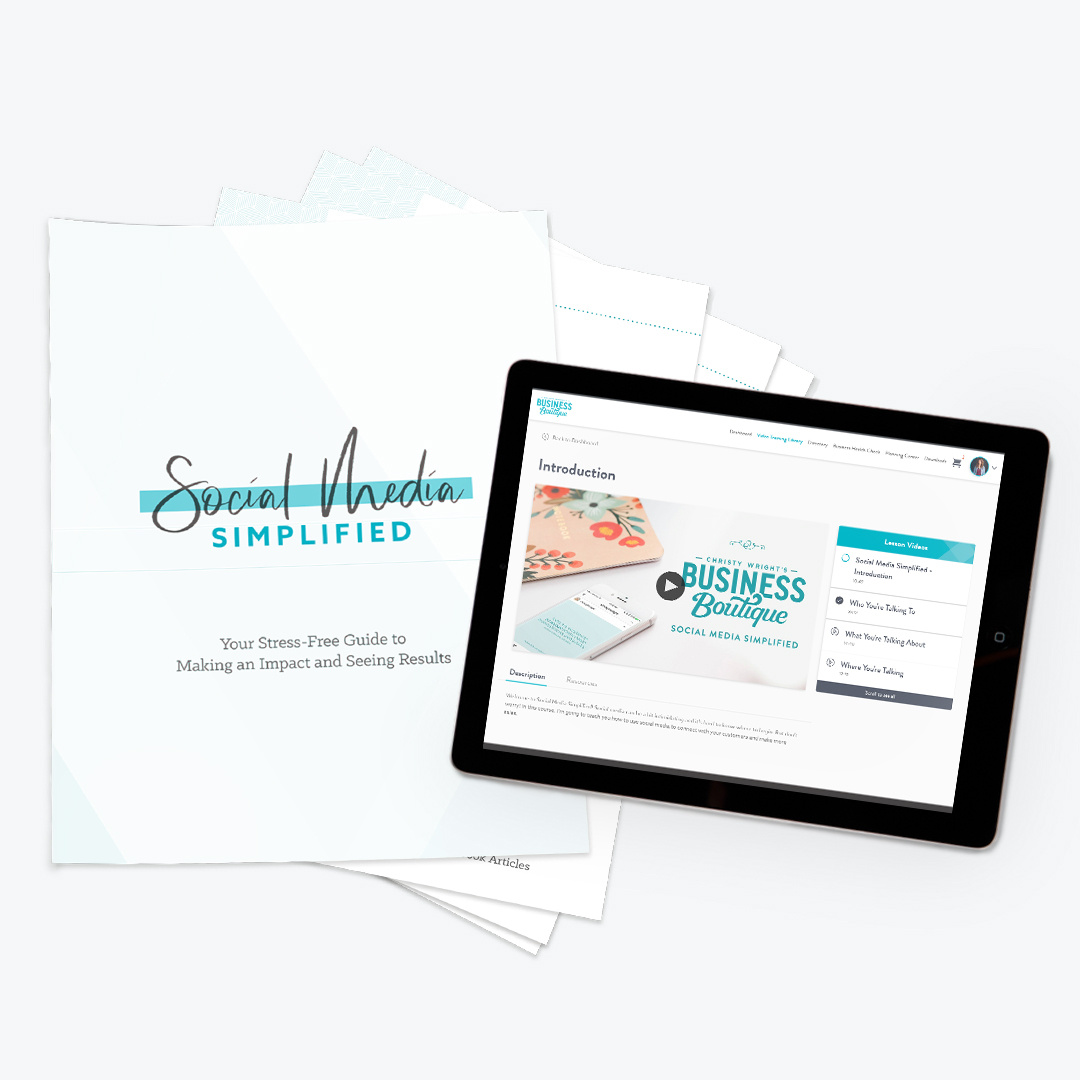 Social Media Simplified
What You Need to Know to Connect and Sell with Social Media
Description
Social media can be a bit intimidating, and it's hard to know where to begin. But don't worry, you don't have to be a social media expert to be successful in your business! Whether you want to build your platform and gain more followers, increase your email list, or find new customers in a niche market, we've got you covered! The Social Media Simplified course will guide you through exactly what you need to know to connect with your customers and, ultimately, make more sales.
What's Included?
7 Video Lessons + 7 Digital Downloads
In this course, Christy Wright will explain how social media is all about conversation, connection and community and show you how to apply this to see results for your business.
Lesson 1: Who You're Talking To (8:02)

Download: Persona Template

Lesson 2: What You're Talking About (14:40)

Download: Content Brainstorm Chart

Lesson 3: Where You're Talking (12:31)

Download: Platform Checklist

Lesson 4: Why You're Talking (15:40)

Download: Simplified Marketing Funnel

Lesson 5: When to Do the Talking (13:05)

Download: Weekly Content Calendar

Lesson 6: How to Know If Anyone Is Listening (13:38)

Download: Reporting Template

Lesson 7: Accelerating the Conversations (17:28)

Download: Basics of Setting Up Your First Facebook Ad

Bonus Material: Engaging Your Audience On Social Media

A 20 minute video interview with content strategist and social media expert Erin Drury.

Bonus Material: Creating a Content Plan

A 29 minute video interview with content strategist and social media expert Erin Drury.
Customer Ratings and Reviews
About Christy Wright
Product Details
Social Media Simplified is a digital course with approximately 110 minutes of video lessons, a 20-page PDF workbook, 30 minutes of bonus video content and a sample social media plan (Excel sheet).
After your purchase you will receive an online access code and instructions for redeeming your code to access the course. If you are purchasing the course as a gift, you can simply forward this email to your gift recipient.
You May Also Like

Shipping & Delivery
Online Access Code
When you purchase a voucher item, you'll receive an email after completing your order. In this email you'll be provided both a link and a unique online access code. To access your product, click on the link and enter your unique voucher code when prompted.