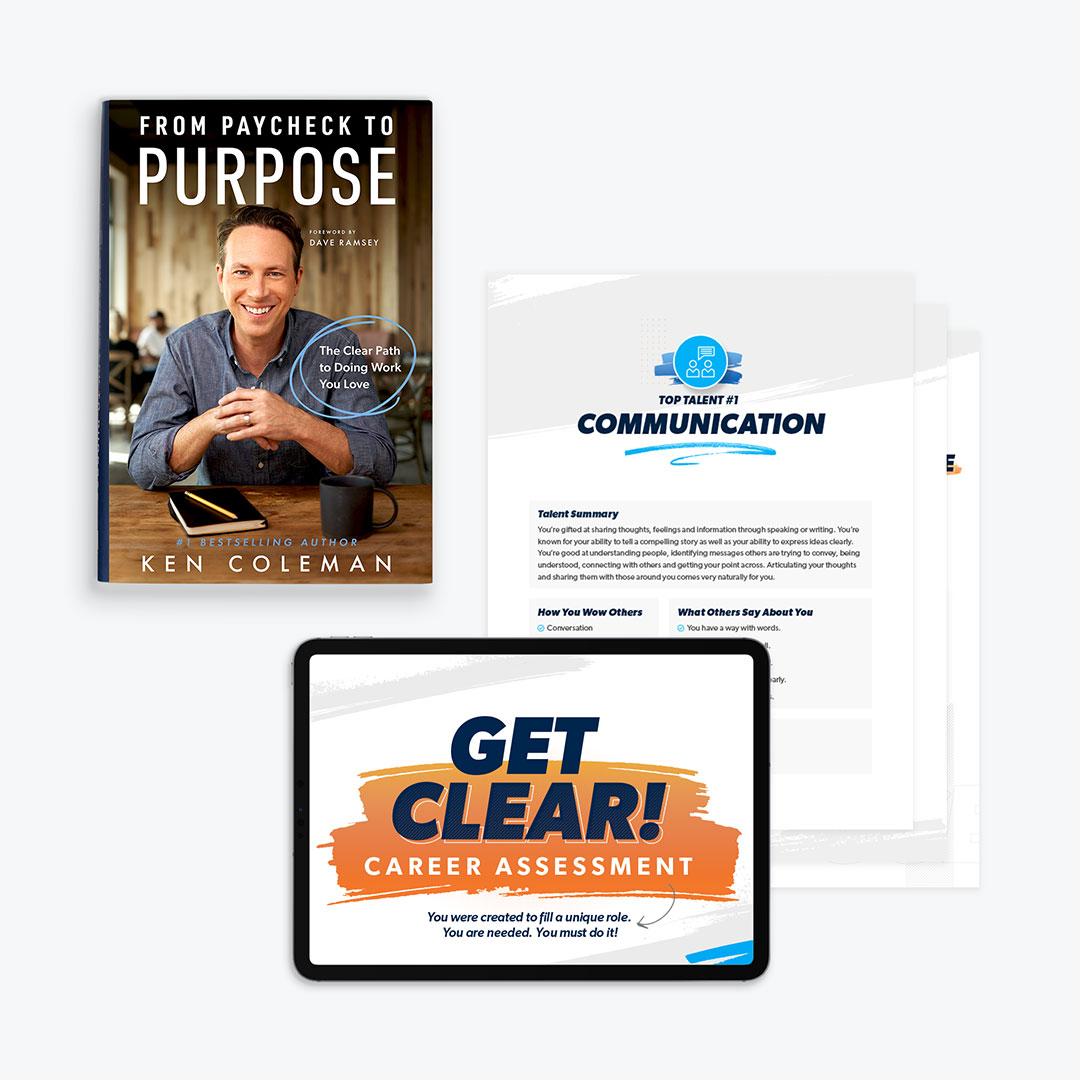 New! Ultimate Career Bundle
Get From Paycheck to Purpose and the Get Clear Career Assessment for the Price of One!
Description
Ready to take your career to the next step?
The Ultimate Career Bundle combines Ken Coleman's brand-new book, From Paycheck to Purpose, and his new Get Clear Career Assessment.
Get Clear Career Assessment
You're about to get clear on what you were born to do!
After you complete this quick and easy assessment, you'll get a custom report that clarifies and verifies your best talents, your top passions, and your professional mission. You'll also create a unique purpose statement that will help you find lots of ways to do meaningful work in your career.
This personalized report helps you discover the contribution you were created to make through your work. Sounds pretty exciting, doesn't it?
From Paycheck to Purpose
Whether you're stuck somewhere on the career ladder or you're stuck in a 9-to-5 that just pays the bills, it's time to stop settling for another paycheck and find real purpose in the work you love.
This book isn't just a concept—it's a proven clear path that will walk anyone in any industry with any experience through the step-by-step plan to finding work you love. You'll learn how to build your skill set and do work that matters to you.
Ken Coleman, national bestselling author and America's Career Coach, gives you the seven proven stages to finding meaningful work and shows you how to apply them to where you are right now—so you can get to where you need to go.
What's Included?
Get Clear Career Assessment
Customer Ratings and Reviews
About Ken Coleman
Shipping & Delivery
Physical Shipping
All physical products will be processed and ready to ship within two business days (often even faster). The total delivery time depends on the service you select and where your order is being delivered. You may see multiple shipping options to choose from during checkout. Our default choice will always be the most economical but not necessarily the fastest.
Online Access Code
When you purchase a voucher item, you'll receive an email after completing your order. In this email you'll be provided both a link and a unique online access code. To access your product, click on the link and enter your unique voucher code when prompted.