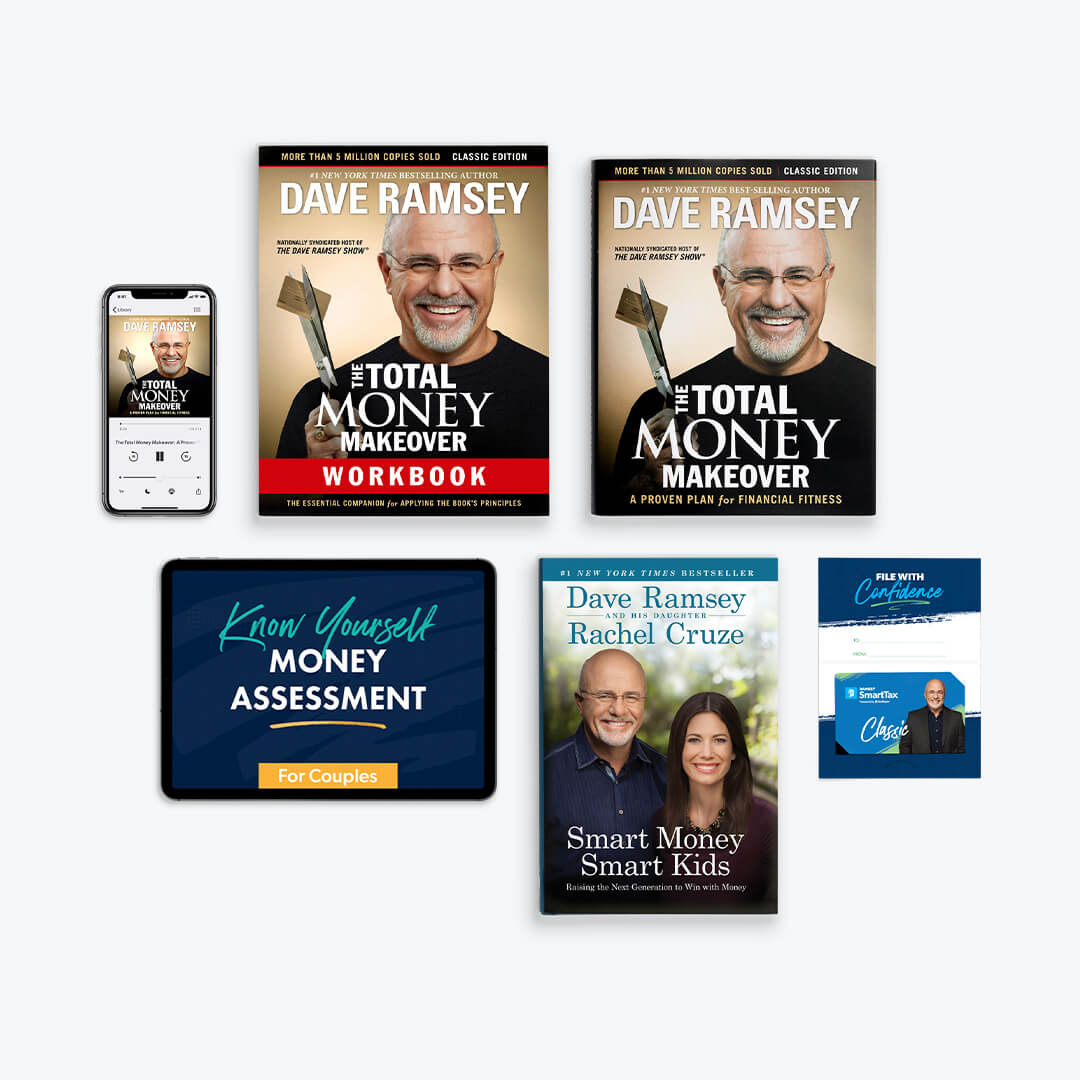 Smart Money Bundle
Start Your Debt Free Journey With This Bundle!
Description
Feel like you need a Money 101 crash course? TheSmart Money Bundle is packed with the books and tools you need to learn about budgeting. It includes the hardcover and audiobook for The Total Money Makeover (Dave Ramsey's #1 New York Times bestseller) as well as the complete workbook.
Finally, crack the code on managing your cash better with the Starter Envelope System and the EveryDollar Guide to Budgeting! Plus, you'll be able to identify why you make the money decisions you do and how to make real financial progress with Rachel Cruze's new Know Yourself Money Assessment for individuals.
This bundle even has a motivating audio lesson from Dave that will walk you step by step through his process of setting achievable goals.

This bundle will help you:
Learn Dave's seven-step plan for taking control of your money with The Total Money Makeover hardcover and instant audiobook download.
Organize your money with the Starter Envelope System plus Bonus Envelope Refills.
Apply the steps to get rid of debt with The Total Money Makeover Workbook.
Learn about your money tendencies, fears, motivations and more, so you can have lasting progress toward your goals with the Know Yourself Money Assessment for individuals.
Hear Dave explain his proven and simple process for setting and reaching goals with his High-Performance Achievement Audio Lesson.
Find out where you can save more and spend less every month with the EveryDollar Guide to Budgeting.


What's Included?
The Total Money Makeover Audiobook

The Total Money Makeover Workbook

The Know Yourself Money Assessment

Envelope Replacement / Refill Sheets

High-Performance Achievement by Dave Ramsey

EveryDollar Complete Guide to Budgeting (PDF E-Book)
Customer Ratings and Reviews
Shipping & Delivery
Physical Shipping
All physical products will be processed and ready to ship within two business days (often even faster). The total delivery time depends on the service you select and where your order is being delivered. You may see multiple shipping options to choose from during checkout. Our default choice will always be the most economical but not necessarily the fastest.
Ramsey Audiobooks App Is Available for iOS and Android
When you check out, you'll receive one email confirming your order and one email that includes a link to download the Ramsey Audiobooks app and an access code for your purchase. You'll only need to download the app once to enjoy this audiobook and all your future Ramsey audiobook purchases.
To get your audiobook, simply complete your order and then open the email with your access code. Click on Ramsey Audiobooks app for iOS or Android to download the app to your phone. Then click the access code link from your email to redeem and begin enjoying your audiobook!
Downloadable PDF
Your downloadable product(s) will be available in the order confirmation email you received at checkout. Look for the heading, "Digital Downloads" in the confirmation email and locate the provided product download link. Right-click on the link and select "Save Link As" or "Save Target As." Change the destination location to "Desktop" and select "Save."