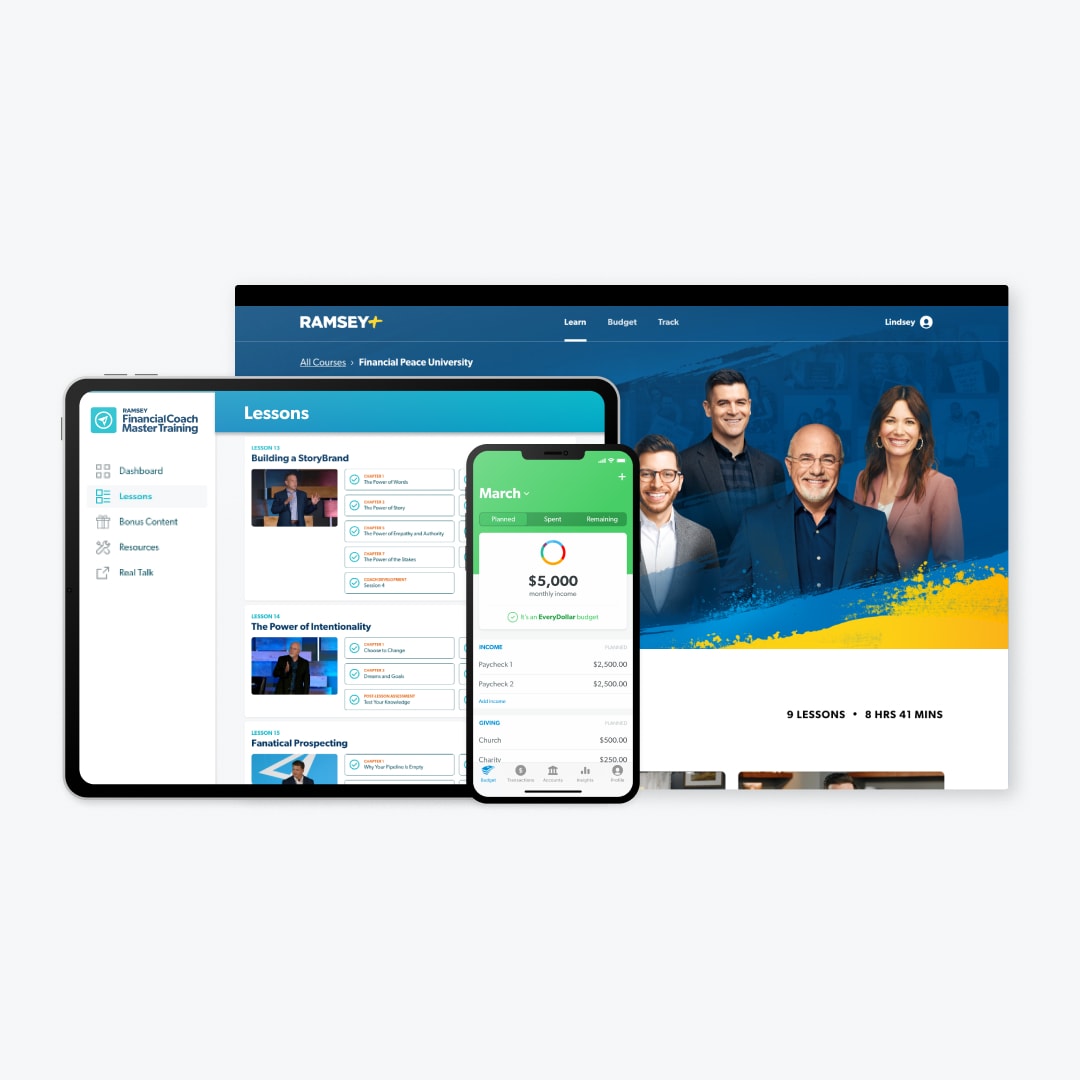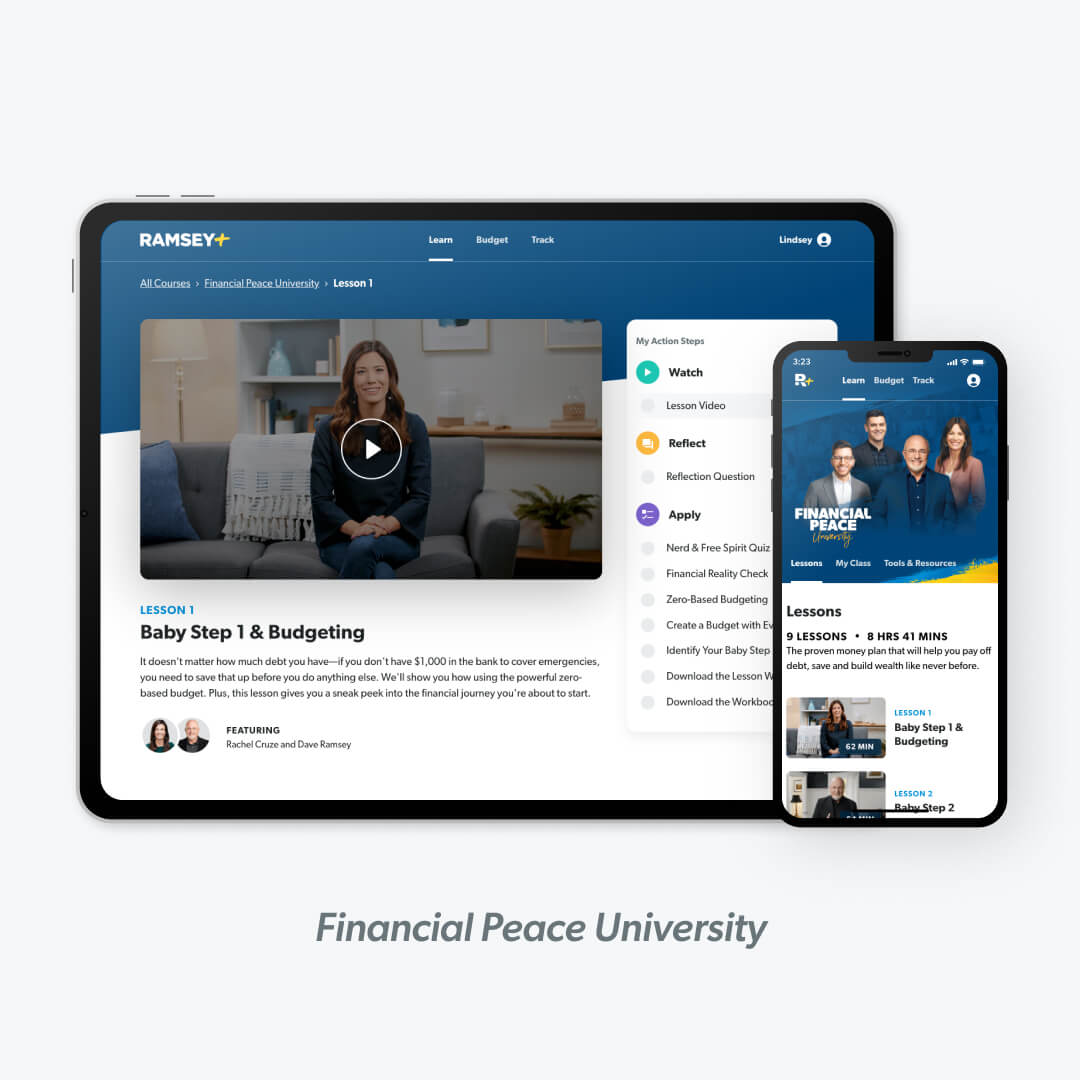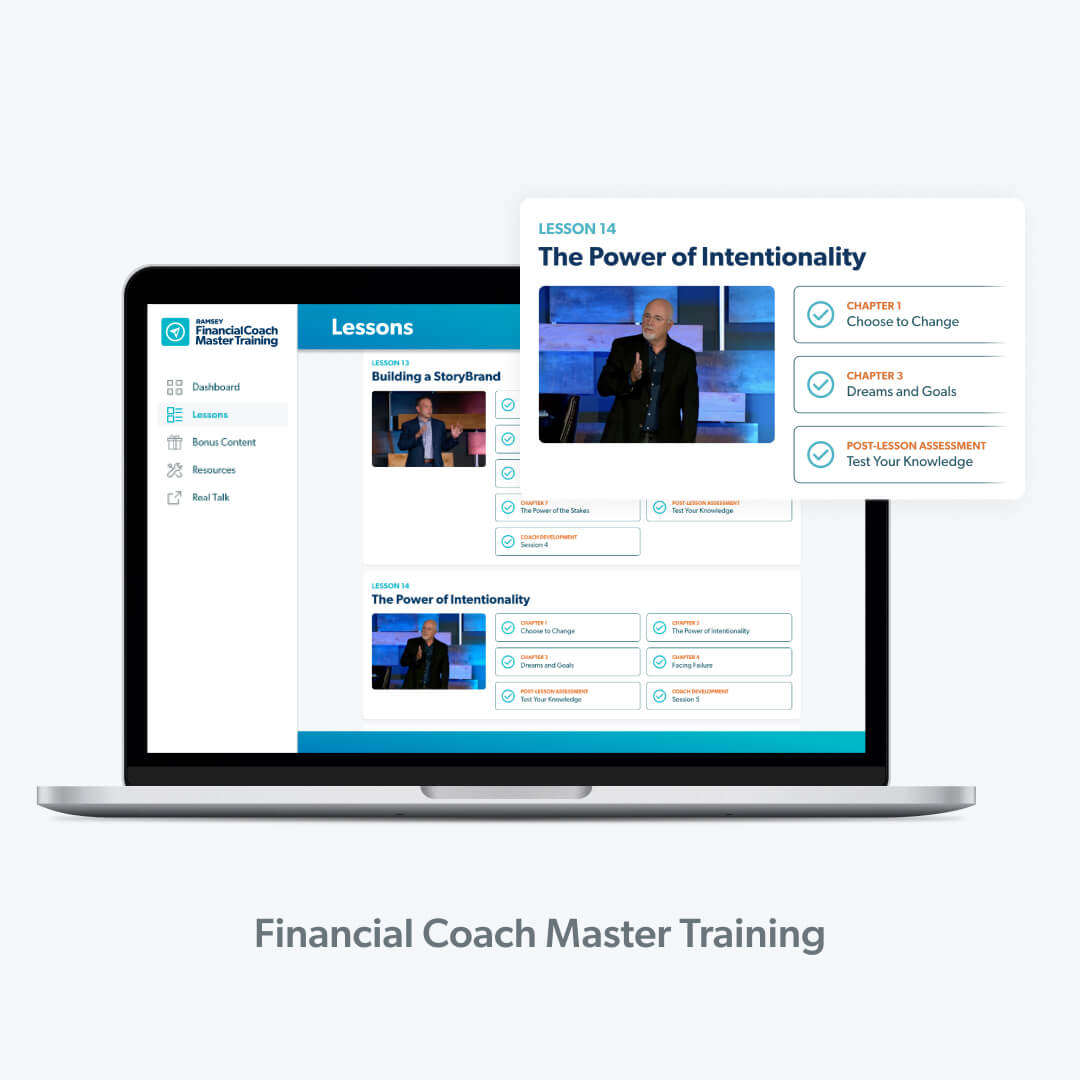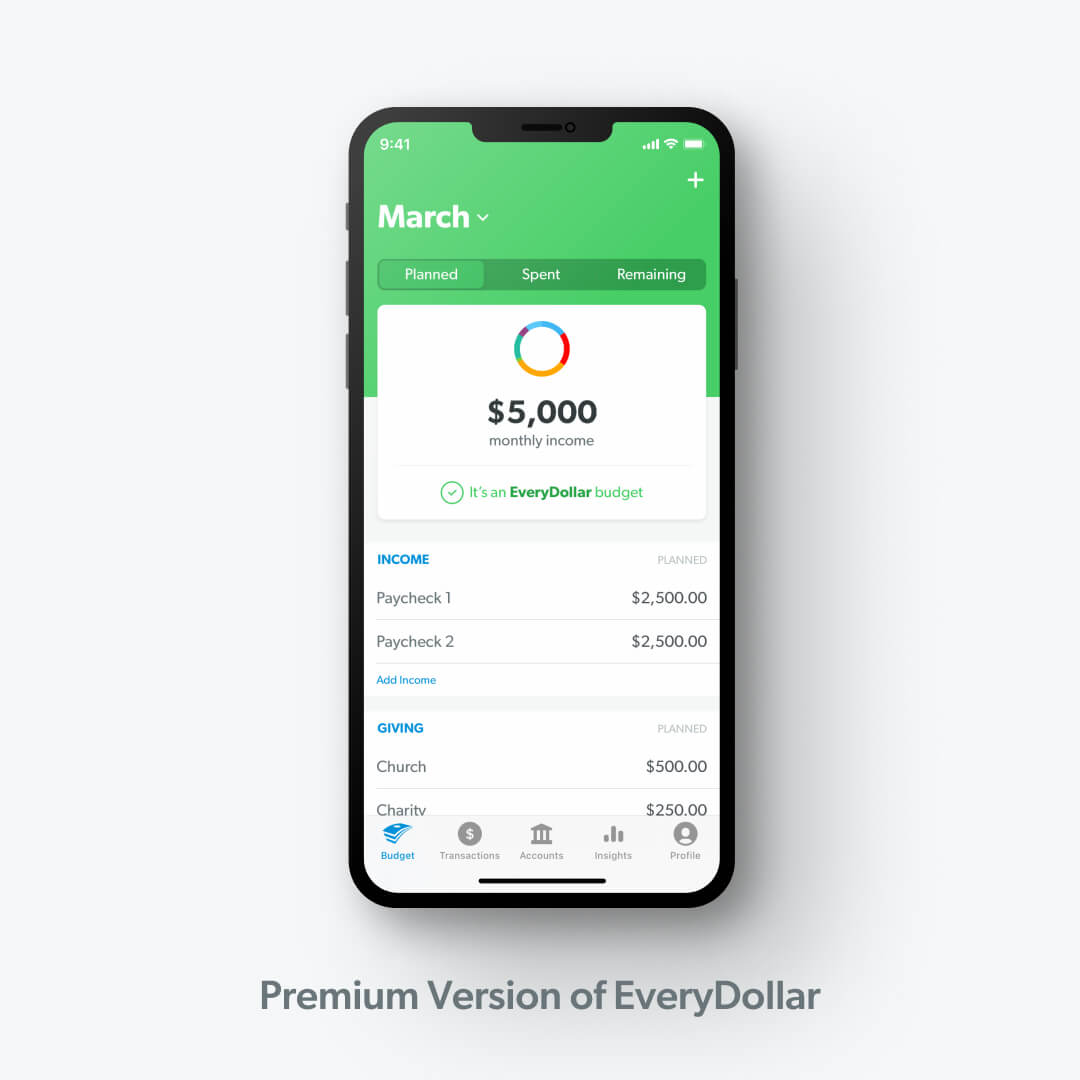 Site License + Financial Coach Master Training
A Ramsey+ site license for churches, plus Financial Coach Master Training
Description
We've combined two of our favorite products for leaders into one exclusive bundle! The Ramsey+ site license includes unlimited Ramsey+ memberships for your organization (with access to Financial Peace University plus much, much more). And Financial Coach Master Training will take one person in your church (either you or someone you choose) and help them become a world-class coach!
What's Included in Financial Coach Master Training?
Over the last 20 years, thousands of people have taken our coach training, learned the life-changing skill of coaching, and launched their own successful coaching practices. Imagine if someone in your organization was a skilled coach, able to confidently lead and encourage people to manage money God's ways. That would be life-changing for the people you serve.

The new Financial Coach Master Training (FCMT) experience is interactive, self-paced and 100% online. After completing the 15 guided lessons (which takes an average of 45 days), the recipient will officially become a Ramsey Solutions Master Financial Coach.
With training from experts and development from Dave Ramsey's team of coaches, they'll . . .
Establish a foundation of financial coaching and learn the fundamentals of personal finance

Discover how to identify, understand and resolve clients' needs

Get equipped to launch a financial coaching practice

Gain the confidence and credibility to inspire true transformation in people's lives
What's Included in a Ramsey+ Site License?
With a Ramsey+ site license, every person in your church will get a one-year membership to Ramsey+, home to our best content and tools to pay off debt faster, save more money, build wealth, and live with outrageous generosity. Each membership includes access to Financial Peace University—the proven plan that's helped nearly 10 million people win with money—plus the tools they need to carry it out.
We just made some huge updates to Financial Peace University! So, whether someone has never experienced the hope of FPU or just needs a refresher, now's the time to take the course.

What your church members get:
Financial Peace University

Access to in-person and virtual FPU classes

The premium version of the EveryDollar budgeting app

Unlimited live Q&A sessions with our in-house financial coaches

Free Federal Classic e-file with Ramsey SmartTax

Exclusive livestream events

Free audiobooks

So much more!
What you'll get:
A comprehensive launch plan

Promotional materials

A dedicated relationship manager

A member engagement dashboard

The option to renew yearly at the same purchase price
When people in your organization get plugged into Financial Peace University, you'll see the difference in every area. And it all starts by equipping you—and the people you serve—to steward money God's ways.
If your church is exempt from state sales tax, please connect with our team at help@ramseyplus.com and we can send you an invoice without sales tax.
Shipping & Delivery
Online Access Code
When you purchase a voucher item, you'll receive an email after completing your order. In this email you'll be provided both a link and a unique online access code. To access your product, click on the link and enter your unique voucher code when prompted.